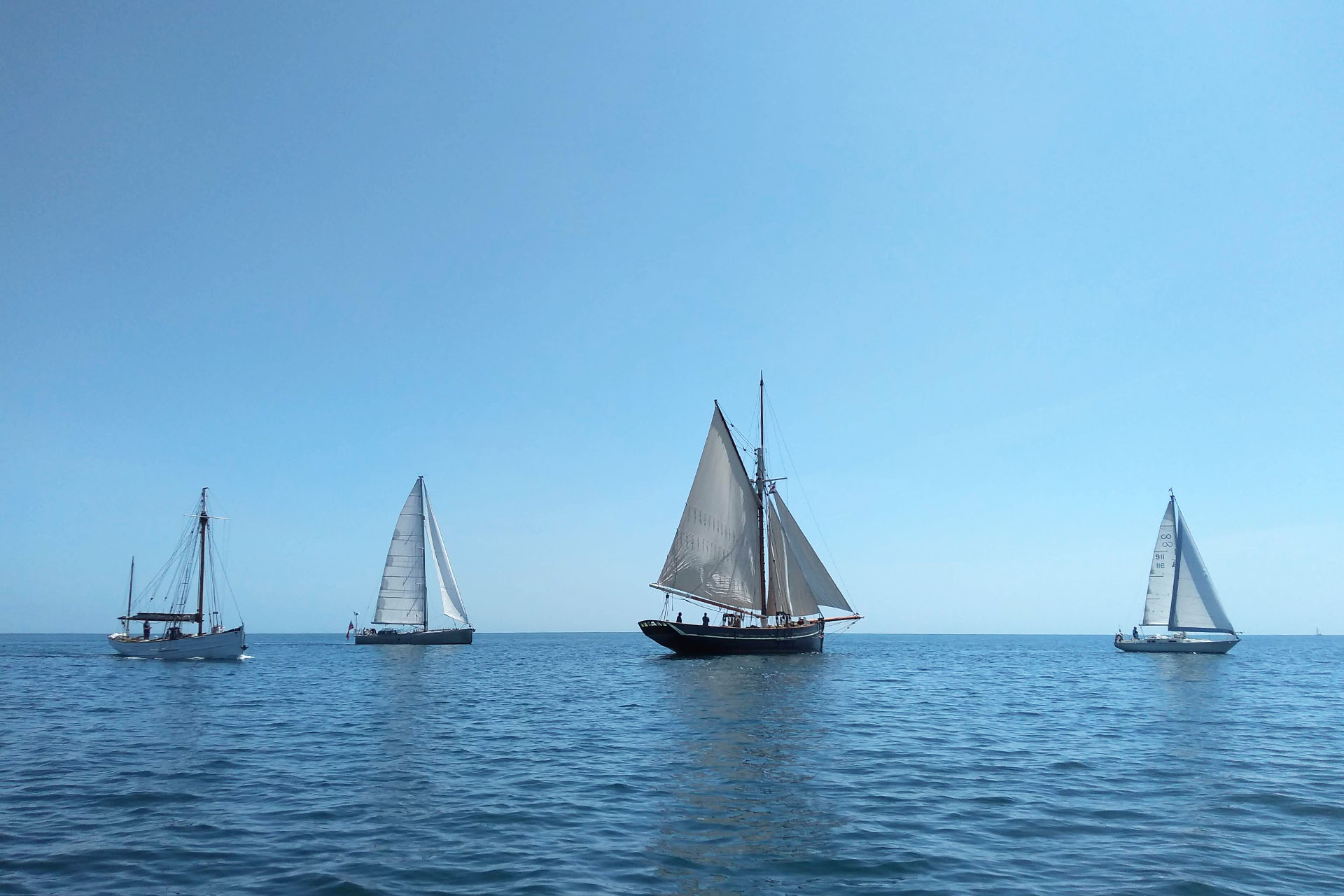 Updated April 2021
COVID-19 brings difficult times for us all, but we are buoyed by the messages of support and help we have received from our guests, crews and the sailing community as a whole. Here at VentureSail Holidays we are continually adapting to this new world as we all find a way forward to brighter horizons. We know there are still many questions that people need answers to, so we have complied some COVID -19 FAQ's and answered them as simply as we can. If you have any further questions about booking a sailing adventure with us, please do give us a call in the office.
FREQUENTLY ASKED QUESTIONS (FAQs)
Will my 2021 booking go ahead?
Unless you hear from us, your voyage is due to depart as scheduled. We are monitoring the FCO and the WHO for updates and will be updating you with any new travel advice as we get it. Holidays outside of the UK may be subject to travel delays, so please check destination guidance before leaving. From the 12th of April we can resume overnight sailing with just 1 household plus crew, from May 17th this changes to either 6 people or 2 households plus crew and from the 21st of June, all restrictions on sailing capacity will be lifted. This is official guidance from British Marine.
Will I need to take a test?
At the moment, there is the possibility of proof of a negative test before stepping aboard, but this is not yet confirmed. We understand this situation is changing all the time and we will inform all guests of any new procedures as soon as we have more information, required procedures or guidance from the government and our various industry bodies. Temperature checks will be taken by all crew and passengers throughout the voyage and instant tests will be onboard if there is any cause for concern.
Can I postpone my trip if I'm unable to travel due to COVID-19?
For bookings made before March 2020 you can choose to postpone your voyage. Any monies paid will be held as a credit note until December 2021 and can only be used for sailing with the originally booked vessel. Bookings cannot be transferred to another boat, unless that vessel is no longer available. Sorry, no refunds are available in this circumstance.
For bookings made from 2021 if you are unable to travel due to COVID-19 disruption, you will receive either a full credit note to the value of monies paid or a 75% cash refund and a 25% credit voucher if a full balance has been paid. If only a deposit amount has been paid, this will be held as a credit voucher. "COVID-19 disruption" includes affected travel plans caused by government restrictions. This credit note is valid for 12 months from the date of your scheduled departure and should be used in the first instance with the boat that was originally booked on. Please read our full terms and conditions here and the boats these terms apply to. Some of our fleet have different terms for COVID events.
Can I cancel and get a refund if I no longer want to travel?
If you have a disinclination to travel that is in no way related to COVID-19, your booking will be cancelled in accordance with our booking terms and conditions or that of the vessel booking terms where those apply.
Can I get refund it I display COVID-19 symptoms before I'm due to board?
If you display COVID-19 symptoms up to 14 days before you are due to depart, you will not receive a refund but you will receive a credit voucher for all monies paid valid for 12 months.
What happens if my flights are cancelled but the trip is still going ahead?
If your flights are cancelled for reasons regarding COVID-19 and/or government restrictions, you will receive a credit voucher for all monies paid for your voyage. If your flight is cancelled for any reason, you will need to contact your travel insurance provider for compensation. We will not refund or credit any monies paid in toward costs of travel to meet the embarkation location.
What if I or another guests gets COVID-19 during the voyage?
If any person sailing on a voyage gets COVID-19 the vessel will follow their COVID-19 procedure. Each destination/port authority will run different procedures depending on where you're sailing and government advice at the time. Most likely we will endeavour to get passengers off the vessel and onshore as soon as possible to either isolate or receive medical assistance if required.
What happens if the vessel has a COVID-19 outbreak before I am due to join?
If the vessel is required to quarantine in port for a time period that will affect your travel, we will offer you an alternative boat, if there is one available, or we will transfer your booking to a later date. Once a vessel has completed it's quarantined it will be cleaned with an antiviral procedure to eliminate any chance of re-infection.
Do I have to pay my balance or can I wait and see what happens?
Unless you are told otherwise, please follow our existing terms and conditions for making payments as normal.
Is my money safe?
Yes. When you pay your balance, your money sits in a secure Client Account that is only accessed when the voyage goes ahead.
Do I still have to buy travel insurance?
Yes. We understand that travel insurance companies have been reluctant to cover any claims regarding COVID-19 or offer new policies with COVID-19 cover. You will still need to purchase the appropriate travel insurance as this covers you for a whole host of other eventualities while sailing.
Will I need to wear a mask?
You will need to bring a mask to enter most marinas/harbours and for when you go ashore if you want to visit shops etc to remain in line with government guidelines. You will, however, not be required to wear them once aboard as you will have created your own "bubble" with the other guests and crew.
Will I still get the same sailing holiday experience?
Yes – absolutely! It is our mission to ensure that your sailing holiday is the refreshing break you need. Aside from the need to wear face coverings ashore, once boarded, out at sea we will be entirely operating as normal, but please bear in mind we do have to adhere to all the latest government recommendations.