« All Voyages Eye of the Wind's Schedule »
Sailing the Baltic Sea & the Chalk Cliffs of Rugen
Vessel

:

Eye of the Wind

Where

:

Germany

Duration

:

8 days

Embark

:

Stralsund - 22 August 2020, 19:00

Disembark

:

Sassnitz - 29 August 2020, 10:00
Sail and explore the Baltic Sea from Germany as you discover the chalk cliffs of the island of Rugen from the water.
Our crew will welcome you on board in the port city of Stralsund at 7 pm where there will be dinner together in the comfortable lounge, where you will quickly feel at home on the Eye of the Wind's deck and soon get to know your fellow sailors.
After receiving safety instructions and an introduction to sailing from the ship's crew, you can soon join in the sailing yourself – always on a voluntary basis, of course. Climbing the rigging, steering the course and pulling the ropes will make this trip an unforgettable holiday experience of a special kind. All sailing manoeuvers are performed manually by the experienced crew, so setting and trimming the sails becomes a fascinating performance from long gone seafaring times, which you can also enjoy comfortably from the deck.
This 8-day voyage sees you exploring the summer sun across the Baltic sea as you sail from the German coast to discover the sweet island of Rugen and its beautiful chalk-white cliffs. Anchor in secluded bays, swim off the boat and explore ashore before finishing in Sassnitz.
More information available on request.
Eye of the Wind
Guest berths: 16 Rig: Brig
With incredible amounts of character, Eye of the Wind has all the modern amenities and an authentic interior, with a teak maritime décor. Oozing with maritime history, the opportunity to sail on Eye of the Wind is one in a lifetime. This beautiful ship is as eye-catching as they get and she has even featured in several movies, including White Squall, due to her breath-taking appearance as a 1911 brig.
This windjammer offers luxurious holidays on board, cruising some of the most stunning locations in the world.
Although the ship has a large, capable engine, traditional sailing is naturally the preferred mode of travel so there is plenty to get stuck into on deck. The crew are extremely experienced and ready to teach you the workings of a classic tall ship, so no prior knowledge is necessary. Join the crew at any number of the large maritime festivals they appear at, cruise the European coast, or relish some winter sun and climb aboard for their voyages in the Caribbean – including a transatlantic crossing back from the Caribbean to Portugal.
Thanks to the 6 luxurious cabins, all with ensuite bathrooms, Eye of the Wind can sleep a total of 16 guests ensuring ocean passages can be travelled in true comfort. A large dining area, library and sun deck offer a multitude of different spaces to unwind and to get to know your fellow guests and crew.
Deck plan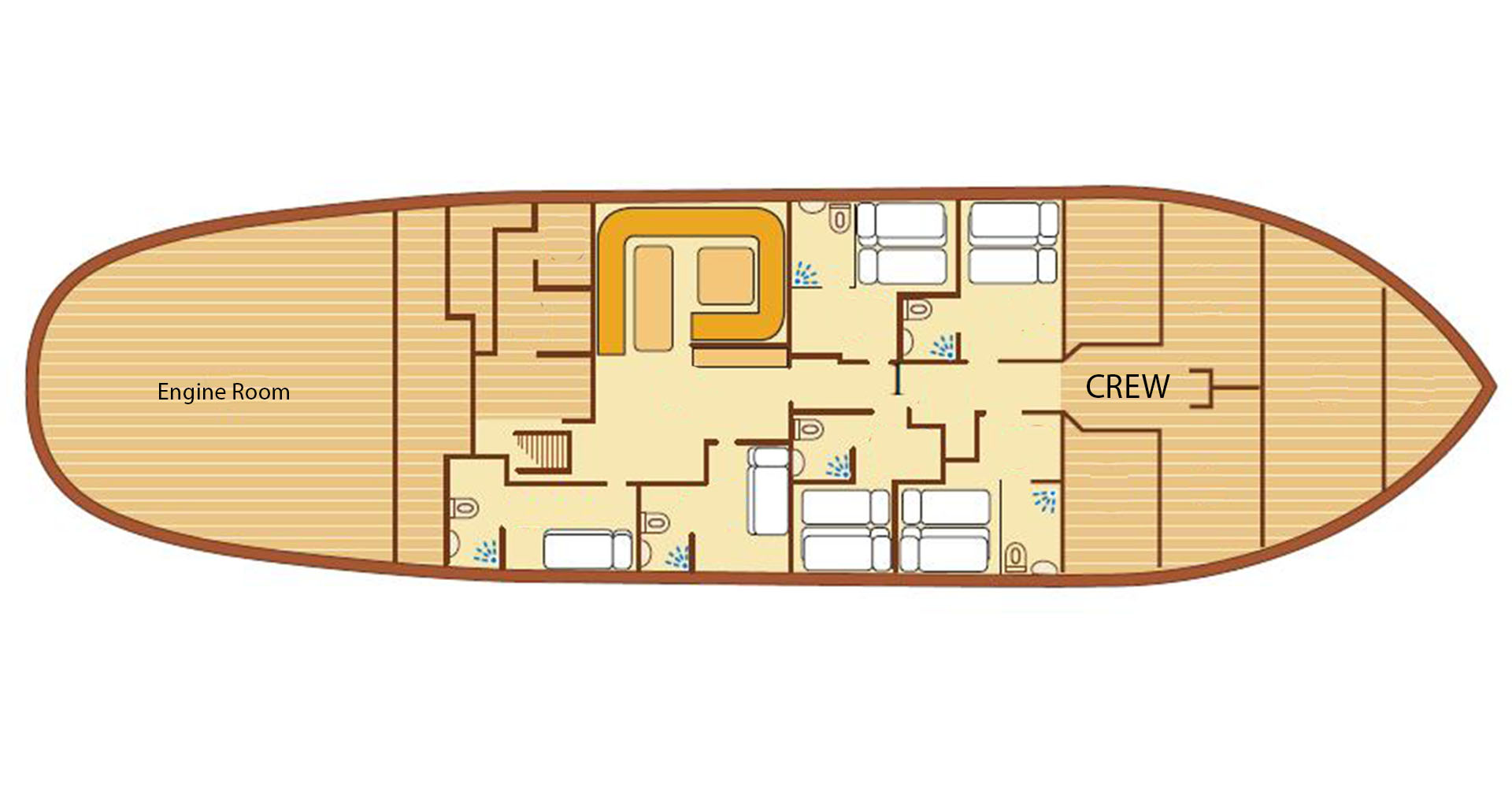 More about Eye of the Wind
FAQ
Are all meals included?

Yes. Breakfast, Lunch, Dinner, Hot and Soft drinks are included in your ticket price. Alcohol can be purchased as extra onboard

Can you cater for dietary needs?

Yes, please let us know when making your booking.

What language is spoken on board?

English and German

What are the sleeping arrangements?

There are 6 cabins and a total of 16 guest bunks.

How many bathrooms does she have?

Each cabin has its own ensuite.

Is there an age limit?

No! Please double check for under 8's.

Is there WIFI?

No, but you should easily reach 3/4G from the shore, just make sure your phone is set up for international roaming. There may be some locations that will not get good signal.

Can I charge my phone/camera?

Yes, 12V sockets are available

Are there life jackets provided?

Yes.

Are Waterproofs provided?

No, please bring your own.

Do I need sailing experience?

Not at all. We give everyone who joins us on board the choice to do as much or as little as they like.

Will I be seasick?

Everyone reacts differently but if you are unsure, we recommend taking tablets up to 24 hours travelling.

Is there air conditioning?

Yes, Eye of the Wind has air con in each cabin.
Locations
From: Stralsund
To: Sassnitz