« All Voyages Eda Frandsen's Schedule »
Boat Bubble Sailing in Cornwall
Vessel

:

Eda Frandsen

Where

:

Cornwall

Duration

:

6 days

Embark

:

Falmouth - 8 April 2021, 15:00

Disembark

:

Falmouth - 13 April 2021, 10:00
Explore Cornwall from the water with your family bubble for an exclusive sailing experience on Eda Frandsen.
Join us in Cornwall to escape the crowds by creating your own safe haven on the water aboard Eda Frandsen.
There are plenty of opportunities to experience the full spectrum of Cornish scenery, from hidden creeks to beautiful sails across the bay from Falmouth.
These voyages are for groups of up to six family members or those in a "bubble" for the exclusive use of Eda Frandsen as she sails the Cornish coast offering an all-inclusive sailing holiday.
Our experienced and adaptable chef is happy to cater to the needs of you and your party, whilst you learn the ropes or sit back and relax, exploring some of the most beautiful and remote locations in Cornwall. Your itinerary is entirely dependant on the weather and we can be flexible to suit your desired destinations!
Read more about sailing in Cornwall and what's on offer here.
Eda Frandsen
Guest berths: 8 Rig: Gaff Cutter
At 60ft in length, Eda Frandsen is the perfect size for exploring the many anchorages of the Western Isles and Cornwall. Small enough to sneak in close to the coastline, yet stable enough to withstand almost any weather. She is traditional in the truest sense of the world with an original rig, combining the simplicity and beauty of a bygone era with today's modern comforts.
Eda Frandsen is a beautiful traditional gaff cutter, built at the Grena shipyard, Denmark in 1938. Having worked for much of her life as a fishing trawler in the harsh climates of the North Sea, her hull was lovingly restored on the remote peninsula of Knoydart, Scotland in the 1990's.
Guests enjoy a unique blend of grace, character and seaworthiness and whether a beginner or seasoned seafarer, we offer voyages that are suitable for all ages and abilities.
Down below she can accommodate 8 guests in single berths, which are centred around her large saloon and dining area. There are two toilet/shower rooms, with separate access into the forward accommodation area. She has a small but highly functioning galley, from which many a delicious dish will be served throughout your stay.
Voyages on Eda Frandsen range from short breaks in Cornwall to trips up or down the Irish sea and six or nine-night adventures exploring Scotland and the Hebrides form our home port of Mallaig. So whether it is a brief escape or a complete sense of immersion you are after, there will certainly be something for all.
New for 2021 Eda Frandsen will be offering 4 and 6-day' boat bubble' private charters from Falmouth throughout April and May before she heads north for a fully booked Scottish schedule.
Deck plan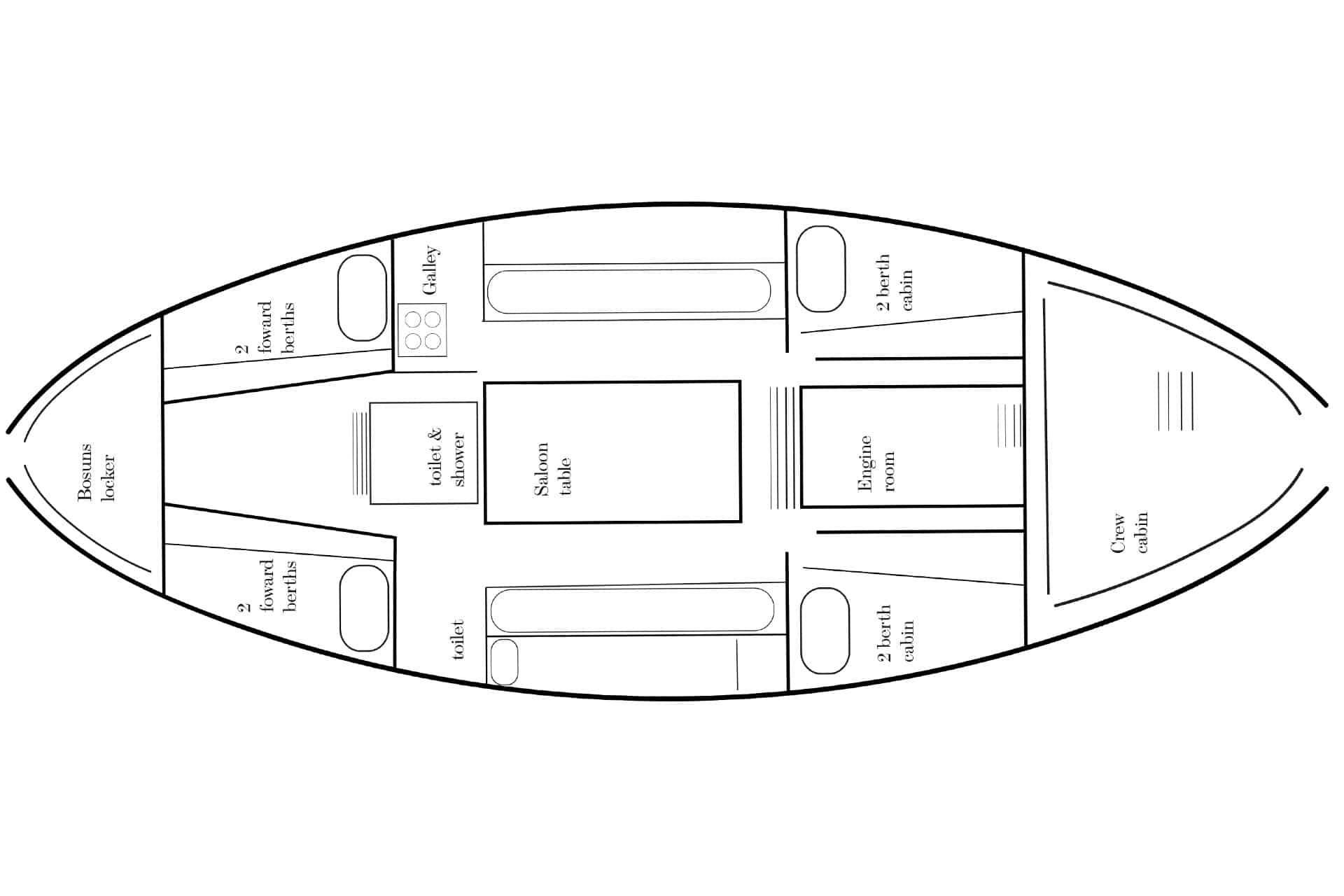 More about Eda Frandsen
FAQ
Are all meals included in the price?

Yes, all meals and food on board is included in the price, as well as all warm and soft drinks - i.e., everything except alcohol. There is however a cash bar on board.

What language is spoken on board?

English

What are the sleeping arrangements?

There are 2x twin bunk cabins and 4x single bunks in the shared forepeak.

Do I need to bring a sleeping bag?

No, Eda Frandsen provides all bedding - you just need to bring a towel.

How many bathrooms and/or showers does she have?

2x toilets and 1 shower.

Is there an age limit?

Min age limit 12. 12-18yr old must be accompanied by an adult.

Is there WIFI?

No.

Are Life Jackets provided?

Yes.

Are Waterproofs Provided?

Yes, but please bring a jacket for when you go ashore.
Locations
From: Falmouth
To: Falmouth