Take a long weekend to unwind with a 3 day cruise around Devon on the magnificent Pilgrim of Brixham.
This 3-day sailing holiday cruise offers a great introduction to sailing a traditional ship – and with her red sails, rich heritage and classic tiller, Pilgrim of Brixham is the perfect ship to do it on. You'll be able to explore the South Devon coastline, with quintessential seaside towns such as Torbay, Dartmouth and Salcombe all on the list of potential stops. Whilst you'll be able to explore ashore on this trip, you will be sure to develop your sea legs with a unique sailing experience. The crew will show you the ropes and encourage you to get stuck in and experience first hand traditional classic boat sailing.
Your voyage will leave from Pilgrim's home port of Brixham, and while no two journeys onboard any of our vessels are the same, the crew know the area really well and will do their best to show you the best bits! Brixham is a traditional fishing port, so watch out for local vessels bringing in their catch, as well as other traditional vessels sailing past. After sailing out of Brixham, Pilgrim will take you around Berry Head towards Dartmouth and sail the coast to Slapton Sands, from where you'll visit beautiful anchorages and their towns. Berry Head is a limestone headland, and this area of outstanding natural beauty is home to colonies of guillemots, black-legged kittiwakes, kestrels and gulls. As you sail past the headland and out into the bay, keep your eyes peeled for porpoises and dolphins which will often join Pilgrim, playing in the wake of the bow.
You will be welcomed aboard with refreshments before the usual safety briefings and boat tour to allow you to settle in and find your way around. Once everyone is ready we will set sail and the adventure begins!
Points of Interest during your Devon Taster Sailing Experience:
As we leave Brixham, be sure to look back at the picture-postcard fishing port with pretty colour-washed fishermen's cottages rising up around the old harbour. You will also see other heritage vessels and classic sailing boats as well as fishing trawlers in and around the busy harbour.  Pilgrim sets sail around Berry Head. This dramatic limestone headland is designated as an area of outstanding natural beauty. It is home to a sea bird colony of guillemots, black-legged kittiwakes. Kestrels and gulls also make it their home.  We are often accompanied by dolphins or porpoises here, so make sure you are up on deck with your camera to get some great shots of the amazing sea life.
There is plenty of history along this coastline too, from Berry Head is the site of a Napoleonic Fort, to the Slapton Sands site of the D Day Exercise Tiger – a fateful day for British Troops. If tides are with you, you may get as far as Slapton Ley, the largest freshwater lake in the South West (and a haven for bird spotters!), before turning back towards Brixham and setting the sails for home.
A 'Day Mark' built in 1864 on the eastern side of the estuary helps us identity the River Dart.  We then pass the Mewstone rock just outside the mouth of the river.  This is often another spot to see the occasional harbour porpoise, common grey seal as well as cormorants, guillemots, gannets and seagulls. Dependant on the weather this is often our overnight port.
As we raise the anchor and sail on, the famous Slapton Sands stretch for 2 miles ahead. In 1944 this was the scene of the infamous Exercise Tiger, involving 30,000 troops, a D Day rehearsal that unfortunately went badly wrong.  A combination of an attack by German E-boats and miss-timed friendly fire resulted in the loss of 946 men. Slapton Ley National Nature Reserve sits behind Slapton Sands and is the largest freshwater lake in the South West and home to both native and migrating birds. This will be the furthest point reachable on your Taster Cruise before we commence the sail home.
Pilgrim of Brixham
Guest berths: 10 Rig: Gaff Rigged Ketch
Pilgrim of Brixham, built in 1895, is a traditional gaff rigged ketch that is one of a handful of remaining wooden sailing trawlers that were built in Brixham. Pilgrim and her iconic red sails were once part of a large fishing fleet operating out of Brixham, which used to be the principal fishing port in the country. Her survival is testament to her quality, with many similar Victorian fishing vessels having a life span of less than 20 years – and the main reason for her survival is thanks to funding from the Heritage Lottery Fund, the South Devon Coastal Local Action Group and many individual donors and volunteers.
The Pilgrim Story
After spending many years under different owners in Scandinavia, in 1999 she was brought home from Denmark back to Brixham. After significant restoration work, a few mishaps along the way and a hefty dose of community spirit, Pilgrim was returned to her former glory above decks, and brought up to modern standards below.
Today, as a charter vessel, the Brixham community still rallies around Pilgrim, with local crew, experienced and skilled volunteers performing maintenance and making the Pilgrim of Brixham operation run like clockwork. VentureSail is incredibly proud to have a hand in getting people aboard this historic vessel to not only experience how magnificently she sails, but also to see how passionate those that sail her are. Join Pilgrim on voyages around Devon, Cornwall and the Isles of Scilly, or experience maritime festivals on this incredible vessel.
Deck plan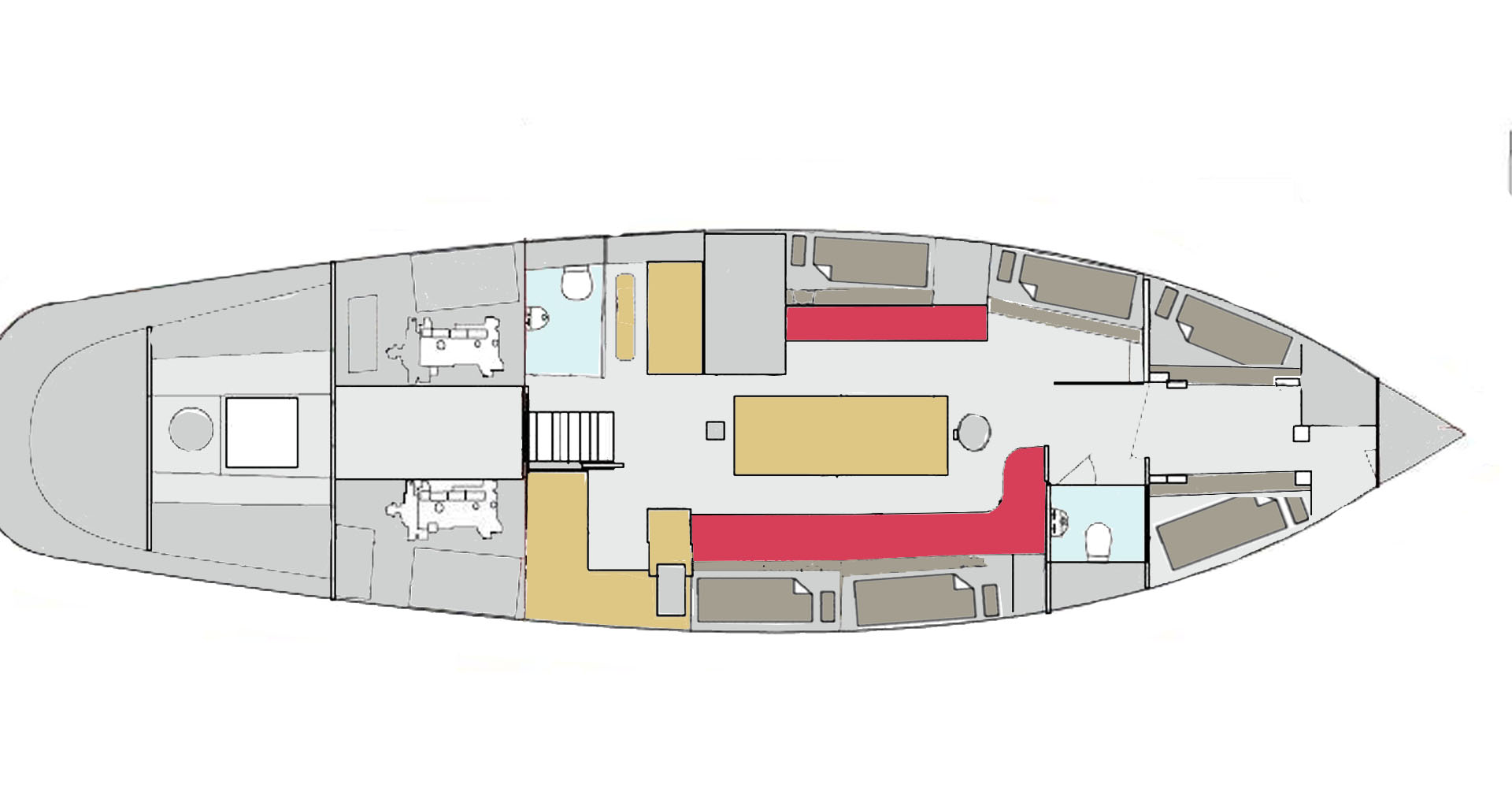 More about Pilgrim of Brixham
FAQ
Are meals included?

Yes - meals will be as locally sourced as possible and freshly prepared. Food is often a real hit on Pilgrim.

Can you cater for dietary needs?

Yes, please let us know when booking.

What language is spoken on board?

English

What are the sleeping arrangements?

There are 8 berths in the main saloon, with 4 in a cabin at the front of the ship, and 4 at the back (these are usually crew bunks)

Is there an age limit?

Preferably no under 8's on scheduled voyages but please check with us. There are no age limits on private charters.

Do I need to be a seasoned sailor?

Not at all. We give everyone who joins us on board the choice to do as much or as little as they like, whether they know how to or not.

How many toilet/showers does she have?

Two for guests

Is there WIFI?

No, but you should easily be able to reach 3G/4G from the shore.

Can I charge my phone/Camera?

Yes, please bring 12v chargers.

Are there life jackets provided?

Yes.

Are Waterproofs provided?

There are some for emergencies but please bring your own.

Will I be sea sick?

Everyone reacts differently but we recommend if you are at all worried to take some medication 24 hours before departure.
Locations
From: Brixham, Devon
To: Brixham, Devon