Expedition from Tenerife to the Caribbean
Vessel

:

Chronos

Where

:

Tenerife

Duration

:

23 days

Embark

:

Santa Cruz - 29 November 2019, 18:00

Disembark

:

Le Marin, Martinique - 21 December 2019, 10:00
Sail with the crew of Chronos as they set sail from Tenerife to the island of Martinique in the Caribbean.
Join Chronos and her crew as she sails from Santa Cruz, Tenerife across open seas to the island of Martinique in the Caribbean.
This trip is 23 days of expedition sailing, where you will become part of the crew's watch system as you sail across the Atlantic Ocean to reach the Caribbean. Your final destination will be the harbour of Le Marin on the small island of Martinique. An overseas region of France, with its culture reflecting a lovely blend of French and West Indian influence. The north of the island is mountainous and home to Mont Pelée, an active volcano with an abundance of dense rainforest. The sand on the beaches in the north is a silvery grey as a result of the historic volcanic ash. The south of the island, however, is home to the iconic white sands with Fort-de-France its largest town, featuring steep hills and quaint narrow streets and the gardens of La Savane bordered by shops and cafes.  Christopher Columbus landed on the island in 1502, after a 21-day trade wind passage he christened the island as Martinica.
This passage is a great opportunity for those that want more time at sea, to improve their sailing skills on a ship and be part of a knowledgeable crew who love to share their wisdom and tales. Chronos will sail through the night, so excursions ashore and swimming stops are not planned.
Chronos has her very own onboard chef who will provide you with a delicious breakfast, lunch and dinner whatever the weather and all included in your ticket price!
Chronos
Guest berths: 26 Rig: Bermudan Ketch
Built and registered in Bodrum, Turkey but spending her days sailing the Mediterranean and Caribbean, Chronos was purpose built as a charter vessel in 2013, as a two-masted, 54m staysail ketch.
This beautiful Ketch was designed by Klaus Röder who based his design on a classic yacht whilst keeping up with the modern day ketch; built for performance sailing and guest comfort.
Built with luxury in mind, the outline on deck is of teak and mahogany with plenty of space to sun-bath, read a book and enjoy the views. All the sails are electronically retractable, so no need to learn the ropes here. (The crew are, however, more than happy for guests to get involved with the operating and sailing of Chronos as much as they would like!)
An admiralty ladder provides the perfect place to jump off into the warm Caribbean waters, have a swim and climb back aboard with ease. Chronos also offers her guests the options of using her water skiing, wake-board, tube riding, kneeboard, banana boat, kayak and snorkelling & dive equipment and even a sail dinghy (QubaRS)
The deckhouse offers its very own small bar whilst below decks offers still more space to relax with a saloon with a plasma TV! Her private cabins, offering both queen size beds and single bunks, all have air-conditioning and en-suite bathrooms.
The professional crew consists of the Skipper, first mate, mechanic, bosun, cook and 4 stewards, so you will most certainly be looked after during your time aboard Chronos.
Deck plan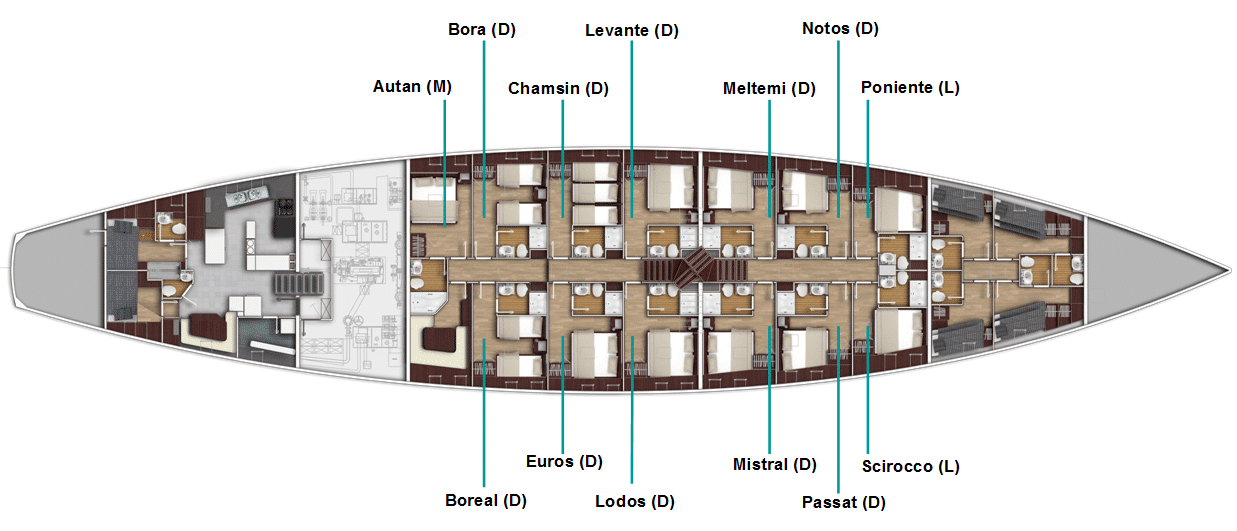 More about Chronos
FAQ
Are all meals included?

Yes, all meals on board are included in the price. (Breakfast, Lunch, Dinner and hot drinks) Alcohol is not included.

Can you cater for dietary needs?

Yes, please let us know when making your booking.

What language is spoken onboard?

English/German/Dutch

What are the sleeping arrangements?

Chronos has 1 Master Cabin (14 m²), 2 Long Cabins (11 m²) and 10 Deluxe Cabins (12-13 m²) all sleeping 2 people.

How many toilet/showers does she have?

All cabins have their own ensuite.

Is there WIFI?

No, but you should easily be able to reach 3G/4G from the shore.

Can I charge my phone/Camera?

Yes.

Are there life jackets provided?

Yes.

Are Waterproofs provided?

No.

Do I need sailing experience?

No, absolutely not! Just a lust for adventure.

Will I be sea sick?

Everyone reacts differently but we recommend if you are at all worried to take some medication 24 hours before departure.
Gallery
Locations
From: Santa Cruz
To: Le Marin, Martinique