« All Voyages Pilgrim of Brixham's Schedule »
Falmouth Classics and Sea Shanty Festival
Vessel

:

Pilgrim of Brixham

Where

:

Cornwall

Duration

:

5 days

Embark

:

Port Pendennis Marina, Falmouth - 11 June 2020, 12:00

Disembark

:

Port Pendennis Marina, Falmouth - 15 June 2020, 12:00
Discover Cornwall with its sweeping bays, picturesque ports, and ancient market towns from historic maritime port of Falmouth under traditional sail.
Over the weekend we will teach you as much as possible about the sailing and manoeuvring of a ship, setting sail from Falmouth, the deepest natural harbour in Western Europe, and travelling around the southern coast of Cornwall. Our skippers interest is to show you how these ships were handled for centuries and this sheltered bay provides a perfect learning ground if you are new to tall ship sailing.
This weekend sees the famous Falmouth Classics Regatta of which Pilgrim will not take part but will offer the best vantage point for watching the fabulous flotilla of classic boats sail in and around the harbour. Falmouth Classics began in the early 1980s and has since become one of Falmouth's most popular weekends. Attracting people from all over the world, traditional and classic ships arrive to race in the mouth of the River Fal, Carrick Roads and the beautiful Falmouth Bay. From classic yachts to traditional luggers – the harbour is filled with beautiful classics, exhilarating races and a fascinating parade of sail. See Falmouth Classics for its full sailing programme and weekend itinerary.
Onshore in Falmouth town you'll be entertained on every street corner and pub as the International Sea Shanty Festival takes place alongside Falmouth Classics. Sing along with over 60 musical groups from shores far and wide in over 20 venues around the town.
Sail with Pilgrim and anchor along this beautiful coastline in picturesque ports, secluded coves and landmark locations. A good walk is a great way to start the day and there is plenty of coastal footpaths to explore! Return on board to set the sails and enjoy a hearty lunch as you coast through Cornish waters before taking a turn at the helm, learning about navigation or relaxing on deck with book and the wind in your hair.
Pilgrim of Brixham
Guest berths: 10 Rig: Gaff Rigged Ketch
Pilgrim of Brixham, built in 1895, is a traditional gaff rigged ketch that is one of a handful of remaining wooden sailing trawlers that were built in Brixham. Pilgrim and her iconic red sails were once part of a large fishing fleet operating out of Brixham, which used to be the principal fishing port in the country. Her survival is testament to her quality, with many similar Victorian fishing vessels having a life span of less than 20 years – and the main reason for her survival is thanks to funding from the Heritage Lottery Fund, the South Devon Coastal Local Action Group and many individual donors and volunteers.
The Pilgrim Story
After spending many years under different owners in Scandinavia, in 1999 she was brought home from Denmark back to Brixham. After significant restoration work, a few mishaps along the way and a hefty dose of community spirit, Pilgrim was returned to her former glory above decks, and brought up to modern standards below.
Today, as a charter vessel, the Brixham community still rallies around Pilgrim, with local crew, experienced and skilled volunteers performing maintenance and making the Pilgrim of Brixham operation run like clockwork. VentureSail is incredibly proud to have a hand in getting people aboard this historic vessel to not only experience how magnificently she sails, but also to see how passionate those that sail her are. Join Pilgrim on voyages around Devon, Cornwall and the Isles of Scilly, or experience maritime festivals on this incredible vessel.
Deck plan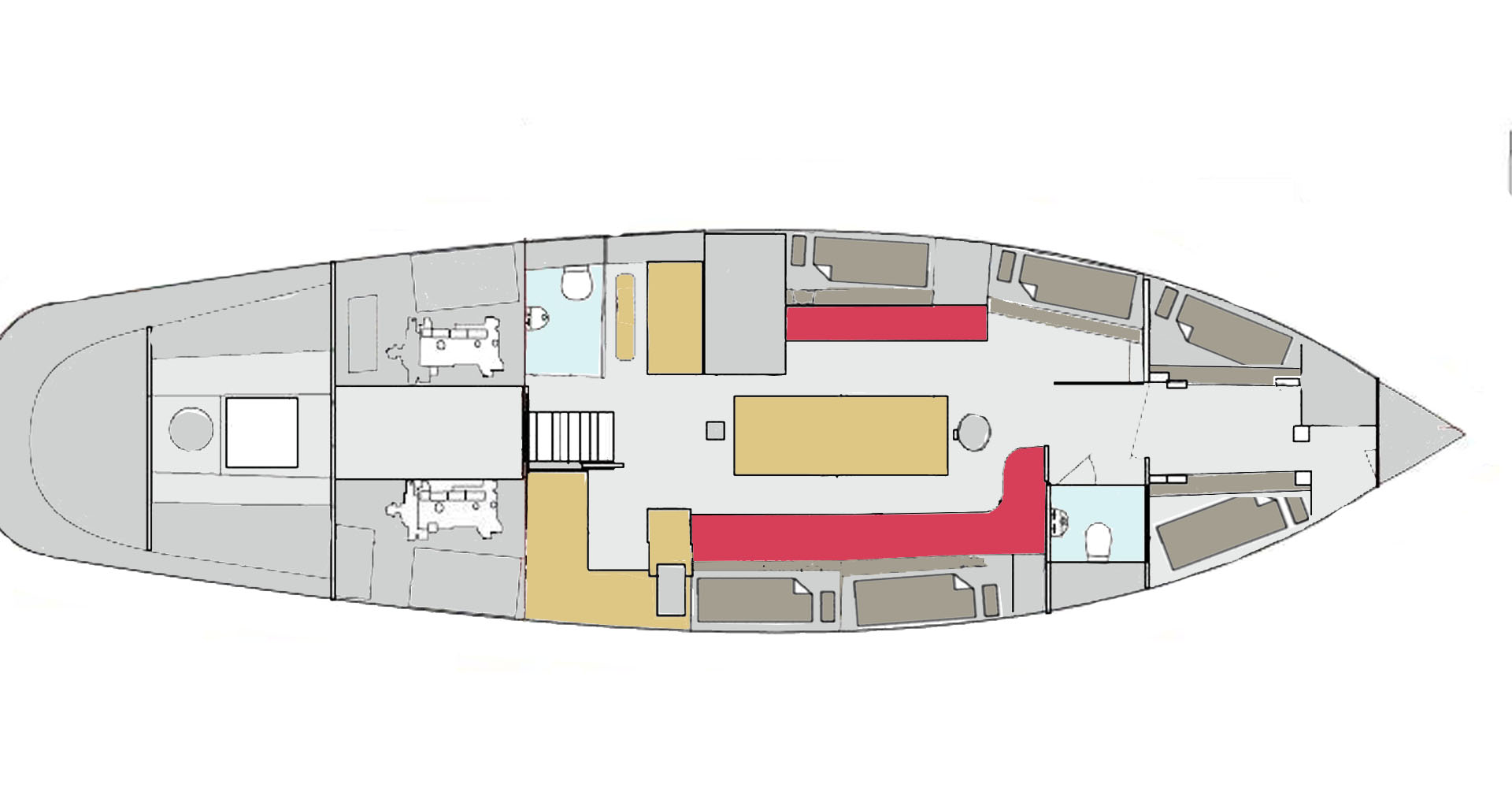 More about Pilgrim of Brixham
FAQ
Are meals included?

Yes - meals will be as locally sourced as possible and freshly prepared. Food is often a real hit on Pilgrim.

Can you cater for dietary needs?

Yes, please let us know when booking.

What language is spoken on board?

English

What are the sleeping arrangements?

There are 8 berths in the main saloon, with 4 in a cabin at the front of the ship, and 4 at the back (these are usually crew bunks)

Is there an age limit?

Preferably no under 8's on scheduled voyages but please check with us. There are no age limits on private charters.

Do I need to be a seasoned sailor?

Not at all. We give everyone who joins us on board the choice to do as much or as little as they like, whether they know how to or not.

How many toilet/showers does she have?

Two for guests

Is there WIFI?

No, but you should easily be able to reach 3G/4G from the shore.

Can I charge my phone/Camera?

Yes, please bring 12v chargers.

Are there life jackets provided?

Yes.

Are Waterproofs provided?

There are some for emergencies but please bring your own.

Will I be sea sick?

Everyone reacts differently but we recommend if you are at all worried to take some medication 24 hours before departure.
Locations
From: Port Pendennis Marina, Falmouth
To: Port Pendennis Marina, Falmouth