« All Voyages Cherokee's Schedule »
Sailing the Northern Coast of Spain
Vessel

:

Cherokee

Where

:

Northern Spain

Duration

:

9 days

Embark

:

Gijón - 1 September 2020, 18:30

Disembark

:

La Coruña - 10 September 2020, 10:30
Spend nine days summer sailing and exploring the Northern coast of Spain onboard Cherokee from Gijón to La Coruña.
Join Cherokee in the coastal city of Gijón in northern Spain. Home to Cimavilla, the oldest part of Gijón dating back to Roman times and known for its rich maritime heritage. A perfect backdrop to join a sailing holiday!
Still seemingly untouched by the tourist trade, the North coast of Spain remains quintessentially Spanish with traditional seaside tavernas, hidden coves and quiet sandy beaches. There is no set itinerary for your sailing holiday as Cherokee will sail where the wind and tides permit but you will anchor alongside traditional Spanish harbours and in hidden bays off the beaten track as you work your way along the coast. Explore seafront towns lined with ancient granite-paved streets, traditional Spanish markets and bustling taverns. Wander streets within walls of old medieval cities, revelling in Spanish history with elaborately carved stone architecture opening onto grand plazas. Walk secluded coastlines and discover coves and beaches away from the tourist's eye.
Your final destination will be La Coruña, a town whose history is still closely connected with its historic fishing and trading roots. A Peninsula on which the historic part of town is situated on, is home to an interesting Romanesque road network with squares and medieval churches as well as the Hercules Tower, the oldest lighthouse in the world. The Museum of Fine Arts, with works by Goya and others on display, is also worth a visit.
The time at sea is yours to make your own and guests are invited to become as involved as much as they like – take the helm and hoist the sails and sit back, relax and soak up the Spanish sunshine and enjoy the views!
All food and soft drinks are included in your ticket price.
Cherokee
Guest berths: 8 Rig: Cutter
In 2008, Jouke Lemmer purchased Cherokee after spending years sailing with his father's ship amongst others. Cherokee was built in 2000 by award-winning boat builders J & J Design and a year after buying her, Jouke refitted Cherokee radically, transforming her into a truly comfortable charter vessel, giving her a cutter rig and space for a generator so as to offer his passengers power and hot showers!
She is a fast, 16m vessel with a stunning teak deck and spacious cockpit, and she operates with two crew members (her skipper and the bosun/chef). Cherokee is exceptionally good at what she was built to do – pure sailing.
Jouke sails his ship all over the northern hemisphere, leaving Cherokee's home port of Rotterdam in May and sailing anywhere from the Hebrides and the Channel Islands, the Faroe Islands and Ireland or even down to the North coast of Spain before making the journey back to Holland in October. Join him and his wonderful ship for the adventure of a lifetime – think exhilarating sailing, bucket list destinations and top-notch hospitality.
Deck plan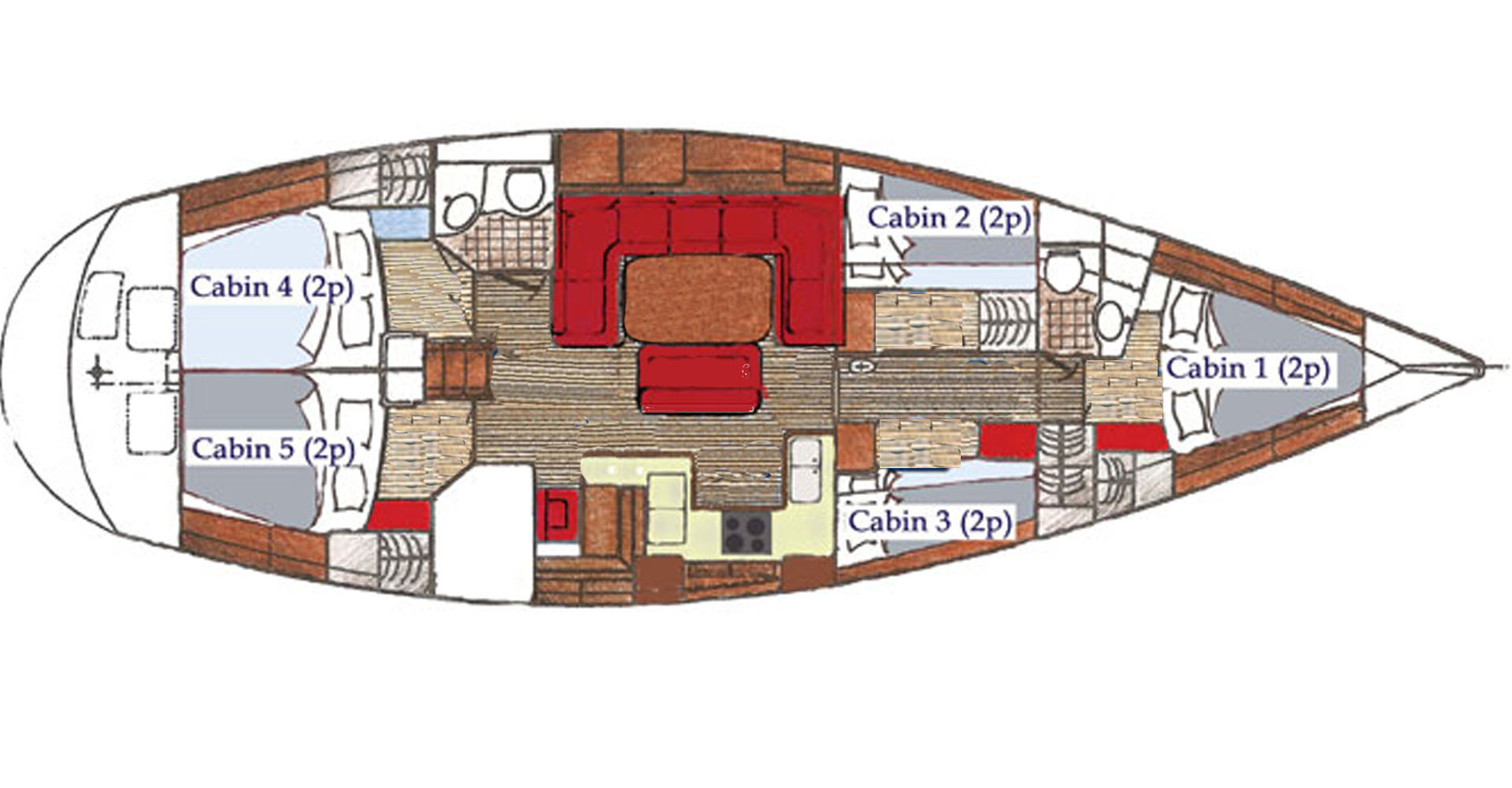 More about Cherokee
FAQ
Are all meals included?

Yes, all meals on board are included in the price. (Breakfast, Lunch, Dinner and soft/hot drinks) Alcohol is not included.

Can you cater for dietary needs?

Yes, please let us know when making your booking.

What language is spoken on board?

Dutch and English.

What are the sleeping arrangements?

Cherokee has two twin berth cabins and two double berth cabins for guests.

How many toilet/showers does she have?

Cherokee has two toilet/shower rooms.

Is there an age limit?

No!

Do I need sailing experience?

Not at all.

Is there WIFI?

No, but you should easily be able to reach 3G/4G from the shore.

Can I charge my phone/Camera?

Yes charging facilities are available when the generator is running.

Are there life jackets provided?

Yes

Are Waterproofs provided?

You can hire Sailing suits for £35 for the week.

Will I be sea sick?

Everyone reacts differently but we recommend if you are at all worried to take some medication 24 hours before departure.
Locations
From: Gijón
To: La Coruña