« All Voyages Cherokee's Schedule »
Island Hopping in The Hebrides
Vessel

:

Cherokee

Where

:

Scotland

Duration

:

8 days

Embark

:

Stornoway - 29 June 2020, 18:30

Disembark

:

Kyle of Lochalsh, Scotland - 7 July 2020, 10:30
This voyage will use the wind to sail out into some of the remote Hebridean islands, with the west coast of Scotland offering some of the most spectacular sailing waters around.
The islands that make up the Hebrides are a bucket list travel destination for many people, and we believe the best way to see them is by ship under sail. This voyage will see Cherokee leave Stornoway and head south for Kyle of Lochalsh.
The itinerary is, of course, dependent on the wind and tides but our crew know all the hotspots off the beaten track. Our favourite places to anchor include Mull, the Small Isles (Rum, Canna, Eigg and Muck), the west coast of Skye, the Treshnish Isles, Gometra, Iona, and Coll and the Garvellachs. We will show you their beauty from the water, and you will also have the chance to explore on foot.  Relax in sheltered anchorages and watch picturesque sunsets, and if we are blessed with dark skies, the stargazing from the deck is breathtaking.
Cherokee will set sail along the impressive cliffs of the Shiants, where she may be able to anchor depending on the weather. If she does anchor, guests must be sure to go ashore and explore – these are stunning islands and are teeming with wildlife. Then Cherokee will cross over to the beautiful port of Gairloch on the mainland, where a walk along the coast is sure to draw some people in. The views of the mainland's coastline are so impressive, and to see Cherokee in the harbour with a backdrop of Scotland's islands makes for a view that won't be forgotten.
Sail onto Rona, a beautiful island that makes up a part of the Inner Hebrides. Rona offers a sheltered anchorage, which former Vikings and smugglers loved to use. The island has the remains of a 14th-century chapel at the south of the island and paired with tales of pirates, smugglers and Vikings, it's a history lover's haven.
The final island that Cherokee will visit is The Isle of Skye. Anchoring at Portree, the crew will try to ensure a day is reserved for making the hike up to the Old Man of Storr – an impressive rock formation with views that make the hike well worthwhile. If walking doesn't appeal, there are many bus tours of the island, offering spectacular views and great local knowledge.
After exploring Skye, Cherokee will make her way to her guests' departure point on the mainland, Kyle of Lochalsh.
Wildlife in the Hebrides is a real treat; sightings of seabirds such as Black Guillemots can be seen in their hundreds and white-tailed eagles soar along the rugged coastline. Sailing on Cherokee is often rewarded with widespread sightings of birds of prey like Buzzards, Kestrels, Sparrow hawks and Peregrines and, if you're lucky, you'll spot the diminutive Merlin.  Scotland is also home to Fulmars, Hooded Crows, and snowstorms of Gannets diving for food on the open sea. The island of Rum has a massive Manx Shearwater colony that allows incredible views as they raft offshore around the Small Isles or shear the waves in feeding parties. Acrobatic Ravens give everything else in the sky a flying lesson. These sights are magnificently overwhelming, with the sound of seabird colonies, Puffins, Guillemots & Razorbills, it is like nothing else on earth.
There are frequent encounters with Common, Bottlenose & Whitebeak dolphins on board these trips, and Risso & Whitesided dolphins are also occasionally sighted. Basking sharks have been scarce the last few years but are still seen and seem to be returning – and we know the hot spots! There are plenty of whales in this part of the world too. Our most common encounters are with Minke – Humpbacks are a less frequent visitor, while the real star of the show is the resident pod of Orca if you're lucky enough to see them gliding through the water. So keep your eyes peeled and have your binoculars at the ready!
Jouke the Skipper has sailed these waters for a few years now so has a good knowledge of the hotspots off the beaten track. His crew are able to sail the boat without guest input but they are more than happy and willing for guests to get involved! The onboard chef will bring you breakfast, lunch and tea included in your ticket price so climb aboard for great food, exhilarating sailing and wonderful wildlife.
Cherokee
Guest berths: 8 Rig: Cutter
In 2008, Jouke Lemmer purchased Cherokee after spending years sailing with his father's ship amongst others. Cherokee was built in 2000 by award-winning boat builders J & J Design and a year after buying her, Jouke refitted Cherokee radically, transforming her into a truly comfortable charter vessel, giving her a cutter rig and space for a generator so as to offer his passengers power and hot showers!
She is a fast, 16m vessel with a stunning teak deck and spacious cockpit, and she operates with two crew members (her skipper and the bosun/chef). Cherokee is exceptionally good at what she was built to do – pure sailing.
Jouke sails his ship all over the northern hemisphere, leaving Cherokee's home port of Rotterdam in May and sailing anywhere from the Hebrides and the Channel Islands, the Faroe Islands and Ireland or even down to the North coast of Spain before making the journey back to Holland in October. Join him and his wonderful ship for the adventure of a lifetime – think exhilarating sailing, bucket list destinations and top-notch hospitality.
Deck plan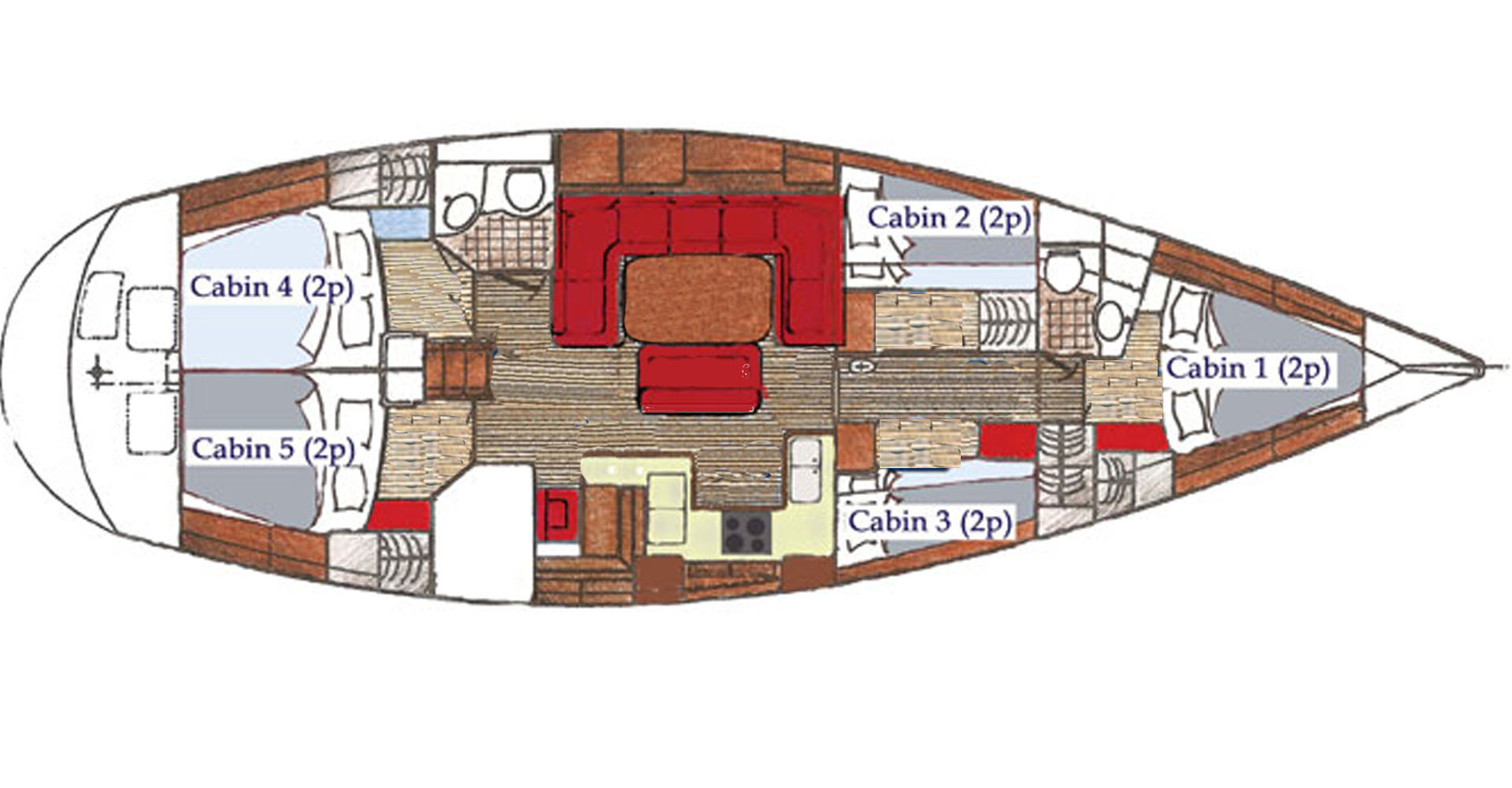 More about Cherokee
FAQ
Are all meals included?

Yes, all meals on board are included in the price. (Breakfast, Lunch, Dinner and soft/hot drinks) Alcohol is not included.

Can you cater for dietary needs?

Yes, please let us know when making your booking.

What language is spoken on board?

Dutch and English.

What are the sleeping arrangements?

Cherokee has two twin berth cabins and two double berth cabins for guests.

How many toilet/showers does she have?

Cherokee has two toilet/shower rooms.

Is there an age limit?

No!

Do I need sailing experience?

Not at all.

Is there WIFI?

No, but you should easily be able to reach 3G/4G from the shore.

Can I charge my phone/Camera?

Yes charging facilities are available when the generator is running.

Are there life jackets provided?

Yes

Are Waterproofs provided?

You can hire Sailing suits for £35 for the week.

Will I be sea sick?

Everyone reacts differently but we recommend if you are at all worried to take some medication 24 hours before departure.
Locations
From: Stornoway
To: Kyle of Lochalsh, Scotland