Sailing the Small Isles and Skye
Vessel

:

Steady

Where

:

Scotland

Duration

:

10 days

Embark

:

Oban - 30 July 2019, 15:00

Disembark

:

Oban - 8 August 2019, 10:00
The sea around the West coast of Scotland offers some of the most stunning cruising grounds in the world. This hands on adventure will take you where the wind blows and some of the most stunning landscape in the world.
Sail with Steady from Oban, Scotland as she voyages around the breathtaking islands that make up the Hebrides.
The itinerary is, of course, dependent on the wind and tides but the Skippers are well travelled in these parts so know the best places to anchor. They will show you the beauty of the islands from the water but will also give you the chance to explore on foot.  Relax in sheltered anchorages and watch picturesque sunsets, and if we are blessed with dark skies, the stargazing from the deck is breathtaking – you may even spot the northern lights. This cruise requires no previous sailing experience so you can sit back and enjoy the views, however, if you wish, the crew are more than happy to show you the ropes and even give you the helm!
Tacking Steady westward through the Sound Of Mull, you could head out beyond Ardnamurchan Point and alter course North/West toward Barra and beyond. The Northern route takes Steady on and out to the more remote Hebridean Isles. Included in these are The Small Isles which are made up of four islands, Rum, Muck, Eigg and Canna.
The Isle of Rum, by far the largest island, possesses a cluster of formidable volcanic peaks, Askival (Ash Mountain) the highest peak, dominates the landscape, and the name itself tells of the Viking settlers here. Rum is a National Nature Reserve home to the architecturally remarkable Kinloch Castle, and of course some wonderful wildlife. The island's most famous residents are sea eagles (re-introduced in the 1980s), red deer and the hardy Rum Ponies. There is plenty of exploring to be had on the Isle of Rum, taking in the stunning mountain and coastal scenery. Eigg is the most populated but still only has under 100 residents and is the most welcoming of the Small Isles. Offering Britain's largest pitchstone ridge, eagles soaring over stunning white beaches and the worlds first fully renewably powered electricity grid, we're sure you'll love Eigg as much as its locals. Muck is the smallest and most southerly island. Its low-lying, mostly treeless landscape offers dramatic perspectives and panoramic views of sandy beaches and rocky shorelines. Watch out for Golden Eagles! Canna, looked after by the National Trust since 1981, is one of the prettier islands. With its high basalt cliffs and dramatic volcanic landscapes, the views here are breathtaking. You might even be lucky enough to see Minke Whales from the high cliffs, soaring Sea Eagles and nesting Puffins.
Taking the Southerly heading, follow the majestic coastline of Mull down past Treshnish and on to Staffa. A visit to Fingal's cave is a must, but landing is very much dependant on swell. Beyond Staffa lies the sacred Isle of Iona where the resonance of Columba lives on. Onwards, the ship will pass Torrans Rocks where Davy Balfour was wrecked in a tremendous storm, finally being washed ashore on Erraid. Heading on South to Colonsay, stop for the night alongside the pier and walk through the crew's favourite island, for its gentle beauty and of course to taste some great ales from smallest island brewery in the world. If you are fortunate with settled weather, the crew will want to take you to one of the most awesome anchorages in the world. Nestling at the foot Cuillins (a range of rocky mountains and ridges) on the Isle of Skye, lies Loch Corusk adjoined with the beautiful Scavaig River. Follow the trail past the River and through to the Loch and you feel like you have walked right into the middle of the earth.
Westward lie the Outer Hebrides, remote and utterly enchanting and a day's sailing across the sea of Hebrides. The land here features the oldest rock in the world and is made up of hundreds of islands, both small and large, inhabited and uninhabited. The east side of the islands is made up of islets and sea lochs running deep inland, while out west where the Atlantic pounds the shore, untouched white sand beaches stretch for miles with crystal clear water just waiting to be explored by you. Everywhere Steady travels, you will find that each island provides some good short walks of about an hour before setting sail and heading towards a new anchorage.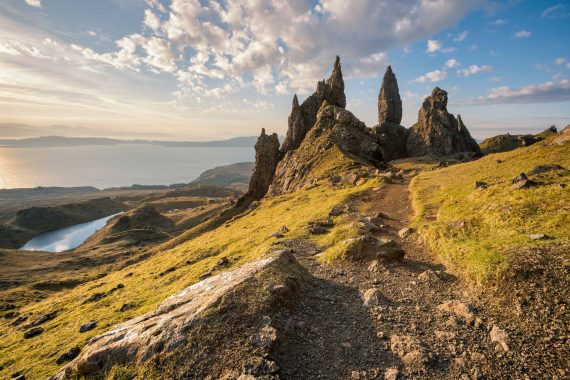 WILDLIFE in the Hebrides is a real treat; sightings of seabirds such as Black Guillemots can be seen in their hundreds and white-tailed eagles soar along the rugged coastline. Sailing on Zuza is often rewarded with widespread sightings of birds of prey like Buzzards, Kestrels, Sparrowhawks and Peregrines and, if you're lucky, you'll spot the diminutive Merlin.  Scotland is also home to Fulmars, Hooded Crows, and snowstorms of Gannets diving for food on the open sea. The island of Rum has a massive Manx Shearwater colony that allows incredible views as they raft offshore around the Small Isles or shear the waves in feeding parties. Acrobatic Ravens give everything else in the sky a flying lesson. These sights are magnificently overwhelming, with the sound of seabird colonies, Puffins, Guillemots & Razorbills, it is like nothing else on earth.
There are frequent encounters with Common, Bottlenose & Whitebeak dolphins on board these trips, and Risso & Whitesided dolphins are also occasionally sighted. Basking sharks have been scarce the last few years but are still seen and seem to be returning – and we know the hot spots! There are plenty of whales in this part of the world too. Our most common encounters are with Minke – Humpbacks are a less frequent visitor, while the real star of the show is the resident pod of Orca if you're lucky enough to see them gliding through the water. So keep your eyes peeled and have your binoculars at the ready!
Steady has been sailing these waters for years and she knows all the secret spots and loves sharing these with her guests.  Breakfast, lunch, dinner and snacks are all included in your ticket price and the crew will definitely indulge you, cooking locally sourced and freshly prepared meals. Wherever you explore with Steady, be sure that the views will be breathtaking and the wildlife in abundance, so have your eyes peeled and your binoculars at the ready for a wonderful trip. With food included, private cabins and comfy social spaces, this is an adventure not to be missed!
Steady
Guest berths: 8 Rig: Staysail Ketch
Join Jan-Willem and Mariëlle Kerkmeer aboard their 1993 Dutch ketch as they sail the seas of Scandinavia and Scotland.
Since she was built, Steady has been used as a charter vessel, so is fully kitted out with her guests comfort in mind. She sleeps eight people in four comfortable twin cabins, with two bathrooms and a spacious living area below deck.
There's plenty of room on deck too to take in the surrounding views and if the weather should turn, Steady has Musto sailing suits available for her guests.
Mariëlle & Jan-Willem also make full use of the well-equipped kitchen, making varied meals for all the guests on board – these are all included in the price of your voyage. For seven-day voyages, you will also be able to enjoy one meal ashore, and longer voyages (ten and twelve-day) there will be two dinners ashore – (these meals ashore are not included in the price of your voyage)
Onboard Steady, most guests like to lend a hand with the sailing of this eye-catching vessel, and Jan-Willem and Mariëlle are excellent teachers if you do want to get involved. They will cater for all abilities, so if you'd rather sit back and relax with a book, then that's fine too!
Steady's voyages explore the islands of the Inner and Outer Hebrides and St Kilda; an area of unspoilt wilderness and breathtaking beauty in the Western Isles of Scotland. Her trips give you access to the most captivating and remote hidden secrets of this incredible and beautiful place. As you cruise through this stunning marine landscape you will likely be lucky enough to experience close encounters with rare wildlife and have time to soak up the unique and fascinating history and culture of the Hebrides and St Kilda.
Watch this short video of Steady sailing around Oban.
More about Steady
FAQ
Are all meals included in the price?

Yes - all meals (except the one or two meals that you may have ashore) are included in the price (Breakfast, Lunch, Dinner, Soft/Hot Drinks) Please note that Alcohol is not included.

Can you cater for dietary needs?

Yes, please let us know at the time of booking.

What language is spoken on board?

Jan-Willem and Mariëlle are Dutch, however they are fluent in English too.

What are the sleeping arrangements?

There are four cosy twin bunk bed cabins. (Please remember that you're on a boat!)

How many bathrooms/showers does she have?

Steady has 2 toilets and 2 showers.

Is there WIFI aboard?

No, but you should easily reach 3/4G from the shore.

Are there Life Jackets provided?

Yes

Are there Waterproofs available?

Yes, Steady has Musto sailing suits available if needed.

Do I need sailing experience?

No, absolutely not! Just a love for adventure.

Will I be seasick?

Everyone reacts differently but if you are unsure we recommend you take seasick tablets 24hours before you board.
Locations
From: Oban
To: Oban