« All Voyages Noorderlicht's Schedule »
Sailing & Whale Watching in Norway
Vessel

:

Noorderlicht

Where

:

Norway

Duration

:

8 days

Embark

:

Harstad - 12 February 2022, 16:00

Disembark

:

Harstad - 19 February 2022, 09:00
Cross the Arctic circle on schooner Noorderlicht as you search for whales and spend your evenings under the Northern Lights.
Join Nooderlicht as she sails through the Norwegian fjords and islands letting the wind guide you to your destination. Enjoy the magnificent scenic landscape of Northern Norway with majestic mountain peaks, diverse bird and animal life, picturesque villages and the fairytale Arctic light. This is the best place on earth to see the Northern lights!
The main focus of this voyage is to sail where we have the best chances of spotting whale species. However, if the weather conditions are better suited to explore the Lofoten, this will be our plan B.
Day 1: Harstad: the gateway for spotting whales around Andenes
Arrive at the airport of Evenes where you can take a direct fly-bus to the lovely little town of Harstad. This city is officially situated in the subarctic because it is far above the Arctic circle. Harstad offers a great starting point for exploring the island of Senja and spotting whales which are often situated around Andenes all year round. If weather conditions are not suited to sail North, Harstad gives the possibility to sail South towards the Lofoten.
In the harbour of Harstad, Noorderlicht is waiting for you where you can board from 1600. The crew will welcome you and you will enjoy your first dinner aboard. In the evening you will have the time to have a stroll through the cosy town and you might have the first chance to see the wonder of the Northern lights.
Day 2: Cast off the lines & hoist the sails towards Skrolsvik
After breakfast, we will leave Harstad and set sail towards Skrolsvik, which is situated at the southernmost tip of the island of Senja and offers beautiful scenery. Skrolsvik was once a thriving fishing village because of the rich halibut fishing in the Andfjord. You might like to pay a visit to the 'kweitmuseet' (the Halibut museum) or have a look at the 'Gammelbutikken' (the Old store).
Since there is not much light pollution here, it gives a perfect location for observing the Northern lights in the evening.
Day 3: in search for whales around Andenes
If the sea is calm today, we will leave Skrolsvik in the morning to set course towards the ''Bleik-canyon'' situated on the edge of the continental shelf approximately at 69*25 N; 15*45 E. This extraordinary deep-sea area offers the possibility to observe a variety of whales in their natural habitat.
In the afternoon we will moor in the harbour of the fishing village Andenes. The scenery of this little town is dominated by the Andenes lighthouse, a 40 meters high lighthouse that dates back to 1859 and is still in use today. Interesting to know is that they are currently building a new whale museum in Andenes which will have an unprecedently spectacular architecture: it will be shaped in the form of a whale. The museum will open its doors in 2022.
Day 4 -6: Exploring the spectacular scenery of Senja
We spend the next couple of days sailing along the coast of the island Senja. Senja is also been referred to as "Norway in miniature'' or "fairytale island''. The area is loved for its dramatic mountains that plunge straight into the sea, its rich wildlife and low light pollution which can offer the best aurora experience. While sailing here, keep a good lookout for white-tailed eagles, and other bird species!
In the afternoon we will moor in one of the tiny fishing villages nearby, such as Gryllefjorden or Hamn. Once the sun is set, you can make short hikes along the scenic coast or in the small villages. Snowshoes are available on board in case the landscape is covered by snow.
Day 7: Return towards Harstad
If weather permits, we will spend this day sailing back towards Harstad. At arrival in Harstad, you can enjoy some free time to shop for souvenirs, visit a museum or take a walk in the winter air. The crew will have a last surprise for you awaiting aboard and you can enjoy your last evening with the crew and your fellow travellers.
As with all Nooredrlicht's sailing holidays, your ticket price includes Breakfast, Lunch, Dinner, Snacks and Tea/Coffee. All cabins are private twin cabins with shared bathrooms. 
Simply click "Enquire Now" to reserve your berth for five days whilst you sort your travel plans. No booking form or deposit is required until you are ready to book! Upon booking, Noorderlicht requires a 50% deposit with the remaining balance due 90days before departure. Noorderlicht is giving full refunds in the event of Coronavirus restrictions that mean they are unable to sail.
Schedule
| Voyage | Set Sail | Days | Cost p/p | |
| --- | --- | --- | --- | --- |
| Sailing & Whale Watching in Norway | 1 January 2022 | 8 | £1,550 | Enquire now |
| Sailing & Whale Watching in Norway | 8 January 2022 | 8 | £1,550 | Enquire now |
| Sailing & Whale Watching in Norway | 15 January 2022 | 8 | £1,550 | Enquire now |
| Sailing & Whale Watching in Norway | 22 January 2022 | 8 | £1,550 | Enquire now |
| Sailing & Whale Watching in Norway | 29 January 2022 | 8 | £1,550 | Enquire now |
| Sailing & Whale Watching in Norway | 5 February 2022 | 8 | £1,550 | Enquire now |
| Sailing & Whale Watching in Norway | 12 February 2022 | 8 | £1,550 | Enquire now |
| Sailing & Whale Watching in Norway | 19 February 2022 | 8 | £1,550 | Enquire now |
| Sailing & Whale Watching in Norway | 26 February 2022 | 8 | £1,550 | Enquire now |
| Sailing & Whale Watching in Norway | 5 March 2022 | 8 | £1,550 | Enquire now |
Noorderlicht
Guest berths: 20 Rig: Schooner
Originally built in 1910, Noorderlicht has a colourful history and has spent much of her life sailing the Baltic Sea and exploring Svalbard. With various refits, hull extensions and rigging reconfigurations, she now sails as a graceful two-masted schooner taking guests on bucket-list sailing holidays in the Arctic.
With comfortable accommodation for up to 20 guests in private twin cabins, Noorderlicht offers guests whale watching and wildlife expeditions exploring the Arctic waters of Northern Norway & Svalbard. Her size and draft mean she can reach some of the most remote areas of Svalbard so she is a great way to discover the hidden gems that this breathtaking part of the world has to offer.
Low impact and environmental travel go hand-in-hand with Noorderlicht's ethos. Her ability to set sail and explore this part of the world is the best way enjoy the beautiful unspoiled nature.
In the early 90's she was refitted to become a charter vessel and so her accommodation below decks was given careful consideration. She has ten comfortable twin cabins that all share four bathrooms. The galley and downstairs seating area sits in the middle of the ship with another seating area and bar in the deck-house.
Noorderlicht is sailed by her loving owners along with a friendly crew who are all well trained to sail the wilderness of Svalbard. They invite guests to get involved with sailing Noorderlicht but it is certainly not mandatory!
Deck plan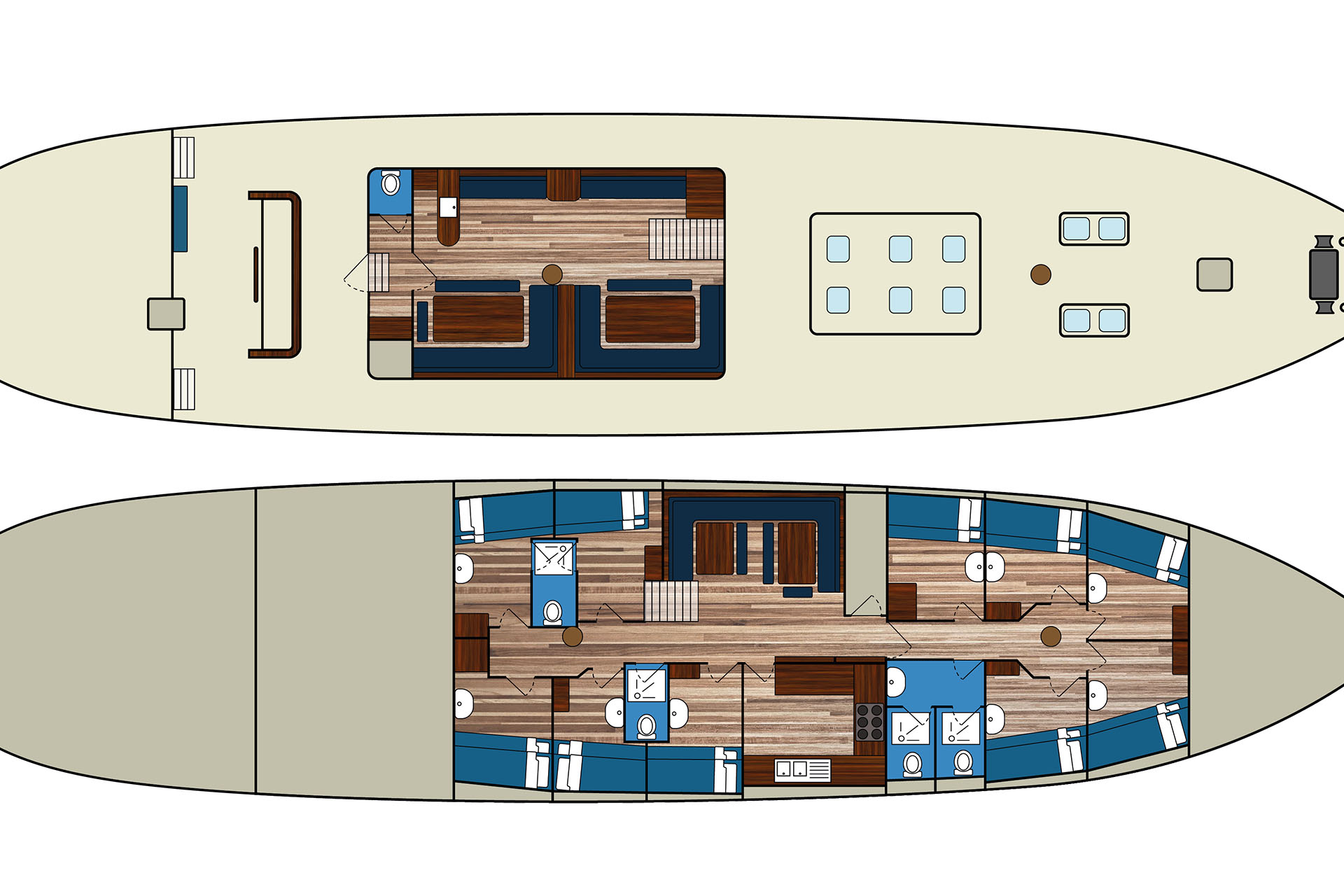 More about Noorderlicht
FAQ
Are all meals included?

Yes, all meals on board are included in the price. (Breakfast, Lunch, Dinner and hot drinks) Alcohol is not included.

Can you cater for dietary needs?

We can cater for Vegetarian, Dairy and Gluten free but sorry no vegans.

What language is spoken onboard?

Dutch/English

What are the sleeping arrangements?

10 x Twin Cabins with shared bathrooms

How many toilet/showers does she have?

4 Shower rooms and an extra single toilet

Is there WIFI?

No, but you should easily be able to reach 3G/4G from the shore.

Can I charge my phone/Camera?

Yes, please bring european adaptors

Are there life jackets provided?

Yes

Are Waterproofs provided?

No

Do I need sailing experience?

No, absolutely not! Just a lust for adventure.

Will I be sea sick?

Everyone reacts differently but we recommend if you are at all worried to take some medication 24 hours before departure.
Locations
From: Harstad
To: Harstad
GETTING THERE
Fly from most UK airports to OSLO, Norway where you can continue to Harstad-Navik, Evenes Airport. SAS airlines offer affordable flights.
You can then catch the airport bus to Harstad which is about a 50-minute journey.
Noorderlicht will be moored on the quay near Havnegata, 9404 Harstad, Norway.