« All Voyages Noorderlicht's Schedule »
Sailing in Svalbard
Vessel

:

Noorderlicht

Where

:

Svalbard,Norway

Duration

:

8 days

Embark

:

Longyearbyen - 14 May 2022, 16:00

Disembark

:

Longyearbyen - 21 May 2022, 09:00
Discover the beauty of the Arctic wilderness from Svalbard on tall ship Noorderlicht.
Join Noorderlicht in Svalbard for an Arctic adventure sailing holiday of a lifetime.
Day 1: Embarkation in Longyearbyen
Longyearbyen is the largest inhabited settlement in Spitsbergen and the world's most northerly inhabited town with more than 1000 inhabitants. Discover the fascinating history of the island as you join Noorderlicht on the 'floating pier'. After a welcome from the captain, the mooring lines will be cast off and you will receive a safety briefing from the crew. Afterwards you will enjoy a delicious first dinner on board, while the ship sets course towards Trygghamna bay, where it will anchor for the night. The name Trygghamna comes from the original Dutch name 'safe harbour', because of its sheltered and safe anchorages.
Day 2: Visit to seabird cliff Alkhornet
After breakfast, it's time to prepare for the first zodiac landing in Trygghamna, where you can see the remains of a 17th century English whaling station and a 18th century hunting station of the Pomor (Russian hunters).
From here we will hike to the 428-meter high Alkhornet cliff, where some 10,000 pairs of different seabirds breed. The cliffs are composed of carbonate rock, which is more than a billion years old. The tundra at the bottom of the cliff receives nutrients from the sea birds and provides meadows for reindeer, nesting sites for geese and shelter for Arctic foxes. Therefore, this location is very suitable for spotting these animals as well as polar bears.
After lunch, the sails will be set, ready to head South towards Bellsund where we will drop anchor for the night at the island of Akseløya.
Day 3: AkselØya landing – Fridjofbreen Glacier
AkselØya is a long and narrow island in the mouth of the Bellsund, blocking the majority of the Van Mijenfjord. This island is named after the sailing schooner that the Finnish explorer Adolf Erik Nordenskiold chartered for his 1864 expedition to Spitsbergen. We will head ashore to walk and explore the caving glacier Fridtjofbreen which is surrounded by picturesque mountains so keep an eye out for belugas who have often been spotted here in previous years!
After a day of exploration, we will anchor overnight at Midterhuken.
Day 4: Remains of Beluga hunting
Spend the morning exploring ashore on Midterhuken where there is the most fantastic view of the mountain ridge of Spitsbergen. The tundra is a great place to spot arctic foxes, herds of reindeer and even Polar Bears if you're lucky!
Once back onboard, Noorderlicht will continue her journey to the bay of Fleur de Lyshamna where we will once again explore ashore. Kvitfiskstranda – 'white whale beach' is where we can find a whaling station built by the same Svendsen.
Day 5: History in the Recherchefjord
Recherchefjord is teeming with history and evidence of coal mining and whaling dating back to the 17th century. Remains from these periods can be seen here at several locations and are fascinating to explore before sailing into Isfjord.
Day 6: Ghost Town in Soviet-style: Barentsburg
In the morning we will visit the town named after Willem Barents. The name Barentsburg was given in 1924 by the Dutch Spitsbergen Company to the then Dutch mining settlement. In 1926 the mining town was taken over by the Russians, after which it grew into a town of miners with more than 1000 inhabitants. Today there are still about 400 people of mainly Russian or Ukrainian descent. There is a life-size bust of Lenin in the middle of the town, billboards with photos of workers and modernist Soviet buildings.
After our onshore exploration, we leave for Borebukta. We will try to get as close as possible to the northwestern end to get a look at the steep glacier front of the Borebreen. We then continue to the west side of the bay, close to the Nansenbreen, where we will anchor for the night.
Day 7: Sailing towards Longyearbyen
After breakfast, it's time for one last stop at the historic mining settlement of Cape Bohemanflya before our sail back to Longyearbyen.
Day 8: Goodbye Noorderlicht!
After a hearty breakfast, you can disembark by 09:00.
As with all Nooredrlicht's sailing holidays, your ticket price includes Breakfast, Lunch, Dinner, Snacks and Tea/Coffee. All cabins are private twin cabins with shared bathrooms. 
Simply click "Enquire Now" to reserve your berth for five days whilst you sort your travel plans. No booking form or deposit is required until you are ready to book! Upon booking, Noorderlicht requires a 50% deposit with the remaining balance due 90days before departure. Noorderlicht is giving full refunds in the event of Coronavirus restrictions that mean they are unable to sail.
Noorderlicht
Guest berths: 20 Rig: Schooner
Originally built in 1910, Noorderlicht has a colourful history and has spent much of her life sailing the Baltic Sea and exploring Svalbard. With various refits, hull extensions and rigging reconfigurations, she now sails as a graceful two-masted schooner taking guests on bucket-list sailing holidays in the Arctic.
With comfortable accommodation for up to 20 guests in private twin cabins, Noorderlicht offers guests whale watching and wildlife expeditions exploring the Arctic waters of Northern Norway & Svalbard. Her size and draft mean she can reach some of the most remote areas of Svalbard so she is a great way to discover the hidden gems that this breathtaking part of the world has to offer.
Low impact and environmental travel go hand-in-hand with Noorderlicht's ethos. Her ability to set sail and explore this part of the world is the best way enjoy the beautiful unspoiled nature.
In the early 90's she was refitted to become a charter vessel and so her accommodation below decks was given careful consideration. She has ten comfortable twin cabins that all share four bathrooms. The galley and downstairs seating area sits in the middle of the ship with another seating area and bar in the deck-house.
Noorderlicht is sailed by her loving owners along with a friendly crew who are all well trained to sail the wilderness of Svalbard. They invite guests to get involved with sailing Noorderlicht but it is certainly not mandatory!
Deck plan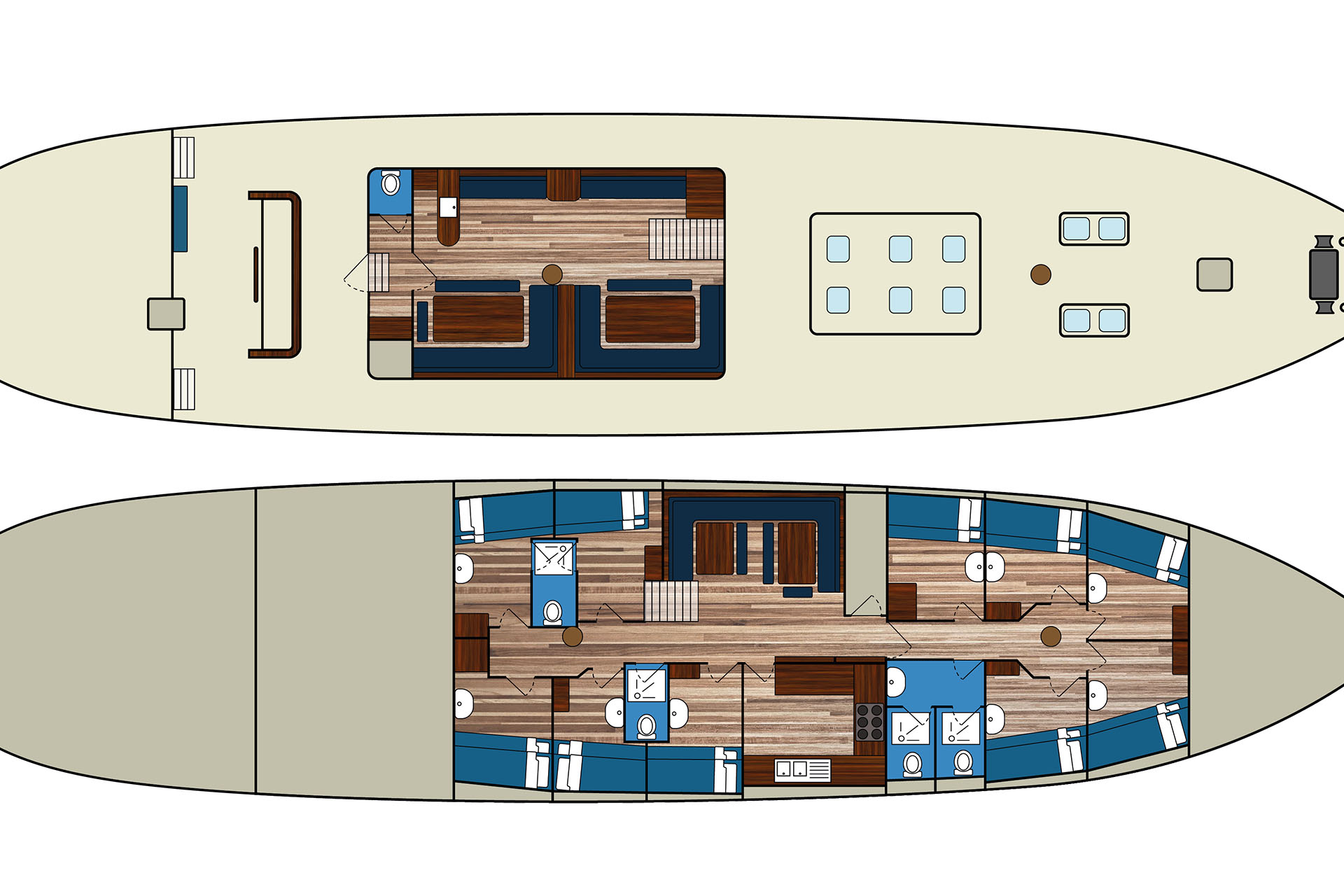 More about Noorderlicht
FAQ
Are all meals included?

Yes, all meals on board are included in the price. (Breakfast, Lunch, Dinner and hot drinks) Alcohol is not included.

Can you cater for dietary needs?

We can cater for Vegetarian, Dairy and Gluten free but sorry no vegans.

What language is spoken onboard?

Dutch/English

What are the sleeping arrangements?

10 x Twin Cabins with shared bathrooms

How many toilet/showers does she have?

4 Shower rooms and an extra single toilet

Is there WIFI?

No, but you should easily be able to reach 3G/4G from the shore.

Can I charge my phone/Camera?

Yes, please bring european adaptors

Are there life jackets provided?

Yes

Are Waterproofs provided?

No

Do I need sailing experience?

No, absolutely not! Just a lust for adventure.

Will I be sea sick?

Everyone reacts differently but we recommend if you are at all worried to take some medication 24 hours before departure.
Locations
From: Longyearbyen
To: Longyearbyen
GETTING THERE
Fly from most UK airports to OSLO, Norway where you can continue to Harstad-Navik, Evenes Airport. SAS airlines offer affordable flights.
You can then catch the airport bus to Harstad which is about a 50-minute journey.
Noorderlicht will be moored on the quay near Havnegata, 9404 Harstad, Norway.