Sail to the Solent on traditional trawler Pilgrim of Brixham as she takes part in the Old Gaffers Association regatta event.
This 7 day cruise offers a great introduction to sailing a traditional ship – and with her red sails, rich heritage and classic tiller, Pilgrim of Brixham is the perfect ship to do it on. You'll be able to discover the South Devon coastline, explore the land and develop your sea legs with a unique sailing experience. The crew will literally show you the ropes and encourage you to get stuck in and experience first hand traditional classic boat sailing.
Pilgrim's journey will start in her hometown of Brixham and will see her sail North up the Devon Coast to reach the Solent. A popular sailing area covering the south coast of England from Weymouth to Brighton, including the Isle of Wight.
Pilgrim will set sail east along the Jurassic Coast from Brixham for their exciting Old Gaffers Solent Adventure. It's will be Pilgrim's first time back at the Old Gaffers Solent rally since 2014 and will be one of the landmark events in our 125th Anniversary year when we will join up with a fabulous fleet of other heritage vessels in Yarmouth, Isle of Wight. Over seven days we will cruise along the Jurassic Coast and back, soaking up the wonderful wildlife and stunning scenery. Pilgrim will sail in past the Needles and Hurst Castle to join in the festivities in Yarmouth. This trip will combine a wonderful sailing experience, the fun and frolics of the rally and the delights of sailing in the Solent.
This weekend sees the Old Gaffers Association hold a series of events for traditional gaff rig boats around the Isle of Wight. The Yarmouth Regatta is held from the 28th-31st May with the 30th holding the Round the Island race when some 1200 boats race around the Isle of Wight. First run in 1931, this race is a well known maritime event and the opportunity to be a part of it will make for an exhilarating sailing experience. Pilgrim of Brixham will spend her time taking part in the races and soaking up the jolly atmosphere of this popular regatta.
Anchor or moor in quaint harbour towns with plenty of time to explore ashore.
Pilgrim of Brixham
Guest berths: 10 Rig: Gaff Rigged Ketch
Pilgrim of Brixham, built in 1895, is a traditional gaff rigged ketch that is one of a handful of remaining wooden sailing trawlers that were built in Brixham. Pilgrim and her iconic red sails were once part of a large fishing fleet operating out of Brixham, which used to be the principal fishing port in the country. Her survival is testament to her quality, with many similar Victorian fishing vessels having a life span of less than 20 years – and the main reason for her survival is thanks to funding from the Heritage Lottery Fund, the South Devon Coastal Local Action Group and many individual donors and volunteers.
The Pilgrim Story
After spending many years under different owners in Scandinavia, in 1999 she was brought home from Denmark back to Brixham. After significant restoration work, a few mishaps along the way and a hefty dose of community spirit, Pilgrim was returned to her former glory above decks, and brought up to modern standards below.
Today, as a charter vessel, the Brixham community still rallies around Pilgrim, with local crew, experienced and skilled volunteers performing maintenance and making the Pilgrim of Brixham operation run like clockwork. VentureSail is incredibly proud to have a hand in getting people aboard this historic vessel to not only experience how magnificently she sails, but also to see how passionate those that sail her are. Join Pilgrim on voyages around Devon, Cornwall and the Isles of Scilly, or experience maritime festivals on this incredible vessel.
Deck plan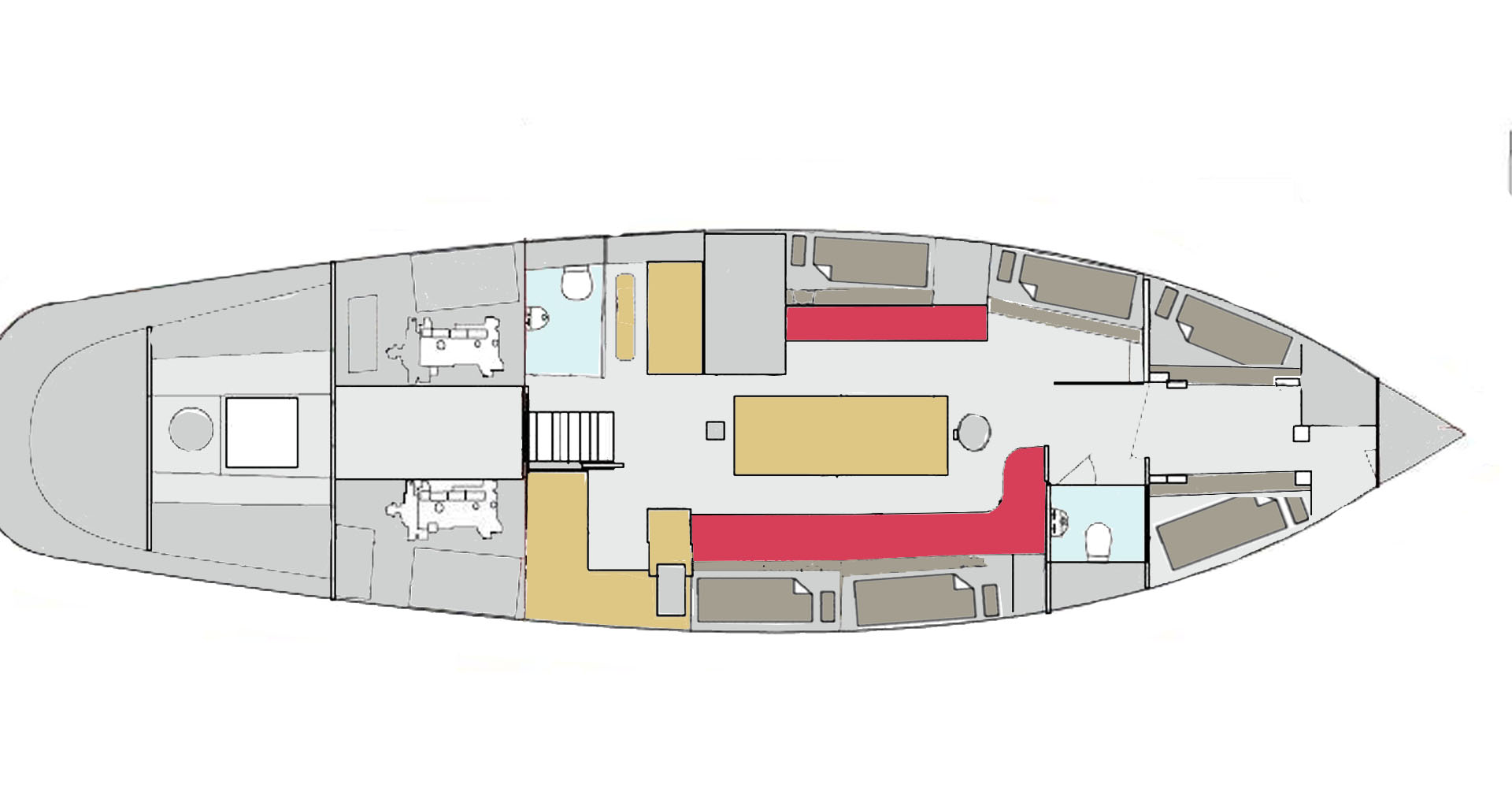 More about Pilgrim of Brixham
FAQ
What are the sleeping arrangements?

There are 8 berths in the main saloon, with 4 in a cabin at the front of the ship, and 4 at the back (these are usually crew bunks)

What language is spoken on board?

English

Are meals included?

Yes - meals will be as locally sourced as possible and freshly prepared. Food is often a real hit on Pilgrim.

Do I need to be a seasoned sailor?

Not at all. We give everyone who joins us on board the choice to do as much or as little as they like, whether they know how to or not.
Locations
From: Brixham
To: Brixham