« All Voyages Eye of the Wind's Schedule »
2021 Caribbean Island Hopping Tall Ship Sailing
Vessel

:

Eye of the Wind

Where

:

Caribbean

Duration

:

8 days

Embark

:

Pointe-a-Pitre, Guadeloupe - 8 January 2021, 19:00

Disembark

:

Falmouth Harbour, Antigua - 15 January 2021, 10:00
Live the Caribbean dream on board Eye of the Wind as she sails from Guadeloupe to Antigua, exploring the turquoise waters of the Caribbean Sea.
The starting point for this trip is the port of Deshaies in Guadeloupe. The first stop is planned in the snorkelling paradise off Pigeon Island. Then we will circle the south coast of Guadeloupe and discover the neighbouring islands of Marie Galante and Les Saintes.
This trip involves shorter sailing distances ensuring a good mix of sailing experience during the daytime and sufficient time for exploring ashore and swimming stops in the afternoon and evening. Our destination is Antigua with its attractive mixture of beaches, nature, culture, history, shopping opportunities and delicious cuisine is a real "treasure island".
Begin in Guadeloupe with its main island in the shape of a butterfly with the Salée River running in between. Home to beautiful long stretches of beach, sugarcane fields and the Parc National de la Guadeloupe encompassing the beautiful Carbet Falls and the volcano of La Grande Soufrière. Guadeloupe has smaller islands that include Marie-Galante and La Désirade. The island of Dominica is mountainous and covered in rainforest reserves teeming with wonderful wildlife spotting opportunities. The National Park is home to the volcanically heated, steam-covered Boiling Lake, hot springs and the 65m-tall Trafalgar Falls – don't forget your swimsuit! Wander the pretty streets of the capital of Dominica, Roseau, visit the beautiful botanical gardens and immerse yourself in the relaxed Caribbean culture.
Your final destination is the island of Antigua, which is the mainland of the country of Antigua and Barbuda. Surrounded by turquoise waters, miles of coral reefs, stretches of sandy beaches and sheltered bays, this island is great for snorkelling and swimming and it the perfect way to end your Caribbean sailing adventure.
The beauty of being on a ship in these breathtaking islands is that we can take you to the unspoilt, authentic Caribbean, away from the busy resorts and beaches. Experience true Caribbean culture, from small fishing villages to lively, colourful carnivals. The crew will aim to give you time to explore the islands as you wish, finding harbours to berth at and secluded bays to anchor in. Feel the sand between your toes, soak up the wonderfully colourful culture, snorkel with the fantastic marine life or simply kick back and relax on the beach.
Wildlife in the Caribbean is a real treat. Spot graceful Green and Loggerhead Sea Turtles gliding effortlessly through the water and Bottlenose Dolphins swimming with the wake of the bow. Whales also frequent the Caribbean sea, with the warm water providing the perfect breeding grounds at this time of year for the humpback whale. Birdlife in the Caribbean is an incredibly beautiful sight. Keep your binoculars at the ready to spot these colourful delights. With species only native to the Caribbean, these are once in a lifetime encounters! Pink Flamingoes are also a common bird across the Caribbean islands; these sociable creatures inhabit the blue lagoons, mudflats and lakes, living in colonies that can contain thousands of individuals.
There is no fixed itinerary for your sailing holiday, Eye of the Wind will need to sail where the wind and weather take her. The Skipper will have a better idea of the holiday plan as you board and will give a briefing on your first evening. Rest assured where ever you sail in this beautiful part of the world you won't be disappointed and the skipper is always happy to take guest wishes into consideration.
Wonderful nature and wildlife, sailing adventures, and the culture of the colourful Caribbean islands turn this trip into a unique holiday experience. Enjoy the azure ocean, palm beaches and the incomparable flair of the "Caribbean way of life".
Eye of the Wind
Guest berths: 16 Rig: Brig
With incredible amounts of character, Eye of the Wind has all the modern amenities and an authentic interior, with a teak maritime décor. Oozing with maritime history, the opportunity to sail on Eye of the Wind is one in a lifetime. This beautiful ship is as eye-catching as they get and she has even featured in several movies, including White Squall, due to her breath-taking appearance as a 1911 brig.
This windjammer offers luxurious holidays on board, cruising some of the most stunning locations in the world.
Although the ship has a large, capable engine, traditional sailing is naturally the preferred mode of travel so there is plenty to get stuck into on deck. The crew are extremely experienced and ready to teach you the workings of a classic tall ship, so no prior knowledge is necessary. Join the crew at any number of the large maritime festivals they appear at, cruise the European coast, or relish some winter sun and climb aboard for their voyages in the Caribbean – including a transatlantic crossing back from the Caribbean to Portugal.
Thanks to the 6 luxurious cabins, all with ensuite bathrooms, Eye of the Wind can sleep a total of 16 guests ensuring ocean passages can be travelled in true comfort. A large dining area, library and sun deck offer a multitude of different spaces to unwind and to get to know your fellow guests and crew.
Deck plan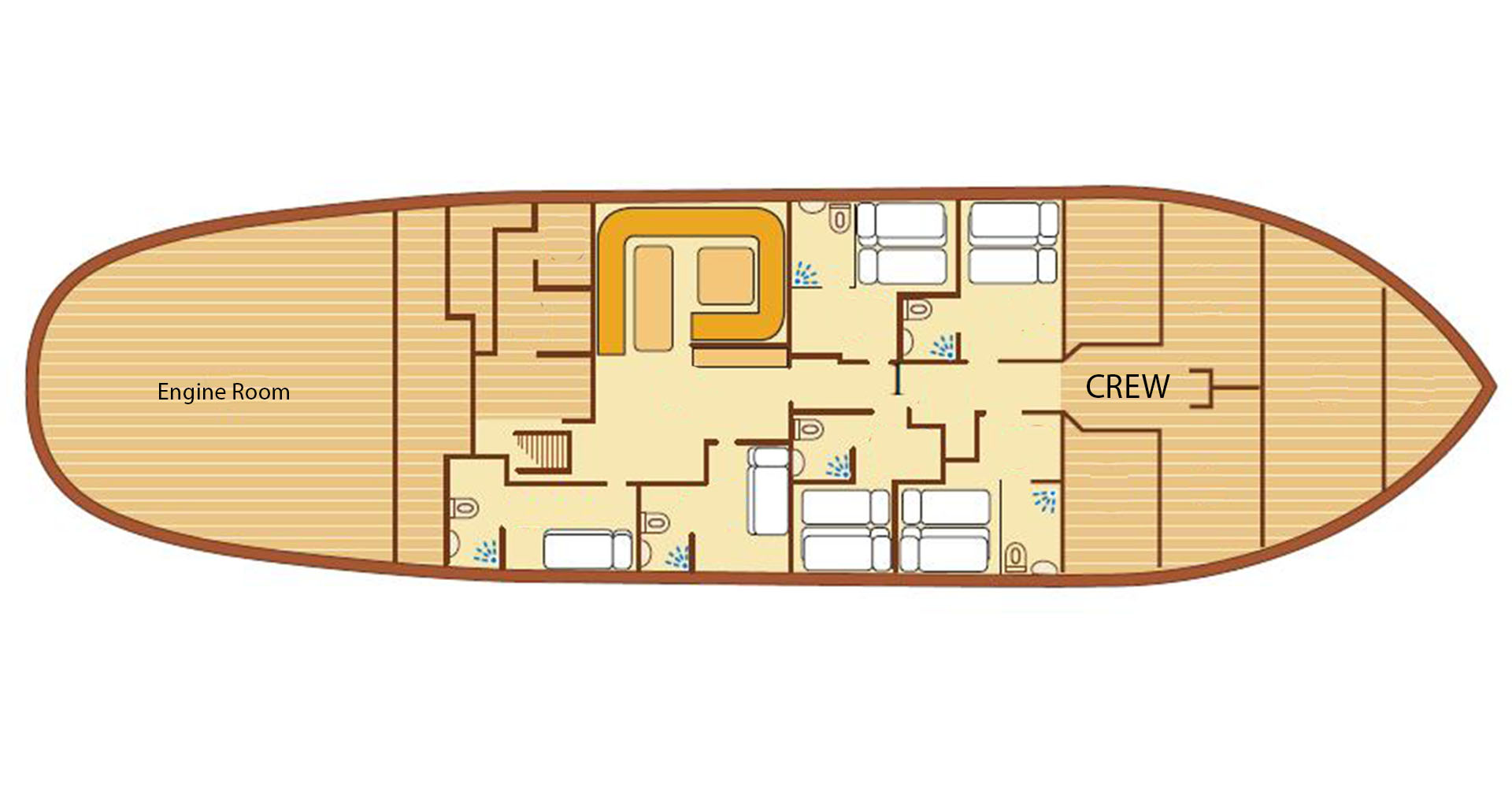 More about Eye of the Wind
FAQ
Are all meals included?

Yes. Breakfast, Lunch, Dinner, Hot and Soft drinks are included in your ticket price. Alcohol can be purchased as extra onboard

Can you cater for dietary needs?

Yes, please let us know when making your booking.

What language is spoken on board?

English and German

What are the sleeping arrangements?

There are 6 cabins and a total of 16 guest bunks.

How many bathrooms does she have?

Each cabin has its own ensuite.

Is there an age limit?

No! Please double check for under 8's.

Is there WIFI?

No, but you should easily reach 3/4G from the shore, just make sure your phone is set up for international roaming. There may be some locations that will not get good signal.

Can I charge my phone/camera?

Yes, 12V sockets are available

Are there life jackets provided?

Yes.

Are Waterproofs provided?

No, please bring your own.

Do I need sailing experience?

Not at all. We give everyone who joins us on board the choice to do as much or as little as they like.

Will I be seasick?

Everyone reacts differently but if you are unsure, we recommend taking tablets up to 24 hours travelling.

Is there air conditioning?

Yes, Eye of the Wind has air con in each cabin.
Locations
From: Pointe-a-Pitre, Guadeloupe
To: Falmouth Harbour, Antigua
Getting There:
The recommended and often the cheapest route is to fly from Guadeloupe airport to London Heathrow with a changeover in Montreal, Canada. Alternatively, you can fly to Amsterdam Schipol Airport and then take a direct flight to Guadeloupe.
Getting Home:
You can fly from Antigua direct to London Gatwick but cheaper options can include a changeover in New York flying to London Heathrow.