« All Voyages Steady's Schedule »
Sailing the Inner and Outer Hebrides
Vessel

:

Steady

Where

:

Scotland

Duration

:

10 days

Embark

:

Oban - 27 August 2021, 17:00

Disembark

:

Oban - 5 September 2021, 11:00
Explore the Inner and the Outer Hebrides for ten days sailing and wildlife watching onboard Steady.
There is just so much to take in and experience with a sailing holiday in the Hebrides, Steady does not run to specific itineraries on this voyage. From bustling harbour towns to remote anchorages off the beaten track, from long stretches of sandy beaches and an abundance of wildlife, you won't be short of things to do or see.
Joining Steady in Oban, this voyage sees 10days of island hopping her way around the inner and outer Hebrides.
Tacking the ship westward through the Sound Of Mull, you could head out beyond Ardnamurchan Point and alter course to the North or South or Westwards to Barra and beyond. Taking the Southerly heading, follow the majestic coastline of Mull down past Treshnish and on to Staffa. A visit to Fingal's cave is a must, but landing is very much dependant on the swell.
Beyond lies the sacred isle of Iona where the resonance of Columba lives on. Onwards, the ship will pass Torrans Rocks where Davy Balfour was wrecked in a tremendous storm, finally being washed ashore on Erraid. Heading on south to Colonsay, stop for the night alongside the pier and walk through the crew's favourite islands for its gentle beauty and of course to taste some great ales from smallest island brewery in the world.
The Northern route takes Steady on and out to the more remote Hebridean Isles. Rum, by far the largest island, possesses a cluster of formidable volcanic peaks, Askival (Ash Mountain) the highest peak, dominates the landscape, and the name itself tells of the Vikings that once settled here.
If we are fortunate with settled weather, the crew will take you to one of the most awesome anchorages in the world. Nestling at the foot of the Skye Cuillins lies Loch Scavaig, a sea loch with the waters of Loch Corusk pouring magnificently in. Following the trail, you will feel like you have walked right into middle earth.
Eigg, which measures just 5 by 3 miles, is by far the most vibrant, populous and welcoming of the Small Isles. There are wonderful views of Muck and Rhum from An Sgurr. Canna, in many ways, is the prettiest of the isles with its high basalt cliffs which are home to a colony of Puffins. Spend time lying on the cliff edge as they hover a few inches away before darting off to catch more eels.
Westward lie the Outer Hebrides, remote and utterly enchanting and a day's sailing across the sea of Hebrides. The land here features the oldest rock in the world and is made up of hundreds of islands, both small and large, inhabited and uninhabited. The east side of the islands is made up of islets and sea lochs running deep inland, while out west where the Atlantic pounds the shore, untouched white sand beaches stretch for miles with crystal clear water just waiting to be explored by you.
After anchoring for the night, allow yourself to succumb to the tranquillity of the island knowing there is little to do but walk, watch birds and take in the scenery and the hospitality of this island community. Everywhere Steady travels, you will find that each island provides some good short walks of about an hour before setting sail and heading towards a new anchorage.
As with all Steady's sailing holidays, your ticket price includes Breakfast, Lunch, Dinner, Snacks and Hot Drinks. Soft drinks and alcohol can be purchased on board. There are three twin cabins with bunk beds and two shared bathrooms. One cabin per trip is available for single occupancy with a 50% surcharge. All cabins have bedding and towels provided. 
There is an age limit on Steady's trips so if you are over 75years old and are interested in sailing with Steady, please give us a call in the office. 
Simply click "Enquire Now" to reserve your berth for five days whilst you sort your travel plans. No booking form or deposit is required until you are ready to book!
Schedule
| Voyage | Set Sail | Days | Cost p/p | |
| --- | --- | --- | --- | --- |
Steady
Guest berths: 8 Rig: Staysail Ketch
Join Jan-Willem and Mariëlle Kerkmeer aboard their 1993 Dutch ketch as they sail the seas of Scandinavia and Scotland.
Since she was built, Steady has been used as a charter vessel, so is fully kitted out with her guests comfort in mind. She sleeps eight guests in four comfortable twin cabins, with two bathrooms and a spacious living area below deck.
There's plenty of room on deck too to take in the surrounding views and if the weather should turn, Steady has Musto sailing suits available for her guests.
Mariëlle & Jan-Willem also make full use of the well-equipped kitchen, making varied meals for all the guests onboard – these are all included in the price of your voyage.
Onboard Steady, most guests like to lend a hand with the sailing of this eye-catching vessel, and Jan-Willem and Mariëlle are excellent teachers if you do want to get involved. They will cater for all abilities, so if you'd rather sit back and relax with a book, then that's fine too!
Steady's voyages explore the islands of the Inner and Outer Hebrides and St Kilda; an area of unspoilt wilderness and breathtaking beauty in the Western Isles of Scotland. Her trips give you access to the most captivating and remote hidden secrets of this incredible and beautiful place. As you cruise through this stunning marine landscape you will likely be lucky enough to experience close encounters with rare wildlife and have time to soak up the unique and fascinating history and culture of the Hebrides and St Kilda.
Watch this short video of Steady sailing around Oban.
Steady Deck Plan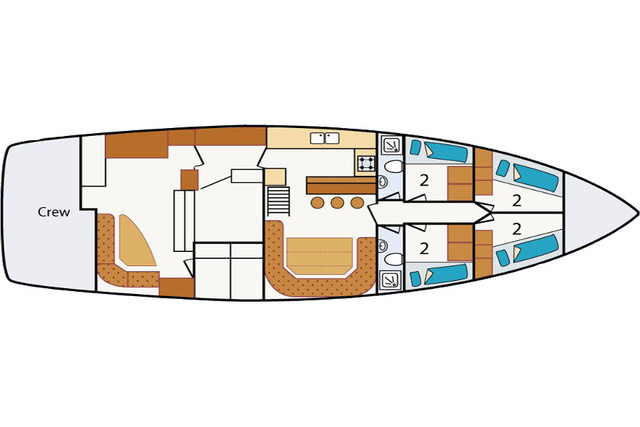 Deck plan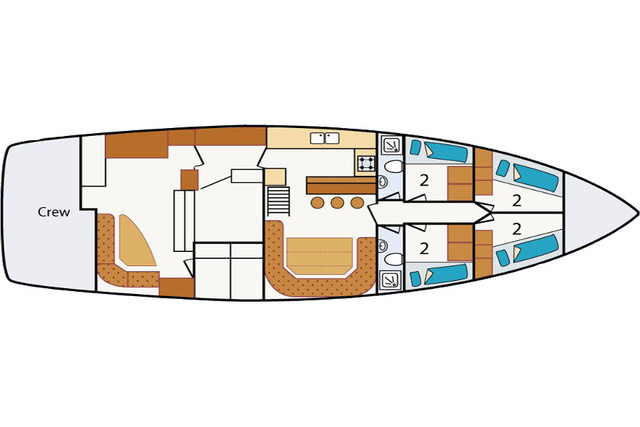 More about Steady
FAQ
Are all meals included in the price?

Yes - all meals are included in the price (Breakfast, Lunch, Dinner, Hot Drinks) Please note that Alcohol/soft drinks are not included.

Can you cater for dietary needs?

Yes, please let us know at the time of booking.

What language is spoken on board?

Jan-Willem and Mariëlle are Dutch, however they are fluent in English too.

What are the sleeping arrangements?

There are three cosy twin bunk bed cabins.

Is there an age limit for Steady's guests?

Yes, her maximum age limit is 75 years. Please check if you have any under 18's.

How many bathrooms/showers does she have?

Steady has 2 toilets and 2 showers.

Is there WIFI aboard?

No, but you should easily reach 3/4G from the shore.

Are there Life Jackets provided?

Yes

Are there Waterproofs available?

Yes, Steady has Musto sailing suits available if needed.

Do I need sailing experience?

No, absolutely not! Just a love for adventure.

Will I be seasick?

Everyone reacts differently but if you are unsure we recommend you take seasick tablets 24hours before you board.
Locations
From: Oban
To: Oban