« All Voyages Oosterschelde's Schedule »
Iberian Coastal Sailing & Exploration
Vessel

:

Oosterschelde

Where

:

Portugal/Spain

Duration

:

13 days

Embark

:

Cascais - 16 May 2020, 17:00

Disembark

:

Pasaia - 28 May 2020, 09:00
Sail with Oosterschelde from the Portuguese town of Cascais exploring coastal fjords and traditional Spanish towns before sailing the Bay of Biscay to Pasaia.
Climb aboard Oosterschelde in the Portuguese town of Cascais for 12 days sailing exploring the coastal fjords and traditional harbour towns along the Spanish coast and along the Bay of Biscay.
The north coast of Portugal and the coastline of Galicia, Asturias, Cantabria and Biscay are characterized by their wild splendour. You will not find white hotels and crowded beaches here. This green part of the Iberian Peninsula (Costa Verde) attracts nature lovers and is quite unknown to the general public. Two-thirds of this area is a protected nature reserve and there a number of beautiful cities. Forget Barcelona – Porto, Vigo, A Coruña, Bilbao and Santander still remain untouched with authentic culture.
This is the best time of the year to sail north along the Portuguese coast. At the beginning of summer, the wind comes from various directions which is perfect for sailing Oosterschelde. The first stop will try to make is Porto with an illustrious history, great food, the famous wine and of course the melancholic Fado music.
Further north we sail along the so-called Costa de la Muerte (Death coast). In the days of large sailing ships, it regularly happened that ships stranded on this rugged coast due to continuing storm weather and it owes its name to it. We will also find the most western part of the Iberian Peninsula here and in the Middle Ages, locals believed that the world ended here, therefore the name: Finisterre.
The Bay of Biscay is notorious for seafarers and most ships try to cross the bay as soon as possible. Reaching dry land, there are green fields and high mountain peaks and along the coast, narrow steep roads lead you along the steep cliffs, creeks, deserted beaches and dunes. You will find deep fjords, calm waters, quiet fishermen villages and lonely farms. When you are here, you will feel one with nature.
Once we have passed Finisterre, we use the time we have left to explore the rugged Spanish northern coast. Hopping from one beautiful bay to another we sail towards our destination, Pasaia. The high white peaks of the Pidos de Europa, only 20 kilometres from the coastline, have lime-rich soil and because of their white colour, they used to be a beacon for seafarers.
The city of Pasaia has several faces. It is a large industrial port on one hand but a sleepy fishermen's village on the other with medieval houses lining the waterfront. The Basques are traditionally proud seafarers and fishermen and during the early Middle Ages, they hunted whales in rowing boats. Oosterschelde is a guest at the maritime festival "Itsas Festibala" that starts on the day of arrival so keep your eyes open for a plethora of traditional boats in the harbour.
Depending on wind and weather conditions the travel plan could be altered, however, we always try to sail as much as possible. It is not mandatory, but we invite everyone to participate in the watches and to help sail, steer and navigate the ship.
Your ticket price includes breakfast, lunch, dinner, snacks and hot drinks. Soft drinks and alcohol can be purchased from the onboard bar. Any food purchased ashore is at your own cost.
All towels and bedding are included in the price although Oosterschelde does ask guests to bring an extra swimming towel. At the end of your trip you can pay your bar tab in either in Euros or Sterling. We do not take card.
Oosterschelde
Guest berths: 24 Rig: Topsail Schooner
Oosterschelde is one of the largest and oldest Dutch tall ships to still be sailing today and is now registered as a Dutch Monument in the Netherlands.
Built-in Rotterdam 1917, she started life as a cargo ship sailing the coast of Morocco and later the Baltic Sea. In the late 80's she was bought back home to the Netherlands where she underwent extensive maintenance to restore her to the authentic tall ship that she remains to this day.
With three masts, a topsail schooner rig and measuring over 50m in length, Oosterschelde is the largest boat in our fleet to date. Her impressive size and scale command interest wherever she goes and guests are always proud to have had the opportunity to sail on such a historic ship.
Below decks, her communal areas are spacious, with a generous saloon, bar, library and even piano to entertain. Complete with all the mod-cons and safety equipment, she also has underfloor heating and a wood-burning stove for sailing in colder climates. Her sleeping accommodation is located toward the bows with 6 two-berth and 3 four-berth cabins all with washbasins and communally sharing 5 separate bathrooms.
Sailing this beautiful ship is an experience you'll never forget. The professional crew welcome all ages and abilities and find that most guests love to get actively involved with the authentic experience of sailing a tall ship.
Oosterschelde has sailed all over the world and shows no signs of stopping anytime soon! From European tall ship regattas to exploring Antarctica to sailing South on the Atlantic to the islands of Cape Verde, every voyage with Oosterschelde is one of wonder and discovery.
Deck plan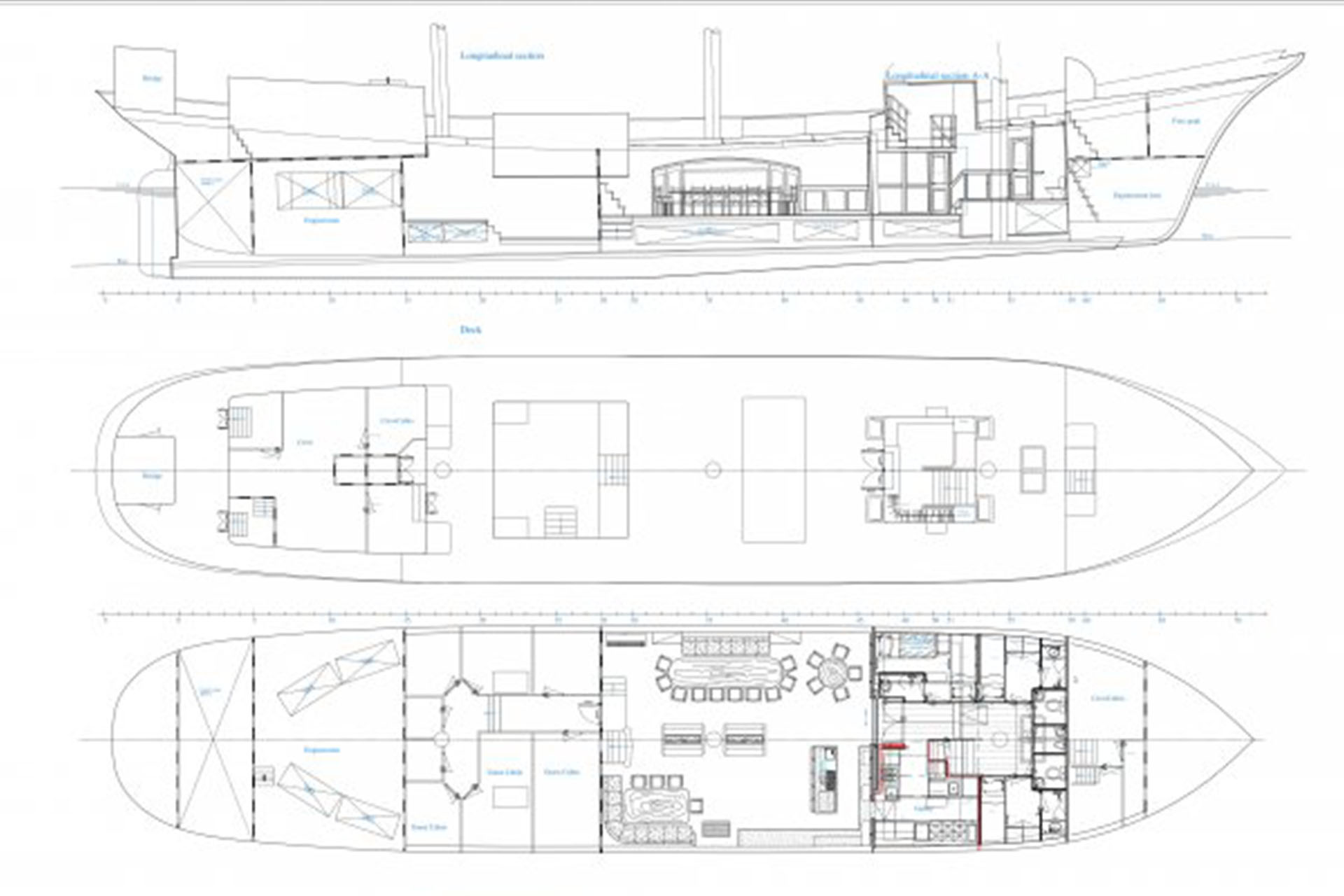 More about Oosterschelde
FAQ
Are all meals included?

Yes, all meals on board are included in the price. (Breakfast, Lunch, Dinner and hot drinks) Alcohol is not included.

Can you cater for dietary needs?

We can cater for Vegetarians only.

What language is spoken onboard?

Dutch & English

What are the sleeping arrangements?

6x twin cabins and 3x four-berth cabins

How many toilet/showers does she have?

5

Is there WIFI?

No, but you should easily be able to reach 3G/4G from the shore.

Can I charge my phone/Camera?

Yes, please bring european adaptors

Are there life jackets provided?

Yes

Are Waterproofs provided?

No

Do I need sailing experience?

No, absolutely not! Just a lust for adventure.

Will I be sea sick?

Everyone reacts differently but we recommend if you are at all worried to take some medication 24 hours before departure.
Locations
From: Cascais
To: Pasaia
Getting There
The nearest airport to Cascais is Lisbon which has links to all major UK/European airports. From here you can catch the Aerobus to Cascais. More information can be found here > https://www.cascais-portugal.com/Guides/lisbon-to-cascais.html
Or take a taxi > https://www.welcomepickups.com/lisbon/airport-transfer-to-cascais/
Getting home
From Pasaia you can take the bus to the main the airport in Bilbao where direct flights to London, Bristol, Birmingham, Manchester and Edinburgh can be taken.