« All Voyages Steady's Schedule »
Sailing to Scotland Across the North Sea
Vessel

:

Steady

Where

:

Netherlands/Scotland

Duration

:

10 days

Embark

:

Hoorn - 1 May 2021, 17:00

Disembark

:

Inverness - 10 May 2021, 11:00
Join Steady as she crosses the North Sea from the Netherlands to Scotland on her first voyage of the 2021 season!
Set sail from Hoorn in the Netherlands to Inverness for a springtime passage crossing. This fabulous voyage offers the opportunity to experience sailing the North Sea – keep your eyes peeled for whales and other wildlife.
The total voyage is roughly 500 miles, and Steady will travel this under sail as much as possible, even at night which means you will have the chance to experience a night sail – something which many of our guests count as a highlight of their voyage. During the ten days at sea, you will have time to visit towns like Whitby (the home of Dracula!) and Holy Island. As with all passage crossings, there is plenty of opportunities to get to grips with handling Steady, taking turns at the helm, keeping watch and learning the basics of navigation.
Your voyage will begin in the Dutch maritime city of Hoorn, located less than an hour away from Amsterdam and Schipol, the international airport. It's quite a small city, but there are a museum and a few other attractions – and of course, Amsterdam is well worth a visit too if you wanted to combine some sightseeing with your voyage!
Once Steady has left Hoorn, she will head for IJmuiden, before reaching open waters. The following few days will see the passage get well and truly underway, with the ship gliding through the waters of the North Sea as you get to know your vessel and your fellow shipmates. Before reaching Inverness, Steady may call in at Whitby and Holy Island. Each of these places has plenty to see, and you'll enjoy dinner at Whitby.
Of course, the exact itinerary is weather dependent, so it can be necessary to skip or change one of these stops. Once you've arrived, take some time to see this beautiful city – the capital of the Highlands. Visit the historic castle, built in the 1800s on the site of an 11th Century defensive structure, or wander through one of the city's many museums.
An idea of the possible voyage itinerary:
Day 1 – Embarkation in Hoorn between 5-7 pm. (You can drop off your luggage from 12pm) There will be a meal around 7 p.m and after this, you will be informed about the upcoming voyage.
Day 2 and 3: After breakfast, we will cast off and head to the North Sea channel. At IJmuiden we will go through the locks and the sails will be hoisted. We will set a course for the English coastal town of Whitby. During the 3rd day, we aim to arrive in the English harbour town of Whitby.
Day 4: Visit Whitby, discover Whitby Abbey, the James Cook Museum and then settle down on a terrace in the old atmospheric city! Dinner is ashore this evening and Whitby has a lot of restaurants to offer.
Day 5 and 6: Sail to Lindisfarne (Holy Island)
We leave Whitby and sail to Lindesfarne. A bay with an impressive large seal population, we can visit the island with the dinghy. There are remains of an old monastery from 635, Lindisfarne Priory, and on a steep cliff is a 16th-century castle, Lindisfarne castle. We will anchor overnight in the beautiful, sheltered stream area.
Day 7 and 8: 175 miles to Inverness
Day 9: Visit the capital of the Scottish Highlands. Inverness has many attractions such as Inverness Castle and the Culloden Battlefield. But of course, you can also try whiskey at a distillery. We will end the evening together in a cosy restaurant and for those who have energy left after this day has to visit Hootananny, the best pub in town!
Whichever route you sail with Steady, be sure that the views will be breathtaking and the wildlife in abundance, so have your eyes peeled and your binoculars at the ready for a wonderful trip. With food included, private cabins and comfy social spaces, this is an adventure not to be missed!
As with all Steady's sailing holidays, your ticket price includes Breakfast, Lunch, Dinner, Snacks and Hot Drinks. Soft drinks and alcohol can be purchased on board. There are three twin cabins with bunk beds and two shared bathrooms. One cabin per trip is available for single occupancy with a 50% surcharge. All cabins have bedding and towels provided. 
There is an age limit on Steady's trips so if you are over 75years old and are interested in sailing with Steady, please give us a call in the office. 
Simply click "Enquire Now" to reserve your berth for five days whilst you sort your travel plans. No booking form or deposit is required until you are ready to book!
Schedule
| Voyage | Set Sail | Days | Cost p/p | |
| --- | --- | --- | --- | --- |
Steady
Guest berths: 6 Rig: Staysail Ketch
Join Jan-Willem and Mariëlle Kerkmeer aboard their 1993 Dutch ketch as they sail the seas of Scandinavia and Scotland.
Since she was built, Steady has been used as a charter vessel, so is fully kitted out with her guests comfort in mind. She sleeps six guests in three comfortable twin cabins, with two bathrooms and a spacious living area below deck.
There's plenty of room on deck too to take in the surrounding views and if the weather should turn, Steady has Musto sailing suits available for her guests.
Mariëlle & Jan-Willem also make full use of the well-equipped kitchen, making varied meals for all the guests onboard – these are all included in the price of your voyage.
Onboard Steady, most guests like to lend a hand with the sailing of this eye-catching vessel, and Jan-Willem and Mariëlle are excellent teachers if you do want to get involved. They will cater for all abilities, so if you'd rather sit back and relax with a book, then that's fine too!
Steady's voyages explore the islands of the Inner and Outer Hebrides and St Kilda; an area of unspoilt wilderness and breathtaking beauty in the Western Isles of Scotland. Her trips give you access to the most captivating and remote hidden secrets of this incredible and beautiful place. As you cruise through this stunning marine landscape you will likely be lucky enough to experience close encounters with rare wildlife and have time to soak up the unique and fascinating history and culture of the Hebrides and St Kilda.
Watch this short video of Steady sailing around Oban.
Steady Deck Plan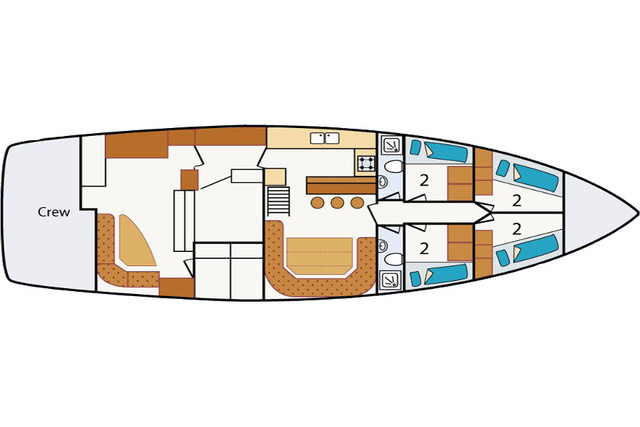 Deck plan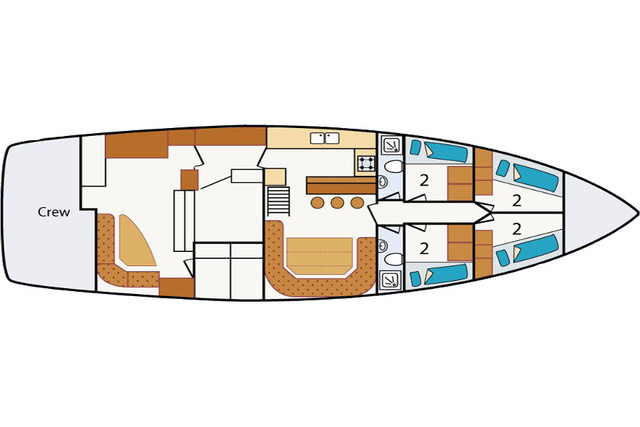 More about Steady
FAQ
Are all meals included in the price?

Yes - all meals are included in the price (Breakfast, Lunch, Dinner, Hot Drinks) Please note that Alcohol/soft drinks are not included.

Can you cater for dietary needs?

Yes, please let us know at the time of booking.

What language is spoken on board?

Jan-Willem and Mariëlle are Dutch, however they are fluent in English too.

What are the sleeping arrangements?

There are three cosy twin bunk bed cabins.

Is there an age limit for Steady's guests?

Yes, her age limit is 75 years. Please double-check if you have any under 18's

How many bathrooms/showers does she have?

Steady has 2 toilets and 2 showers.

Is there WIFI aboard?

No, but you should easily reach 3/4G from the shore.

Are there Life Jackets provided?

Yes

Are there Waterproofs available?

Yes, Steady has Musto sailing suits available if needed.

Do I need sailing experience?

No, absolutely not! Just a love for adventure.

Will I be seasick?

Everyone reacts differently but if you are unsure we recommend you take seasick tablets 24hours before you board.
Locations
From: Hoorn
To: Inverness