« All Voyages Steady's Schedule »
Sailing and Walking in the Hebrides
Vessel

:

Steady

Where

:

Scotland

Duration

:

8 days

Embark

:

Oban - 17 August 2021, 17:00

Disembark

:

Oban - 24 August 2021, 11:00
Enjoy 8 days sailing exploring the Hebrides with yacht Steady as she stops to go ashore and take guided walks among the beautiful Scottish landscapes.
Join Steady in Oban for an eight-day sailing holiday exploring the Hebrides with guided hikes ashore.
Below is a guide of what to expect from the voyage although as with all our sailing holidays, this will be subject to the weather and tide.
Day 1 – Oban
Your sailing holiday starts at 5 pm in Oban where you can meet your crew and fellow travellers and make yourself comfortable in your cabin. At around 7pm we will have dinner and afterwards, the captain will inform you about the coming trip.
Day 2- Sail to Lismore
After breakfast, it's time to hoist the sails to Lismore, a beautiful island of the Inner Hebrides, located in Loch Linnhe, northeast of Mull. The island was a Celtic Christian centre in the early Middle Ages thanks to an abbey founded by Sint Moluag. In the afternoon there is an opportunity to go ashore and explore the island.
Day 3 – Hike on Lismore (15 km | 4-4.5 hours)
Day 4 – From Lismore, we will sail to Tobermory. A colourful and traditional Scottish harbour town where there is much to experience with nice pubs and artisan shops that you can enjoy at the end of the afternoon.
Day 5 –Hike on Mull (18.7 km | 5-7 hours) An early start for our next hike where will take a bus to the starting point of the walk.
Day 6- We leave Tobermory and sail to the beautiful green paradise of Kerrera. Along the way, we will make anchor at Duart Castle for lunch.
Day 7- Hike on Kerrera (11km 4-4.5 hours)
Day 8- Sail back to Oban
This cruise requires no previous sailing experience so you can sit back and enjoy the views, however, if you wish, the crew are more than happy to show you the ropes and even give you the helm!
WILDLIFE
Sightings of seabirds such as Black Guillemots can be seen in their hundreds and white-tailed eagles soar along the rugged coastline. Sailing on Steady is often rewarded with widespread sightings of birds of prey like Buzzards, Kestrels, Sparrowhawks and Peregrines and, if you're lucky, you'll spot the diminutive Merlin. The sound is magnificently overwhelming, with the call of seabird colonies, Puffins, Guillemots & Razorbills, echoing off the cliffs.
There are frequent encounters with Common, Bottlenose & Whitebeak dolphins onboard these trips, and Risso & White-sided dolphins are also occasionally sighted. There are plenty of whales in this part of the world too. Our most common encounters are with Minke – Humpbacks are a less frequent visitor, while the real star of the show is the resident pod of Orca if you're lucky enough to see them gliding through the water. So keep your eyes peeled and have your binoculars at the ready!
Whichever route you sail with Steady, be sure that the views will be breathtaking and the wildlife in abundance, so have your eyes peeled and your binoculars at the ready for a wonderful trip. With food included, private cabins and comfy social spaces, this is an adventure not to be missed!
As with all Steady's sailing holidays, your ticket price includes Breakfast, Lunch, Dinner, Snacks and Hot Drinks. Soft drinks and alcohol can be purchased on board. There are three twin cabins with bunk beds and two shared bathrooms. One cabin per trip is available for single occupancy with a 50% surcharge. All cabins have bedding and towels provided. 
There is an age limit on Steady's trips so if you are over 75years old and are interested in sailing with Steady, please give us a call in the office. 
Simply click "Enquire Now" to reserve your berth for five days whilst you sort your travel plans. No booking form or deposit is required until you are ready to book!
Schedule
| Voyage | Set Sail | Days | Cost p/p | |
| --- | --- | --- | --- | --- |
Steady
Guest berths: 8 Rig: Staysail Ketch
Join Jan-Willem and Mariëlle Kerkmeer aboard their 1993 Dutch ketch as they sail the seas of Scandinavia and Scotland.
Since she was built, Steady has been used as a charter vessel, so is fully kitted out with her guests comfort in mind. She sleeps eight guests in four comfortable twin cabins, with two bathrooms and a spacious living area below deck.
There's plenty of room on deck too to take in the surrounding views and if the weather should turn, Steady has Musto sailing suits available for her guests.
Mariëlle & Jan-Willem also make full use of the well-equipped kitchen, making varied meals for all the guests onboard – these are all included in the price of your voyage.
Onboard Steady, most guests like to lend a hand with the sailing of this eye-catching vessel, and Jan-Willem and Mariëlle are excellent teachers if you do want to get involved. They will cater for all abilities, so if you'd rather sit back and relax with a book, then that's fine too!
Steady's voyages explore the islands of the Inner and Outer Hebrides and St Kilda; an area of unspoilt wilderness and breathtaking beauty in the Western Isles of Scotland. Her trips give you access to the most captivating and remote hidden secrets of this incredible and beautiful place. As you cruise through this stunning marine landscape you will likely be lucky enough to experience close encounters with rare wildlife and have time to soak up the unique and fascinating history and culture of the Hebrides and St Kilda.
Watch this short video of Steady sailing around Oban.
Steady Deck Plan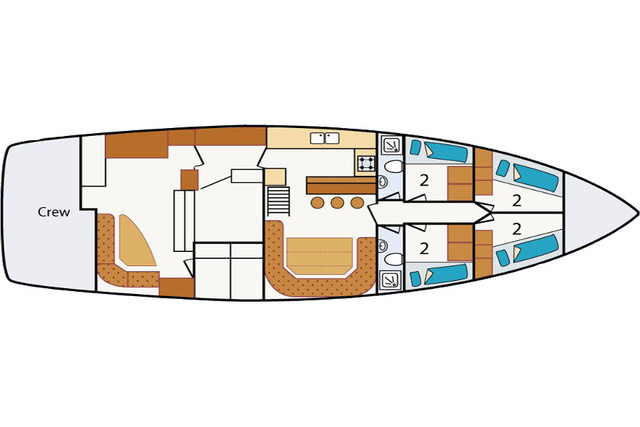 Deck plan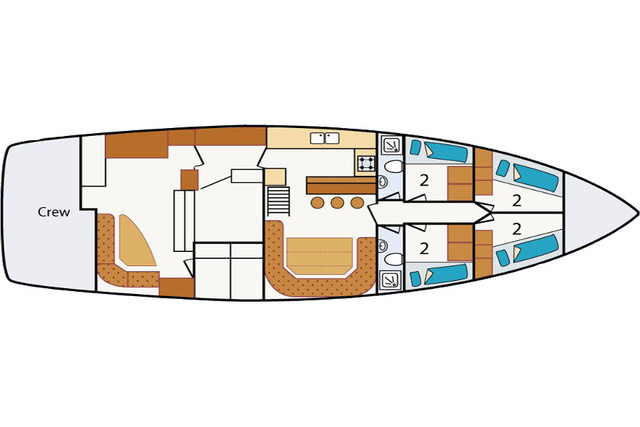 More about Steady
FAQ
Are all meals included in the price?

Yes - all meals are included in the price (Breakfast, Lunch, Dinner, Hot Drinks) Please note that Alcohol/soft drinks are not included.

Can you cater for dietary needs?

Yes, please let us know at the time of booking.

What language is spoken on board?

Jan-Willem and Mariëlle are Dutch, however they are fluent in English too.

What are the sleeping arrangements?

There are three cosy twin bunk bed cabins.

Is there an age limit for Steady's guests?

Yes, her maximum age limit is 75 years. Please check if you have any under 18's.

How many bathrooms/showers does she have?

Steady has 2 toilets and 2 showers.

Is there WIFI aboard?

No, but you should easily reach 3/4G from the shore.

Are there Life Jackets provided?

Yes

Are there Waterproofs available?

Yes, Steady has Musto sailing suits available if needed.

Do I need sailing experience?

No, absolutely not! Just a love for adventure.

Will I be seasick?

Everyone reacts differently but if you are unsure we recommend you take seasick tablets 24hours before you board.
Locations
From: Oban
To: Oban