« All Voyages Steady's Schedule »
Sailing and Walking in the Hebrides
Vessel

:

Steady

Where

:

Scotland

Duration

:

10 days

Embark

:

Oban - 9 May 2021, 17:00

Disembark

:

Oban - 18 May 2021, 11:00
Enjoy 10 days sailing exploring the Hebrides with yacht Steady as she stops to go ashore and take guided walks among the beautiful Scottish landscapes.
Join Steady in Oban for a ten-day sailing holiday exploring the Hebrides with guided hikes ashore.
Below is a guide of what to expect from the voyage although as with all our sailing holidays, this will be subject to the weather and tide.
Day 1 – Oban
Your sailing holiday starts at 5 pm in Oban where you can meet your crew and fellow travellers and make yourself comfortable in your cabin. At around 7pm we will have dinner and afterwards, the captain will inform you about the coming trip.
Day 2 – Sail to Tobermory
Sail through the beautiful Sound of Mull to reach the colourful fishing village of Tobermory on the island of Mull. We will arrive here in the afternoon so you will still have plenty of time to explore this sweet Scottish town.
Day 3 – The fossil Tree and Burg walk on Isle of Mull 11,5 miles, 5-7 hours. With an early rise, we will catch a taxi to the starting point of the walk.
Day 4 – Sail to Isle of Canna
Canna is the most remote and secluded on the Small Isles, hidden from mainland view by the great mountains of Rum. It is an island of great beauty and variety, with green pastures and pockets of woodland, backed by wild moorland and guarded on its northern and western sides by dramatic coastal cliffs. After a good day of sailing, this is a great island to explore on foot, worthy of more than just a fleeting visit. The walk around the coastline gives incredible views to the Outer Hebrides, Rum and the Cuillin of Skye, and there are a couple of fine sandy beaches.
Day 5 –Canna
We will take a morning hike to the Isle of Sanday and visit the puffins on Canna, (7.5 miles, 3.5 hours). Returning to the boat in the afternoon, it is time to hoist the sails again and set sail for the island of Rum.
Rum is the largest of the Small Isles. The island is magnificently wild and rugged, dominated by the towering mountains of the Rum Cuillin – a miniature version of the Cuillin of Skye. The ridge traverse of the Rum Cuillin is one of the classic Scottish hill days, with plenty of scrambling through the peaks are less technical than the Cuillin of Skye.
Day 6 – Rum: Northside trail (3.5 miles, 1.5 hours) and a visit to the Castle in the afternoon before setting anchor for the evening.
Day 7- Sail to Eigg and climb the An Sgurr (5 miles,  3-4 hours)
The Isle of Eigg is the second largest and most populated of the beautiful Small Isles.  Whilst the Calmac ferry docks at the new jetty at the verdant southern end of Eigg, Cleadale in the north is the largest settlement. Here is Laig Bay – a wide curve of sand with a stunning outlook over Rum – and, just to the north, the Singing Sands, which squeak as you scuff them with your boots.
Day 8- Sail to Muck for a 4.25 mile hike over 2.5 hours.
After the hike, we will once again set sail to the very beautiful and remote Loch Drumbuie. Muck is the smallest of the Small Isles, measuring less than 4km by 2km. It may lack the dramatic outline that makes neighbouring Eigg and Rum so unmistakable but despite its name, Muck is a beautiful island in its own right, from its fertile fields and corncrakes, to its sandy beaches and its unexpectedly scenic western coastline, it has a great deal to offer the visitor on foot.
Day 9- Sail back south to Kerrera and hike 7 miles over 3.5-4.5 hours.
Once we have completed our final walk, it's back to the boat to spend the evening on anchor in the beautiful sheltered bay.
Day 10- Back to Oban
This cruise requires no previous sailing experience so you can sit back and enjoy the views, however, if you wish, the crew are more than happy to show you the ropes and even give you the helm!
WILDLIFE
Sightings of seabirds such as Black Guillemots can be seen in their hundreds and white-tailed eagles soar along the rugged coastline. Sailing on Steady is often rewarded with widespread sightings of birds of prey like Buzzards, Kestrels, Sparrowhawks and Peregrines and, if you're lucky, you'll spot the diminutive Merlin. The sound is magnificently overwhelming, with the call of seabird colonies, Puffins, Guillemots & Razorbills, echoing off the cliffs.
There are frequent encounters with Common, Bottlenose & Whitebeak dolphins onboard these trips, and Risso & White-sided dolphins are also occasionally sighted. There are plenty of whales in this part of the world too. Our most common encounters are with Minke – Humpbacks are a less frequent visitor, while the real star of the show is the resident pod of Orca if you're lucky enough to see them gliding through the water. So keep your eyes peeled and have your binoculars at the ready!
Whichever route you sail with Steady, be sure that the views will be breathtaking and the wildlife in abundance, so have your eyes peeled and your binoculars at the ready for a wonderful trip. With food included, private cabins and comfy social spaces, this is an adventure not to be missed!
As with all Steady's sailing holidays, your ticket price includes Breakfast, Lunch, Dinner, Snacks and Hot Drinks. Soft drinks and alcohol can be purchased on board. There are three twin cabins with bunk beds and two shared bathrooms. One cabin per trip is available for single occupancy with a 50% surcharge. All cabins have bedding and towels provided. 
There is an age limit on Steady's trips so if you are over 75years old and are interested in sailing with Steady, please give us a call in the office. 
Simply click "Enquire Now" to reserve your berth for five days whilst you sort your travel plans. No booking form or deposit is required until you are ready to book!
Schedule
| Voyage | Set Sail | Days | Cost p/p | |
| --- | --- | --- | --- | --- |
Steady
Guest berths: 6 Rig: Staysail Ketch
Join Jan-Willem and Mariëlle Kerkmeer aboard their 1993 Dutch ketch as they sail the seas of Scandinavia and Scotland.
Since she was built, Steady has been used as a charter vessel, so is fully kitted out with her guests comfort in mind. She sleeps six guests in three comfortable twin cabins, with two bathrooms and a spacious living area below deck.
There's plenty of room on deck too to take in the surrounding views and if the weather should turn, Steady has Musto sailing suits available for her guests.
Mariëlle & Jan-Willem also make full use of the well-equipped kitchen, making varied meals for all the guests onboard – these are all included in the price of your voyage.
Onboard Steady, most guests like to lend a hand with the sailing of this eye-catching vessel, and Jan-Willem and Mariëlle are excellent teachers if you do want to get involved. They will cater for all abilities, so if you'd rather sit back and relax with a book, then that's fine too!
Steady's voyages explore the islands of the Inner and Outer Hebrides and St Kilda; an area of unspoilt wilderness and breathtaking beauty in the Western Isles of Scotland. Her trips give you access to the most captivating and remote hidden secrets of this incredible and beautiful place. As you cruise through this stunning marine landscape you will likely be lucky enough to experience close encounters with rare wildlife and have time to soak up the unique and fascinating history and culture of the Hebrides and St Kilda.
Watch this short video of Steady sailing around Oban.
Steady Deck Plan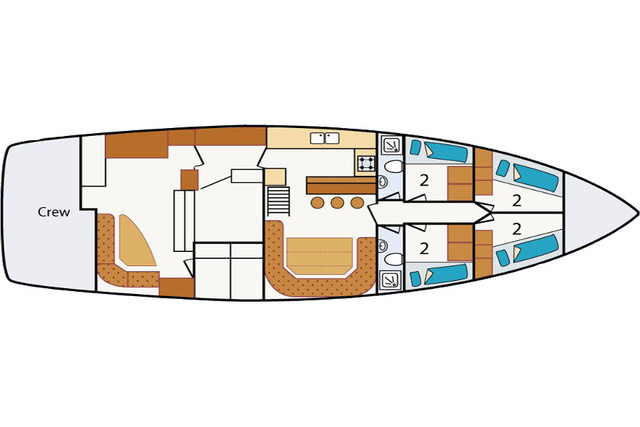 Deck plan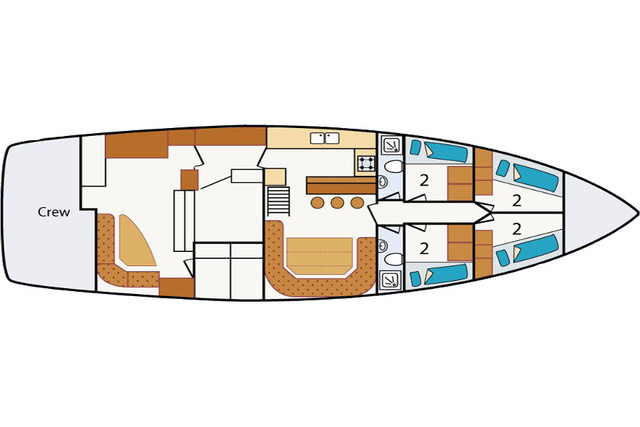 More about Steady
FAQ
Are all meals included in the price?

Yes - all meals are included in the price (Breakfast, Lunch, Dinner, Hot Drinks) Please note that Alcohol/soft drinks are not included.

Can you cater for dietary needs?

Yes, please let us know at the time of booking.

What language is spoken on board?

Jan-Willem and Mariëlle are Dutch, however they are fluent in English too.

What are the sleeping arrangements?

There are three cosy twin bunk bed cabins.

Is there an age limit for Steady's guests?

Yes, her age limit is 75 years. Please double-check if you have any under 18's

How many bathrooms/showers does she have?

Steady has 2 toilets and 2 showers.

Is there WIFI aboard?

No, but you should easily reach 3/4G from the shore.

Are there Life Jackets provided?

Yes

Are there Waterproofs available?

Yes, Steady has Musto sailing suits available if needed.

Do I need sailing experience?

No, absolutely not! Just a love for adventure.

Will I be seasick?

Everyone reacts differently but if you are unsure we recommend you take seasick tablets 24hours before you board.
Locations
From: Oban
To: Oban
PARKING:
For long stay secure parking, you can pre brook with Stoddarts of Oban. Ring Sally on 01631 564176 or try MacQueen Bros 01631 564848 for about £40/week. The other option is to take your chance in an unmetered residential area – but Oban is a busy little town so this is not guaranteed!
BY RAIL:
Oban station is right in the town centre and is about a 10-minute walk to Oban North Pier where Steady will be located. Trains run 6 times a day from Glasgow Queen Street station (only twice on Sundays) and run along the famous West Highland line. For times and prices visit the First Scotrail site. Glasgow main train stations can be reached from all UK mainline trains.
BY AIR:
Although Glasgow Airport is marginally closer, Edinburgh Airport isn't much further. Both take between 3 & 4 hours by train to Oban, and flights go direct from Stanstead. There are good links from the airport to the train and bus terminals for onward travel to Oban.