« All Voyages Cherokee's Schedule »
Sailing from Scotland to Northern Ireland
Vessel

:

Cherokee

Where

:

Scotland

Duration

:

9 days

Embark

:

Oban - 17 July 2021, 18:30

Disembark

:

Portrush, Ireland - 25 July 2021, 10:30
Join Cherokee as she leaves Oban, past the islands of Arran and Bute and into the Irish Sea where she'll head for Portrush.
After joining Cherokee in the sweet Scottish port of Oban, guests will get to know their home for the next week before setting sail the next morning.
Our first port of call will be the Scottish isles of Bute and Arran, both known for their ruggedness and beauty. Here, there'll be time to go ashore and discover the harbour towns and their surrounding landscapes before setting sail again for Cherokee's next destination.
Then will be the neighbouring Kintyre Peninsula, and if you can avoid having Paul McCartney's song in your head for the rest of the trip then we'll be very surprised! Nevertheless, he wrote the song as a tribute to the peninsula, and it's easy to see why – the quiet beauty and dramatic landscape is a vista to behold. Past Kintyre and over the water to the island of Rathlin, Northern Ireland's only inhabited offshore island and home to a spectacular array of wildlife.
The next stop sees Cherokee cross over to the emerald isle, to your final destination of Portrush. A quaint Irish coastal town lined with three famous sandy beaches.
Schedule
| Voyage | Set Sail | Days | Cost p/p | |
| --- | --- | --- | --- | --- |
Cherokee
Guest berths: 8 Rig: Cutter
In 2008, Jouke Lemmer purchased Cherokee after spending years sailing with his father's ship amongst others. Cherokee was built in 2000 by award-winning boat builders J & J Design and a year after buying her, Jouke refitted Cherokee radically, transforming her into a truly comfortable charter vessel, giving her a cutter rig and space for a generator so as to offer his passengers power and hot showers!
She is a fast, 16m vessel with a stunning teak deck and spacious cockpit, and she operates with two crew members (her skipper and the bosun/chef). Cherokee is exceptionally good at what she was built to do – pure sailing.
Jouke sails his ship all over the northern hemisphere, leaving Cherokee's home port of Rotterdam in May and sailing anywhere from the Hebrides and the Channel Islands, the Faroe Islands and Ireland or even down to the North coast of Spain before making the journey back to Holland in October. Join him and his wonderful ship for the adventure of a lifetime – think exhilarating sailing, bucket list destinations and top-notch hospitality.
Deck plan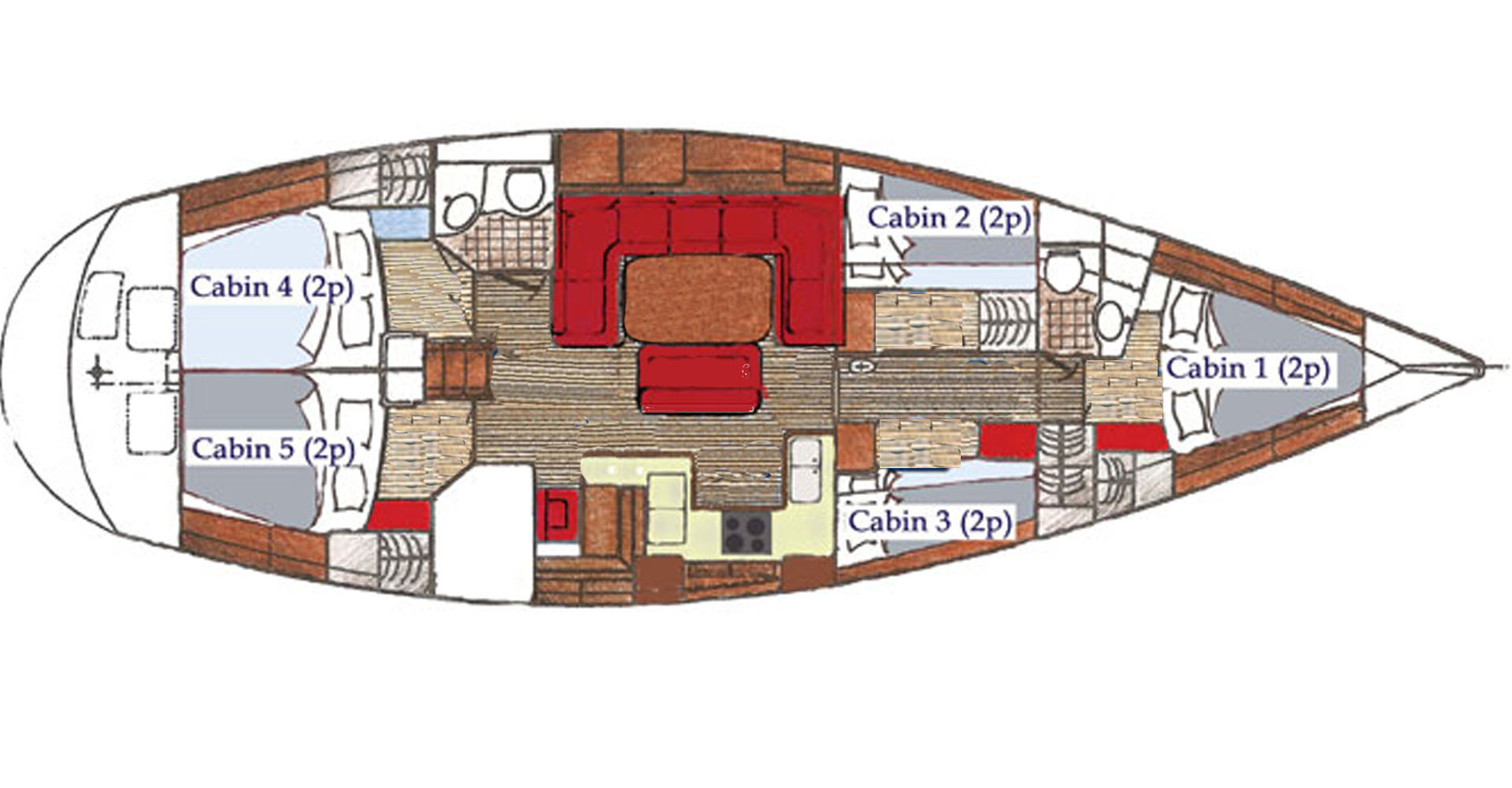 More about Cherokee
FAQ
Are all meals included?

Yes, all meals on board are included in the price. (Breakfast, Lunch, Dinner and soft/hot drinks) Alcohol is not included.

Can you cater for dietary needs?

Yes, please let us know when making your booking.

What language is spoken on board?

Dutch and English.

What are the sleeping arrangements?

Cherokee has two twin berth cabins and two double berth cabins for guests.

How many toilet/showers does she have?

Cherokee has two toilet/shower rooms.

Is there an age limit?

No!

Do I need sailing experience?

Not at all.

Is there WIFI?

No, but you should easily be able to reach 3G/4G from the shore.

Can I charge my phone/Camera?

Yes charging facilities are available when the generator is running.

Are there life jackets provided?

Yes

Are Waterproofs provided?

You can hire Sailing suits for £35 for the week.

Will I be sea sick?

Everyone reacts differently but we recommend if you are at all worried to take some medication 24 hours before departure.
Locations
From: Oban
To: Portrush, Ireland