« All Voyages Chronos's Schedule »
Sailing from Sicily to Palermo and Malta
Vessel

:

Chronos

Where

:

Sicily

Duration

:

7 days

Embark

:

Syracuse - 4 July 2020, 18:00

Disembark

:

Syracuse - 11 July 2020, 10:00
Explore the magic of Sicily, Malta and its surrounding islands under sail in the luxury and comfort of Chronos.
Join Chronos on the beautiful Italian island of Sicily in the ancient cosmopolitan city of Syracuse. Discover the beauty of Malta, Comino, Gozo and sail to the west coast of Sicily to discover the coastal towns of Trapani, Palermo and the island of Lipari.
The city of Syracuse is a fascinating place to begin your Mediterranean holiday and board Chronos. This historic town is oozing in culture and Greek history and was a key city in the ancient Mediterranean world. Dating back some 2,700 years, this coastal city is known for its ancient ruins amphitheatres, monuments, archaeological sites and architecture, and was also the birthplace of the famous mathematician Archimedes.
Once settled on board Chronos, set sail for Malta, Comino and Gozo. The tiny walled city of La Valletta, the capital of the island of Malta is known for its Baroque character and architecture. This World Heritage city is full of ancient palaces, museums, winding streets and grand churches. Perhaps you will anchor alongside the tiny island of Comino tucked between Malta and Gozo, famous for its blue lagoon, a paradise for snorkelers and divers. The island of Gozo has been inhabited for thousands of years and has evidence of historical habitation from the Romans, Arabs, Sicilians, French and British. It's known for its Neolithic Ġgantija Temple ruins that are even older than the Egyptian pyramids. Its crystal clear waters with shipwrecks and a plethora of marine life make perfect for snorkelling and diving opportunities.
As long as the weather holds, sail onto the west coast of Sicily next, discovering the old tuna fishing town of Trapani and the capital of Sicily – Palermo. Dating back to 734 BC, Palermo offers rich history and culture, bustling markets and great cuisine. Its magnificent cathedral is home to royal tombs sitting alongside a 9th century Royal Palace, while the huge neoclassical Teatro Massimo is known for famous opera performances.
Once you have embraced the magic of the city of Palermo, you could sail for quieter grounds and sheltered anchorages. Lipari is part of the beautiful Aeolian Islands, a designated UNESCO World Heritage site. This archipelago is made up of seven islands with Chronos visiting the largest island of Lipari, providing an abundance of sheltered coves and picture-perfect anchorages. Dive from the boat and swim in the turquoise blue waters, making use of her onboard watersports equipment. Wander the islands for that quiet spot, sip the local delicacy wine and soak up the Mediterranean sunshine.
*Please note that the route is not guaranteed and can be subject to change due to the weather and tides.
Chronos offers daily cabin service, a rich breakfast buffet, a light 2-course lunch at noon, coffee, tea and cake in the afternoon, and a 3-course dinner in the evening. Upon arrival, you will receive a welcome drink and on the last evening, the Captain's Dinner will be served. One evening a week, all guests eat at their own expense on land to get to know the local cuisine.
With Chronos as your base, great food included and some beautiful bucket list locations; this is a holiday experience of a lifetime and one not to be missed!
Please note:
Soft drinks and alcoholic drinks, water sports (wakeboarding, water skiing, banana boat chargeable, sea kayak, SUP) However Stand Up Paddleboards and snorkelling (adult size only) are free of charge) with motor drive and trips organized by us are chargeable as an extra. However, we offer this at moderate prices and are well below the prices of other cruises. An average of 10% of the travel price as onboard consumption may serve as a guide. The onboard currency is the Euro. We will open an onboard account for you on the day of arrival, from which you can pay all personal expenses. 
Chronos
Guest berths: 26 Rig: Bermudan Ketch
Built and registered in Bodrum, Turkey but spending her days sailing the Mediterranean and Caribbean, Chronos was purpose built as a charter vessel in 2013, as a two-masted, 54m staysail ketch.
This beautiful Ketch was designed by Klaus Röder who based his design on a classic yacht whilst keeping up with the modern day ketch; built for performance sailing and guest comfort.
Built with luxury in mind, the outline on deck is of teak and mahogany with plenty of space to sun-bath, read a book and enjoy the views. All the sails are electronically retractable, so no need to learn the ropes here. (The crew are, however, more than happy for guests to get involved with the operating and sailing of Chronos as much as they would like!)
An admiralty ladder provides the perfect place to jump off into the warm Caribbean waters, have a swim and climb back aboard with ease. Chronos also offers her guests the options of using her water skiing, wake-board, tube riding, kneeboard, banana boat, kayak and snorkelling & dive equipment and even a sail dinghy (QubaRS)
The deckhouse offers its very own small bar whilst below decks offers still more space to relax with a saloon with a plasma TV! Her private cabins, offering both queen size beds and single bunks, all have air-conditioning and en-suite bathrooms.
The professional crew consists of the Skipper, first mate, mechanic, bosun, cook and 4 stewards, so you will most certainly be looked after during your time aboard Chronos.
Deck plan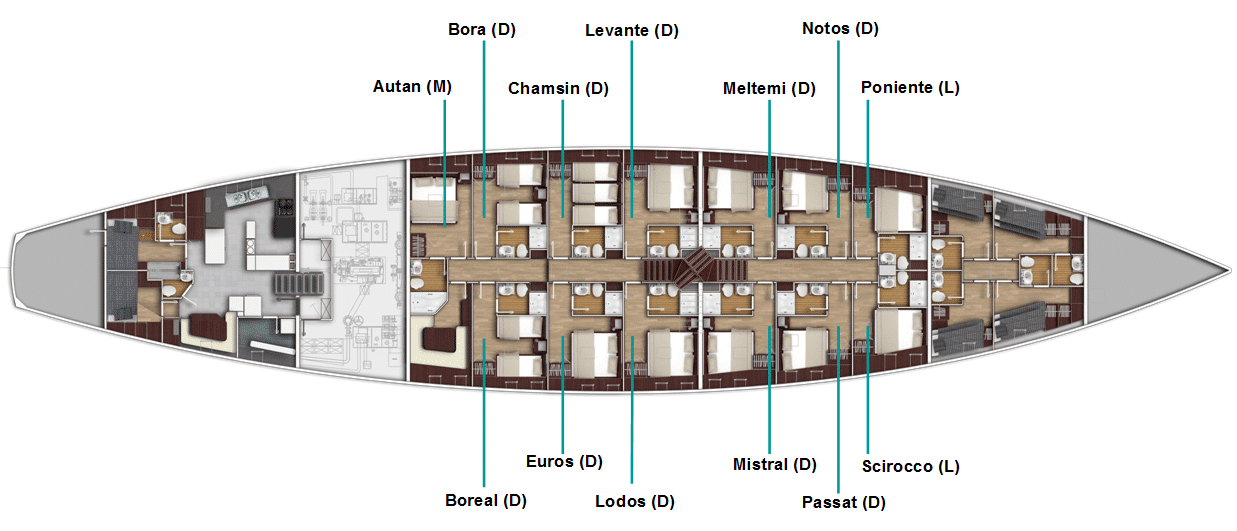 More about Chronos
FAQ
Are all meals included?

Yes, all meals on board are included in the price. (Breakfast, Lunch, Dinner and hot drinks) Alcohol is not included.

Can you cater for dietary needs?

Yes, please let us know when making your booking.

What language is spoken onboard?

English/German/Dutch

What are the sleeping arrangements?

Chronos has 1 Master Cabin (14 m²), 2 Long Cabins (11 m²) and 10 Deluxe Cabins (12-13 m²) all sleeping 2 people.

How many toilet/showers does she have?

All cabins have their own ensuite.

Is there WIFI?

No, but you should easily be able to reach 3G/4G from the shore.

Can I charge my phone/Camera?

Yes.

Are there life jackets provided?

Yes.

Are Waterproofs provided?

No.

Do I need sailing experience?

No, absolutely not! Just a lust for adventure.

Will I be sea sick?

Everyone reacts differently but we recommend if you are at all worried to take some medication 24 hours before departure.
Gallery
Locations
From: Syracuse
To: Syracuse