Ski and Sail to the Polar Bears' Land
Vessel

:

Linden

Where

:

The Arctic

Duration

:

5 days

Embark

:

Longyearbyen - 29 April 2019, 15:00

Disembark

:

Longyearbyen - 3 May 2019, 10:00
Join the three-masted schooner Linden for a five day arctic ski and sail adventure. Explore uninhabited lands, and keep your eyes peeled for polar bears!
In May, skiing conditions in Svalbard are in their prime, and with the Arctic spring blooming, set sail for untouched snow, midnight sun skiing, and unique ski touring. Up to 1000-meter-tall mountains seem to rise straight out of the sea, giving you a glorious playground of alpine scenery. This is skiing without boundaries in the pure white snow, where the tracks you come across are not from other skiers but rather from Svalbard's wildlife.
The days are long, and the team on board Linden may run one to three ski excursions a day. After a solid breakfast, you'll go ashore and start skiing straight from the beach, where you'll have the chance to ski tour 6-700 meter tall peaks amongst surging glaciers plummeting down and into the ocean, this is Svalbard – more than 60% of the ground is covered by ice.
On most days you'll have a warm lunch packed and spend the whole day outdoors in the Arctic wilderness to get the most out of extraordinary conditions and landscape. On other days you'll have lunch on board when the ship sails to new peaks with virgin snow. You can enjoy the sauna, après-ski drinks and a three course dinner on Linden, surrounded by a frozen landscape but in warm comfort!
The magnificent Linden was built in Mariehamn, in the Åland Islands – an autonomous archipelago off the west coast of Finland. This three-masted white sail schooner was a joint venture between residents of the Åland Islands, the Finnish government and established ship owners in an attempt to create a vessel that was a worthy representation of the traditional maritime culture of the islands. Because of this, Linden was built in pine – how the Åland and Finnish traditionally built their ships. In order to meet modern standards, the DNV required that a reinforced steel superstructure was put inside the hull, with watertight bulkheads to meet the safety requirements for passenger vessels.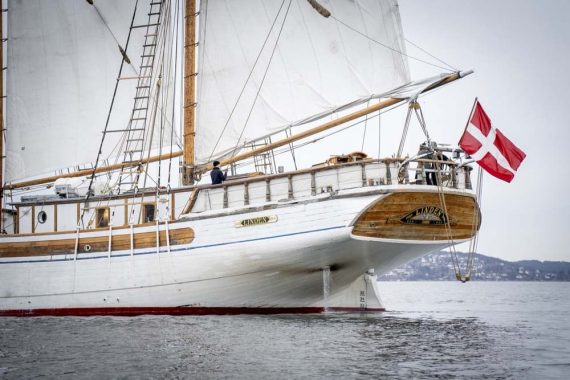 Until 2006, Linden sailed the Baltic Sea, proudly representing Åland, before being sold to a restaurant in Helsinki that turned her into a day cruiser, where she barely left Helsinki harbour. Now fully restored she was bought by her current owners in 2017 to offer sustainable charter, environmental experiences and cargo transport, working with local businesses and enterprises to ensure efficiency.
Today, she sails her guests in the Arctic, sailing around Svalbard Norway. Slicing through the water and between the ice in order to give her passengers the chance to experience the breathtakingly beautiful artic world.
Life under sail in this remarkable location gives guests the chance to witness polar bear, arctic foxes, Beluga whales, bearded seals, reindeer and an abundance of seabirds, with careful consideration to the fragility of this environment.
Accommodation
Total number of berths

:

35

Guest berths

:

12

Number of bathrooms

:

10
Find out more
Locations
From: Longyearbyen
To: Longyearbyen