Outer Hebrides & St. Kilda
Vessel

:

Steady

Where

:

Scotland

Duration

:

12 days

Embark

:

Oban - 24 June 2019, 15:00

Disembark

:

Oban - 5 July 2019, 10:00
Your chance to feel the magic and beauty of the Outer Hebrides and St Kilda aboard a tall ship. Shake-free from modern life and take off on a sailing adventure, out into the Atlantic and on to the island of Hirta, where you can experience an ancient way of life.
Starting in Oban, Scotland, this gateway to the Hebrides provides a wonderful starting point for your holiday to experience the magic of the Hebridean Isles and St Kilda.
The itinerary is, of course, dependent on the wind and tides but the Skippers are well travelled in these parts so know the best places to anchor. They will show you the beauty of the islands from the water but will also give you the chance to explore on foot.  Relax in sheltered anchorages and watch picturesque sunsets, and if we are blessed with dark skies, the stargazing from the deck is breathtaking – you may even spot the northern lights. This cruise requires no previous sailing experience so you can sit back and enjoy the views, however, if you wish, the crew are more than happy to show you the ropes and even give you the helm!
The focus point for the voyage will be to reach the world heritage site of St Kilda. Lying out in the Atlantic, 45 miles west of the Outer Hebrides, this archipelago was once home to Britain's most isolated community. The history of the people, its remoteness and amazing wildlife, make the islands an exceptionally desirable destination for anyone interested in natural history. Steady will then take you on a tour around the archipelago, heading for Stac Lee and Boreray to visit the largest gannet (Guga) colony in the world. This majestic sight will entrance you with millions of seabirds circling the cliffs and coming in to nest on the sheer rock face. Leaving St Kilda behind, you will head out for the Monach Islands, an island group west of North Uist in the Outer Hebrides of Scotland. This silent and special group of islands became a nature reserve for the undisturbed grassy lowlands (known as machair) and their spectacular Grey Seal population. About 10,000 seals come ashore each autumn, making it one of the largest colonies of its species in the world. So with your shoes in hand and the soft grass underfoot, wander through the flower meadows, relishing in the silent beauty here.
Cruising Uist and Harris, you will visit some of the most stunning scenery in the world, from white sandy beaches with crystal clear water to stark rocky hills patched in vibrant purple heather. Each day you will have the time to walk ashore, climb a mountain,  wander along perfect beaches or simply find a quiet spot to read or draw, before heading back for a cosy evening onboard. Turning back towards home be assured that the trip isn't finished yet! The Shiant Isles and the large puffin colony will entrance you before sailing towards the imposing peaks of Skye. Close by are the Small Isles (Rum, Canna, Muck and Eigg) each one worth a visit for their individuality of scenery and wildlife. Rounding Ardnamurchan Point, the most westerly of mainland Britain, we may anchor in Tobermory before the final long day sailing back toward your final night moored at Kerrera just outside of Oban.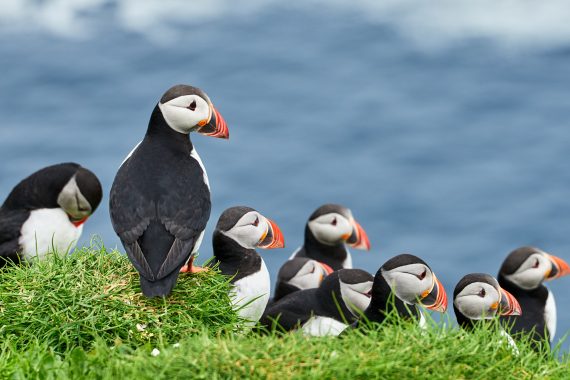 WILDLIFE in the Hebrides is a real treat; sightings of seabirds such as Black Guillemots can be seen in their hundreds and white-tailed eagles soar along the rugged coastline. Sailing on Zuza is often rewarded with widespread sightings of birds of prey like Buzzards, Kestrels, Sparrowhawks and Peregrines and, if you're lucky, you'll spot the diminutive Merlin.  Scotland is also home to Fulmars, Hooded Crows, and snowstorms of Gannets diving for food on the open sea. The island of Rum has a massive Manx Shearwater colony that allows incredible views as they raft offshore around the Small Isles or shear the waves in feeding parties. Acrobatic Ravens give everything else in the sky a flying lesson. These sights are magnificently overwhelming, with the sound of seabird colonies, Puffins, Guillemots & Razorbills, it is like nothing else on earth.
There are frequent encounters with Common, Bottlenose & Whitebeak dolphins on board these trips, and Risso & Whitesided dolphins are also occasionally sighted. Basking sharks have been scarce the last few years but are still seen and seem to be returning – and we know the hot spots! There are plenty of whales in this part of the world too. Our most common encounters are with Minke – Humpbacks are a less frequent visitor, while the real star of the show is the resident pod of Orca if you're lucky enough to see them gliding through the water. So keep your eyes peeled and have your binoculars at the ready!
Steady has been sailing these waters for years and she knows all the secret spots and loves sharing these with her guests.  Breakfast, lunch, dinner and snacks are all included in your ticket price and the crew will definitely indulge you, cooking locally sourced and freshly prepared meals. Wherever you explore with Steady, be sure that the views will be breathtaking and the wildlife in abundance, so have your eyes peeled and your binoculars at the ready for a wonderful trip. With food included, private cabins and comfy social spaces, this is an adventure not to be missed!
Steady
Guest berths: 8 Rig: Staysail Ketch
Join Jan-Willem and Mariëlle Kerkmeer aboard their 1993 Dutch ketch as they sail the seas of Scandinavia and Scotland.
Since she was built, Steady has been used as a charter vessel, so is fully kitted out with her guests comfort in mind. She sleeps eight people in four comfortable twin cabins, with two bathrooms and a spacious living area below deck.
There's plenty of room on deck too to take in the surrounding views and if the weather should turn, Steady has Musto sailing suits available for her guests.
Mariëlle & Jan-Willem also make full use of the well-equipped kitchen, making varied meals for all the guests on board – these are all included in the price of your voyage. For seven-day voyages, you will also be able to enjoy one meal ashore, and longer voyages (ten and twelve-day) there will be two dinners ashore – (these meals ashore are not included in the price of your voyage)
Onboard Steady, most guests like to lend a hand with the sailing of this eye-catching vessel, and Jan-Willem and Mariëlle are excellent teachers if you do want to get involved. They will cater for all abilities, so if you'd rather sit back and relax with a book, then that's fine too!
Steady's voyages explore the islands of the Inner and Outer Hebrides and St Kilda; an area of unspoilt wilderness and breathtaking beauty in the Western Isles of Scotland. Her trips give you access to the most captivating and remote hidden secrets of this incredible and beautiful place. As you cruise through this stunning marine landscape you will likely be lucky enough to experience close encounters with rare wildlife and have time to soak up the unique and fascinating history and culture of the Hebrides and St Kilda.
Watch this short video of Steady sailing around Oban.
More about Steady
FAQ
Are all meals included in the price?

Yes - all meals (except the one or two meals that you may have ashore) are included in the price (Breakfast, Lunch, Dinner, Soft/Hot Drinks) Please note that Alcohol is not included.

Can you cater for dietary needs?

Yes, please let us know at the time of booking.

What language is spoken on board?

Jan-Willem and Mariëlle are Dutch, however they are fluent in English too.

What are the sleeping arrangements?

There are four cosy twin bunk bed cabins. (Please remember that you're on a boat!)

How many bathrooms/showers does she have?

Steady has 2 toilets and 2 showers.

Is there WIFI aboard?

No, but you should easily reach 3/4G from the shore.

Are there Life Jackets provided?

Yes

Are there Waterproofs available?

Yes, Steady has Musto sailing suits available if needed.

Do I need sailing experience?

No, absolutely not! Just a love for adventure.

Will I be seasick?

Everyone reacts differently but if you are unsure we recommend you take seasick tablets 24hours before you board.
Locations
From: Oban
To: Oban