Channel Islands Sailing Adventure
Vessel

:

Pilgrim of Brixham

Where

:

English Channel

Duration

:

7 days

Embark

:

Falmouth, Cornwall - 25 June 2020, 12:00

Disembark

:

Brixham, Devon - 2 July 2020, 12:00
Spend a week cruising on this historical ship as the weather will take guests to Devon, Cornwall, the Channel Isles or even the Breton coast.
Spend a week summer sailing from Falmouth, exploring the Cornish coast with Pilgrim as she sails north before making the crossing to the Channel Isles.
The itinerary and route for sailing are not set in stone due to the ever-changing wind and weather. When boarding, the Skipper will have a better idea of what the week should entail. Whichever route is chosen, you'll explore the English Channel from the ship, looking out at the dramatic coastline and watching for all manner of marine life that may accompany you along the way.
The harbour towns you visit will vary but potential stops will include Fowey, Dartmouth or Salcombe – as well as Alderney, the northernmost Channel Isle and perhaps even the northern coast of Brittany. With different cultures, histories and atmosphere, this voyage is certain to be one of discovery – of both amazing places and exceptional sailing.
The Channel Isles and the Breton coast are teeming with sheltered coves for anchoring, peaceful meandering beaches to discover, medieval towns and remote island to explore. Paired with the delicious local cuisine and plenty of opportunities to set foot ashore, there is no better way to discover the magic of this Celtic Coast than under sail.
Pilgrim welcomes all abilities and ages and loves guests to get involved with all aspects of sailing this beautiful classic boat. From hoisting the sails to taking the helm, chart reading to knot-tying, you certainly won't run out of things to do!
All meals and soft drinks are included in your ticket price.
Pilgrim of Brixham
Guest berths: 10 Rig: Gaff Rigged Ketch
Pilgrim of Brixham, built in 1895, is a traditional gaff rigged ketch that is one of a handful of remaining wooden sailing trawlers that were built in Brixham. Pilgrim and her iconic red sails were once part of a large fishing fleet operating out of Brixham, which used to be the principal fishing port in the country. Her survival is testament to her quality, with many similar Victorian fishing vessels having a life span of less than 20 years – and the main reason for her survival is thanks to funding from the Heritage Lottery Fund, the South Devon Coastal Local Action Group and many individual donors and volunteers.
The Pilgrim Story
After spending many years under different owners in Scandinavia, in 1999 she was brought home from Denmark back to Brixham. After significant restoration work, a few mishaps along the way and a hefty dose of community spirit, Pilgrim was returned to her former glory above decks, and brought up to modern standards below.
Today, as a charter vessel, the Brixham community still rallies around Pilgrim, with local crew, experienced and skilled volunteers performing maintenance and making the Pilgrim of Brixham operation run like clockwork. VentureSail is incredibly proud to have a hand in getting people aboard this historic vessel to not only experience how magnificently she sails, but also to see how passionate those that sail her are. Join Pilgrim on voyages around Devon, Cornwall and the Isles of Scilly, or experience maritime festivals on this incredible vessel.
Deck plan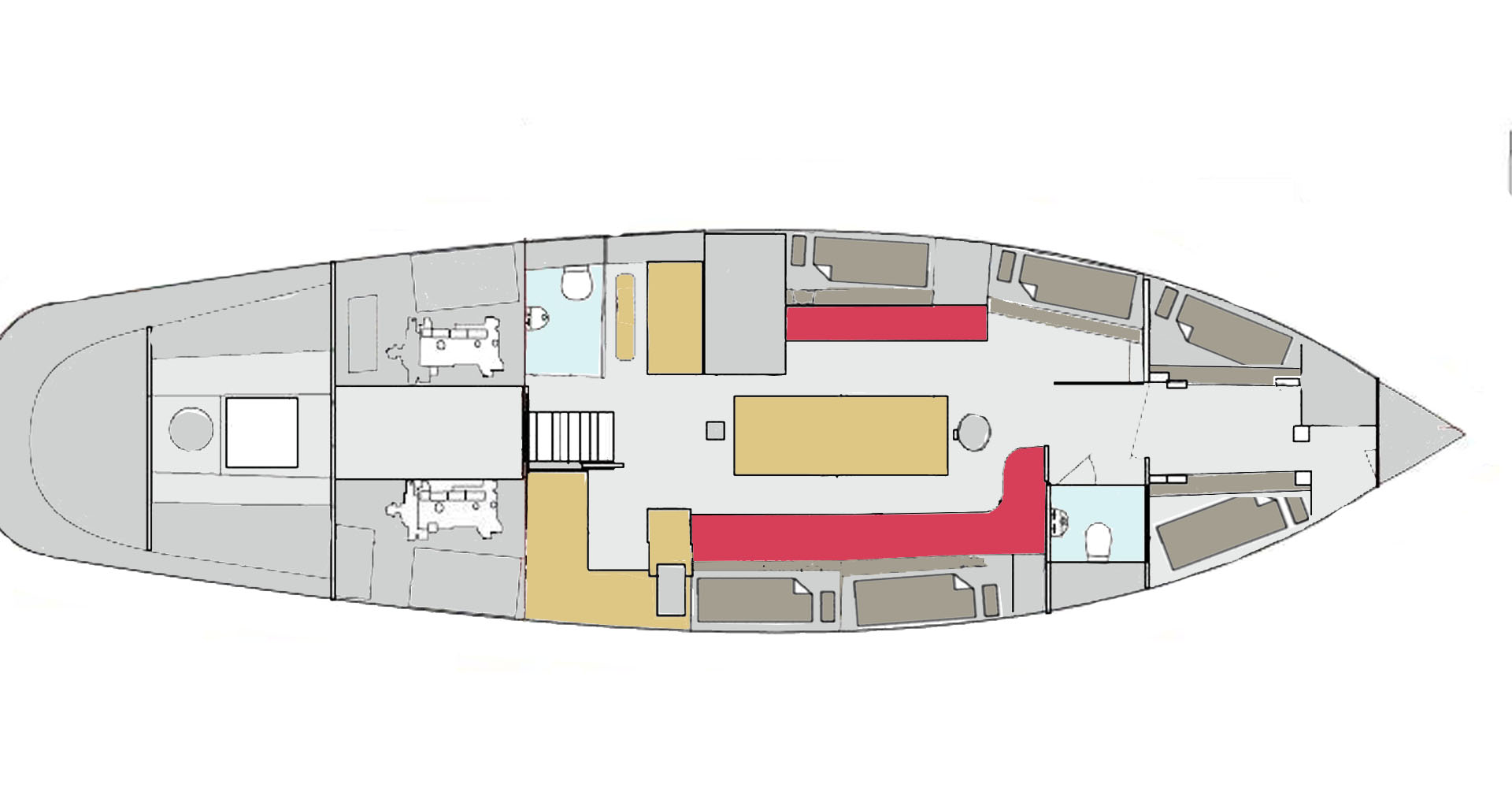 More about Pilgrim of Brixham
FAQ
What are the sleeping arrangements?

There are 8 berths in the main saloon, with 4 in a cabin at the front of the ship, and 4 at the back (these are usually crew bunks)

What language is spoken on board?

English

Are meals included?

Yes - meals will be as locally sourced as possible and freshly prepared. Food is often a real hit on Pilgrim.

Do I need to be a seasoned sailor?

Not at all. We give everyone who joins us on board the choice to do as much or as little as they like, whether they know how to or not.
Locations
From: Falmouth, Cornwall
To: Brixham, Devon