Good for
Cruising

Exploration

Ocean passages

Training

Wildlife

Winter sun

Sun

Racing
Duration
1 day
2 - 6 days
1 week +
2 weeks +
Scotland & the Hebrides
Explore the rugged seclusion of Scotland's Western Isles, proffering breathtaking views, rare wildlife and excellent sailing, Scotland is one of our favourite destinations.
Explore and experience the beautiful Western Isles of Scotland under sail. With seas sheltered by the Outer Hebridean Islands, your sailing holiday adventure will carry you on a voyage of discovery, exploring remote islands and secluded lochs with mountains shielding you from a more hurried modern world and giving amazing wildlife spotting opportunities.
Long Days of Light
From early summer, the Western Isles bathe in long warm sunny days and are home to great sailing conditions. When the wind decides to blow in from the Atlantic, your skipper knows plenty of sheltered bays or long winding lochs to continue your adventures. Once anchored there is plenty of time to explore ashore, climb a high point, swim off the boat or beach comb on white sandy beaches with not a  person in sight.
Why not watch The Girl Outdoors' video when she sailed the Hebrides on Bessie Ellen.
Birdwatching and Wildlife Spotting
From Iona's white sands to the rugged cliffs of the Shiant Isles, the Sea of the Hebrides beckons with remote places, historic monuments, local cultures and magical wildlife. A particular highlight is a visit to the puffin colony, sitting so close to these painted birds, it's fascinating that they accept you among their burrows.
Wildlife in Scotland is a real treat; sightings of seabirds such as Black Guillemots can be seen in their hundreds and white-tailed eagles soar along the rugged coastline. Spot birds of prey like Buzzards, Kestrels, Sparrowhawks and Peregrines and, if you're lucky, maybe the diminutive Merlin.  Scotland is also home to Fulmars, Hooded Crows, and snowstorms of Gannets diving for food on the open sea.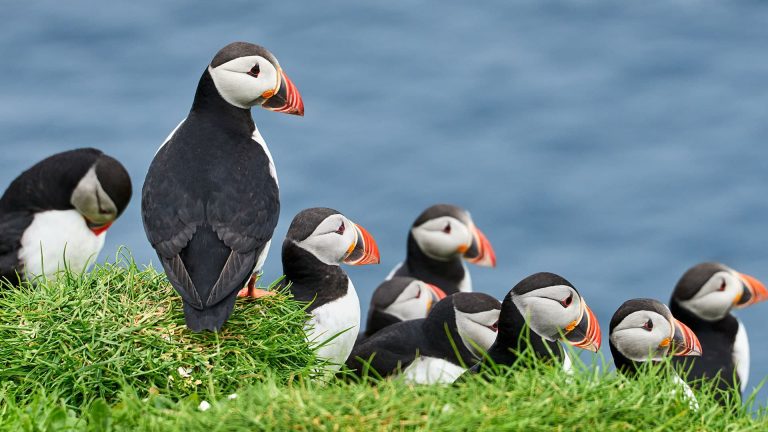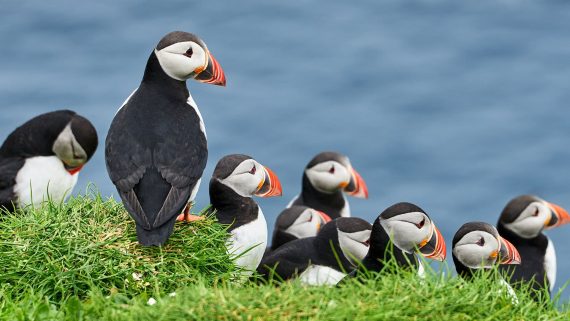 The island of Rum has a massive Manx Shearwater colony that allows incredible views as they raft offshore around the Small Isles or shear the waves in feeding parties. With the sound of seabird colonies, Puffins, Guillemots & Razorbills echoing the cliffs, these sights and sounds are magnificently overwhelming.
There are frequent encounters with Common, Bottlenose, Whitebeak  & Risso dolphins on these sailing and wildlife watching trips in the Hebrides. Basking sharks have been scarce the last few years but are still seen and seem to be returning – and we know the hot spots! There are plenty of whales in this part of the world too. Our most common encounters are with Minke – Humpbacks are a less frequent visitor, while the real star of the show is the resident pod of Orca if you're lucky enough to see them gliding through the water.
For more detailed information on the islands that make up the Inner and Outer Hebrides take a look at our blogs on Mull and her surrounding Isles, and another on the Small Isles and St. Kilda.
Sailing Holidays in Scotland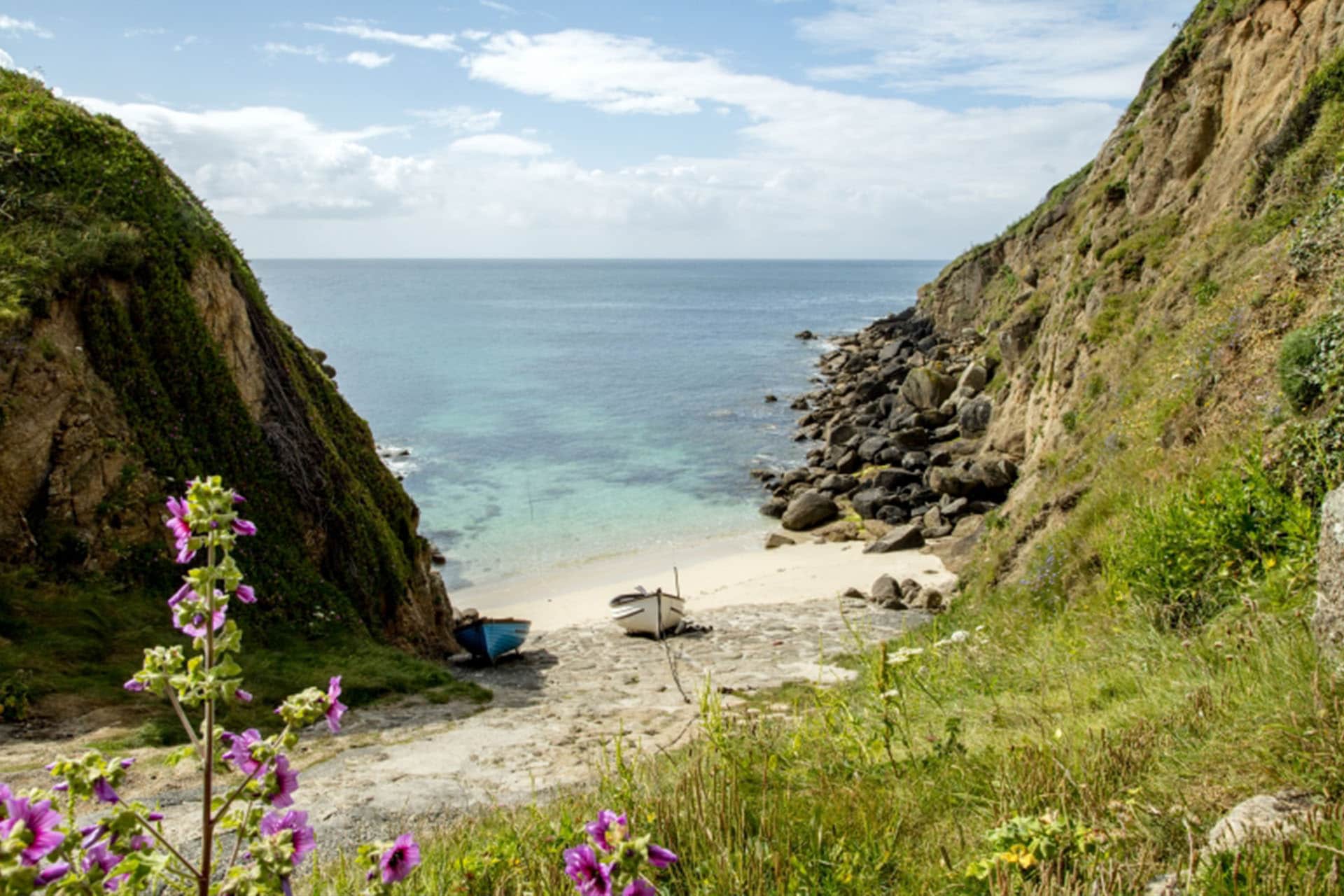 Destinations
Our range of vessels enables us to offer several destinations all over the globe. Which adventure will you choose?
View destinations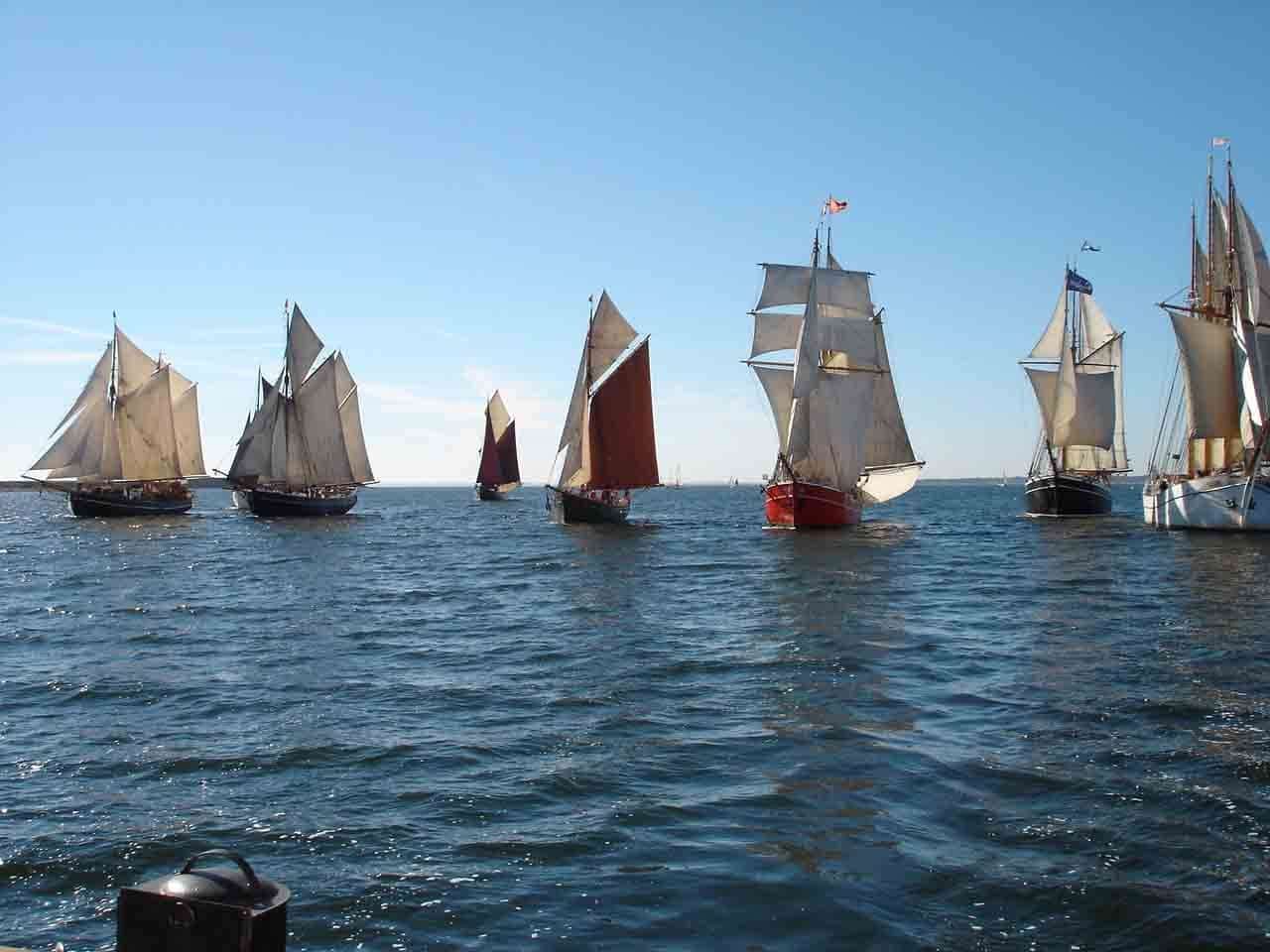 Our fleet
With vessels of all sizes and each with a unique history and construction, there is no shortage of choice for your sailing holiday.
View fleet