« All Voyages Pilgrim of Brixham's Schedule »
Cornwall & Isles of Scilly Sailing
Vessel

:

Pilgrim of Brixham

Where

:

Cornwall

Duration

:

7 days

Embark

:

Falmouth - 24 June 2021, 11:30

Disembark

:

Falmouth - 30 June 2021, 12:00
Perfect for those who want a bit of open water sailing with an opportunity for walking exploration and wildlife watching.
Join the magnificent Pilgrim of Brixham for a once in a lifetime trip to the Isles of Scilly situated just 28 miles off Lands End in Cornwall and a world apart from the mainland England. What better way to travel to and explore these Caribbean-esque islands than aboard a traditional 22m Brixham trawler with her iconic red sails? Set sail from Falmouth and learn the ropes as you cross this stretch of the Atlantic Ocean, (which can take 10-12 hours) passing iconic Cornish locations such as St Michael's Mount and the Minack Theatre. Although you'll be busy helping to set sails with the crew, have your camera to hand as on this part of the adventure you'll often be joined by playful dolphins and the occasional basking shark or whale.
Pilgrim's journey, anchorage and activities will be determined by the weather, tide, wind and sea state and therefore no two trips to the Scillies are the same. No matter how many times you visit via this passage, the sight of this archipelago will always take your breath away and fill you with a huge sense of achievement for the journey you have taken – unlike arriving by plane in just 15 minutes!
The Isles of Scilly boasts a plethora of dramatic, rugged coastlines – steep rock faces and deep inlets caused by the continuous pounding of huge rollers coming in from the Atlantic Ocean. These stunning islands feature large stretches of deserted white sandy beaches, dramatic rocky coves, stunning seascapes, amazing archaeological sites, beautiful walks and scenery along miles of coastal and country paths and nature trails. You'll leave longing to return and questioning how somewhere like this could be part of the UK.
Reaching the Scillies, St Martins is usually the first island you'll see on the horizon with its red and white Daymark erected in 1683 welcoming you to Scilly.  St Martins is just two miles long yet it has some of the finest beaches in the British Isles, if not the world.
St. Mary's is the Isles of Scilly's largest island (population 1,800) and the gateway to the rest of the islands. The main settlement is Hugh Town where you'll find shops, pubs and a post office and plenty of places to sit with an ice cream and take in the view.  We try to head for St Mary's Sound on the Wednesday evening of our trip (subject to weather) to cheer on the ladies as they race their gigs.  This is a popular and well supported activity on Scilly and derives from the race to deliver a pilot onto incoming ships to guide them through the hazardous rocks and shallows.
Although Bryher is the smallest of the inhabited island on the Scillies it has some beautiful walks and scenery and just 80 people are lucky enough to call it home.  An opportunity, perhaps, to drop you off by tender to either Bar or Church Quay to let you stretch your legs and explore the island on foot – don't forget to ask the cook for a picnic! A stop off at Hell Bay Hotel or the Fraggle Rock Pub for a light refreshment is a must
Tresco is the second largest of the islands and a subtropical gem home of the famous Abbey Garden, established in the 1830s by Augustus Smith. This horticultural paradise hosts a spectacular collection of more than 20,000 exotic plants from all corners of the world – many of which cannot be grown anywhere else in Britain.
St Agnes is the southernmost and smallest populated island of the Isles of Scilly and is totally unspoilt and astonishingly peaceful. An island of extreme contrasts, with rocky outcrops on its exposed western side to serene beaches with the tranquillity of the sandbar between St. Agnes and Gugh on the other side.
On this sailing holiday aboard Pilgrim, you'll be sure to enjoy fantastic food, with all your meals included in the price. This voyage is suitable for season sailors and more adventurous beginners who want to experience a passage crossing as well as explore a remote destination like Scilly.
Weather, Wind and Tides!
This is the part of your sailing trip that unfortunately we unable to control! As a result we cannot guarantee that all destinations/experiences referred to in this description will be exactly as stated, however we will always do our upmost to deliver a great experience.
Schedule
| Voyage | Set Sail | Days | Cost p/p | |
| --- | --- | --- | --- | --- |
Pilgrim of Brixham
Guest berths: 10 Rig: Gaff Rigged Ketch
Pilgrim of Brixham, built in 1895, is a traditional gaff rigged ketch that is one of a handful of remaining wooden sailing trawlers that were built in Brixham. Pilgrim and her iconic red sails were once part of a large fishing fleet operating out of Brixham, which used to be the principal fishing port in the country. Her survival is testament to her quality, with many similar Victorian fishing vessels having a life span of less than 20 years – and the main reason for her survival is thanks to funding from the Heritage Lottery Fund, the South Devon Coastal Local Action Group and many individual donors and volunteers.
The Pilgrim Story
After spending many years under different owners in Scandinavia, in 1999 she was brought home from Denmark back to Brixham. After significant restoration work, a few mishaps along the way and a hefty dose of community spirit, Pilgrim was returned to her former glory above decks, and brought up to modern standards below.
Today, as a charter vessel, the Brixham community still rallies around Pilgrim, with local crew, experienced and skilled volunteers performing maintenance and making the Pilgrim of Brixham operation run like clockwork. VentureSail is incredibly proud to have a hand in getting people aboard this historic vessel to not only experience how magnificently she sails, but also to see how passionate those that sail her are. Join Pilgrim on voyages around Devon, Cornwall and the Isles of Scilly, or experience maritime festivals on this incredible vessel.
Deck plan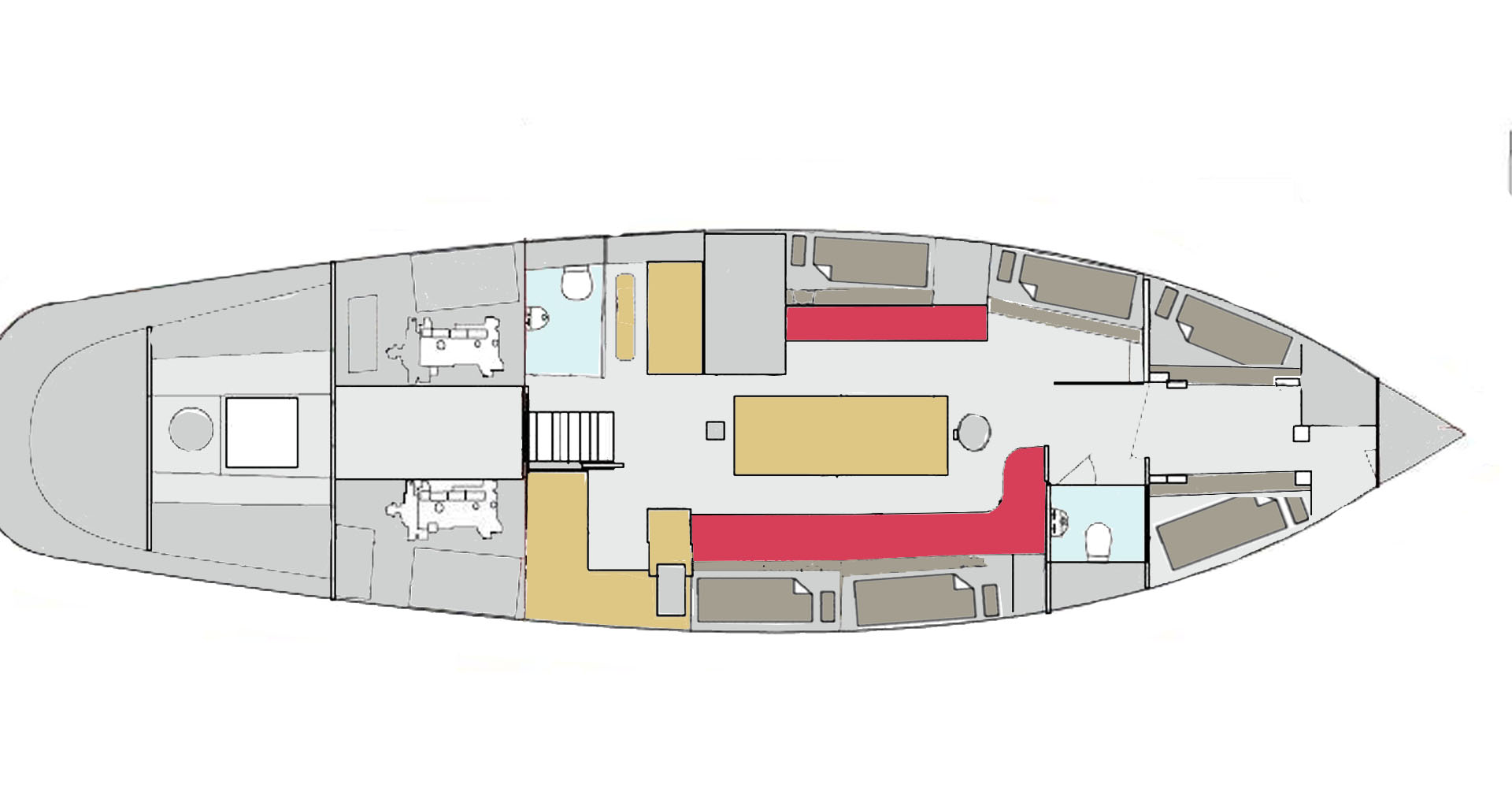 More about Pilgrim of Brixham
FAQ
Are meals included?

Yes - meals will be as locally sourced as possible and freshly prepared. Food is often a real hit on Pilgrim.

Can you cater for dietary needs?

Yes, please let us know when booking.

What language is spoken on board?

English

What are the sleeping arrangements?

There are 8 berths in the main saloon, with 4 in a cabin at the front of the ship, and 4 at the back (these are usually crew bunks)

Is there an age limit?

Preferably no under 8's on scheduled voyages but please check with us. There are no age limits on private charters.

Do I need to be a seasoned sailor?

Not at all. We give everyone who joins us on board the choice to do as much or as little as they like, whether they know how to or not.

How many toilet/showers does she have?

Two for guests

Is there WIFI?

No, but you should easily be able to reach 3G/4G from the shore.

Can I charge my phone/Camera?

Yes, please bring 12v chargers.

Are there life jackets provided?

Yes.

Are Waterproofs provided?

There are some for emergencies but please bring your own.

Will I be sea sick?

Everyone reacts differently but we recommend if you are at all worried to take some medication 24 hours before departure.
Locations
From: Falmouth
To: Falmouth