Naomi from the VentureSail booking team discovers the delights of sailing in Devon .
Growing up in Cornwall I thought coastlines couldn't get any better. I've travelled a lot internationally and always came home to the Cornish Coast with a sigh of relief. Then I went sailing along the Devon coast and realised, perhaps, just quite how bias I had been! I am not saying they are "better" (loyally Cornish!) but I would say a happy extension of the Cornish coastline and more dramatic. Higher cliff lines loom, with a lot more greenery, gently giving way to quaint inlets and harbour towns, with crystal blue waters – almost like the Scillies. There are many more coastal features here than in Cornwall with arches and stacks forming fascinating headlands.
Brixham itself is such a dear little harbour town. With its colourful houses and quaint cottages, it's definitely a scene for a postcard! I had a wander here before I boarded and all the locals are really friendly. There is a sense of "lost-in-time' here, a relaxed atmosphere that seems to be getting lost in this increasinly modern world.
Sailing alongside Berry Head near Brixham sees a dramatic limestone headland which has been designated as an Area of Outstanding Natural beauty. With my binoculars at the ready, I couldn't believe the birdlife that called these sheer cliffs home! Colonies of kittiwakes are something I'd been dying to see and I was certainly not disappointed. I had read that the Lighthouse on Berry Head was on one of the highest points on the British Isles; I was not prepared for the size and scale of this cliff line – totally breathtaking.
Sailing south past Dartmouth and Kingsbridge with the stunning silhouette of their Castles marking each side of the inlet, this is sometimes an overnight stop and one I would've loved to experience! Onto Slapton Sands, I was amazed at the stretches of sandy beaches here… just like Cornwall!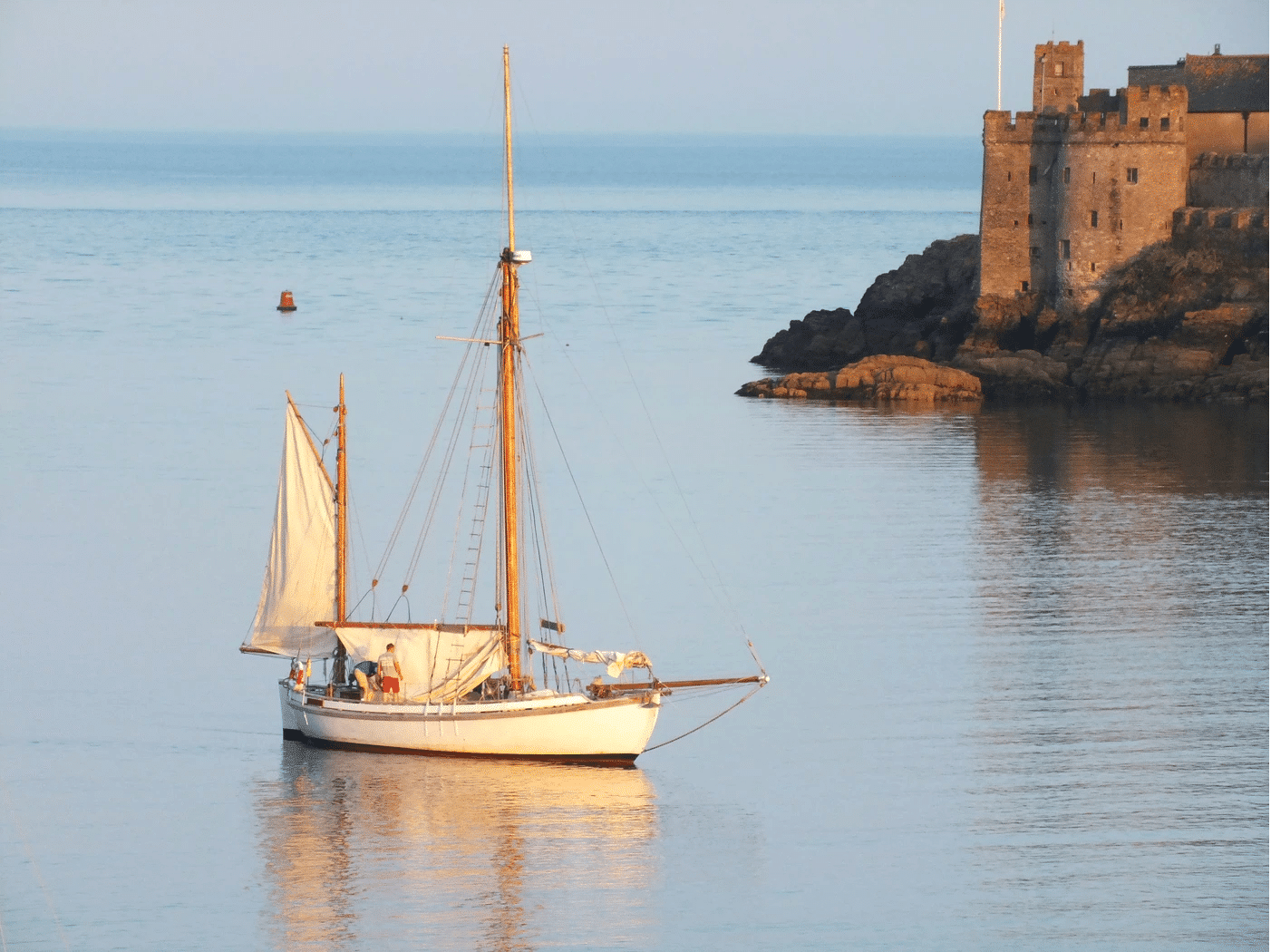 Realising that this whole coastline is an Area of Outstanding Natural Beauty I think I spent the whole day with my binoculars to my face! We passed Slapton Ley – the largest natural lake in the South West. You wouldn't believe that it was a freshwater lake so close to the salty sea and was a complete shingle beach only moments away from the golden sands we had just passed.
We turned to return to port and were taken back with dolphins in the bows wake. The crew say it is rare this doesn't happen at some point on the voyage and I have experienced dolphins in Cornwall but it still excites me everytime!
With a tiny taste of what the Devon coast has to offer from the sea, I will be sure to return for a longer sailing passage with hope to stop at the beauitful anchorges I continue to read about! My trip was aboard Escape, but Our Daddy and Pilgrim of Brixham also sail mostly around these waters.