Sailing into the Arctic Wilderness
Vessel

:

Linden

Where

:

The Arctic

Duration

:

3 days

Embark

:

Longyearbyen - 16 August 2019, 15:00

Disembark

:

Longyearbyen - 18 August 2019, 10:00
Climb aboard Linden for a weekend sail around the glacial coast of Svalbard. Explore Isfjorden and explore its inner fjords, or sail northwards with the hope of spotting spectacular wildlife.
Sail with Linden as she adventures into Svalbard's second biggest fjord, Isfjorden for a taste of the Polar regions. The fjord is full of beautiful glacier fronts, cliffs that are home to hundreds of birds and plenty of arctic wildlife. The gulf stream keeps the fjord ice-free for large parts of the year, although sometimes that same stream carries tons of drift ice into the fjord. Millions of years of geological history are visible, and over 400 hundred years of human presence has put its mark on the landscape.
The ship will navigate sea ice easily with her strengthened hull, and you'll need to keep your eyes and ears open – it is on the sea ice that the polar bears are most likely to be seen. Migratory patterns change seasonally, even daily, and you may encounter blue whales as well as Svalbard's Big Five; the polar bear, walrus, arctic fox, Svalbard reindeer and ivory gull.
The Linden crew are eager to show you the ropes of this magnificent ship, so if you're after a hands-on sailing expedition then you won't be disappointed. Equally, if you want to make use of the library, sauna and stunning scenery sailing by, then you are more than welcome to sit back, relax and enjoy the journey.
Meet your guide at 15:00 in Longyearbyen who will take you to the wooden three-masted Schooner Linden. You will gather in the ship lounge for some snacks and a safety briefing. This is a good time to get to know the staff and your fellow voyagers. Checking the last ice charts and the weather, your Captain and Expedition Leader will finalise the route. If the wind is favourable it's time to hoist the sails and head into the pristiArctictic waters!
Our crew loves sailing and is eager to teach you too. With the help of our professional team, you can become a true seaman yourself! Linden is made for the Arctic waters and sails graceful. Later we gather for the captain's welcome dinner as we continue to sail towards our next destination.
After dinner, non-stop noise from the towering bird cliff greets us and we head ashore. Thousands of female Brünnich's Guillemots are to lay a single egg each on the narrow cliff ledges above us, and these big black and white auks busy around and fill the air. As you hike across the tundra we need to watch out, the Arctic skuas don't want us near their nests. The Svalbard reindeer is rather interested in getting a closer look at us. With a bit of luck on our side, we may find the Arctic fox foraging for birds and eggs below the cliffs.
On Saturday morning we wake up next to an outpost, Isfjord Radio Adventure Hotel. Indulge in unexpected luxury and genuine hospitality at this old radio station packed with history. If you feel like it, join one of your guides for a 2-3 hour hike around the station and the surroundings. After the walk, you can enjoy the new scenery sauna at the Isfjord Radio – what a way to finish a hike! Bordering Isfjord Radio is a bird sanctuary, providing new opportunities to spot that Arctic fox bird or egg hunting! Just like the former station manager hosted and served the Norwegian explorer Fridtjof Nansen, Isfjord Radio's own Michelin star trained chef will prepare and serve us a treat before we embark Linden again. Nearby Isfjord Radio, there are areas where the walrus colonies gather on the beaches so get your binoculars at the ready!
On Sunday morning we wake up surrounded by wild landscape and glimmering glaciers. The surreal scene appears silent, but you will discover there is a constant fizz, snap and pop of melting ice releasing trapped air bubbles. Millions upon millions of bubbles are continually released as the glacier melts away underneath the ocean surface. After a hearty and healthy breakfast, we land and hike into the valley in search of geological clues, patterns and fossilized wildlife. Svalbard is a geological hotspot without much vegetation displaying several billion years of history. One treasure trophy found here was a 15 meter long fossilized Jurassic pliosaurus, the most fearsome carnivorous marine reptile ever to have existed on Earth. Back on the ship, we enjoy lunch before we head back to civilization. Even when closing the settlement, keep your eyes for white flashes of up to 4,5 meters of lean blubber crossing our paths. There are groups of white beluga whales in the fjord as we get close to Longyearbyen to drop you off!
Linden
Guest berths: 12 Rig: 3 Masted Schooner
The magnificent Linden was built in Mariehamn, in the Åland Islands – an autonomous archipelago off the west coast of Finland. This three-masted white sail schooner was a joint venture between residents of the Åland Islands, the Finnish government and established ship owners in an attempt to create a vessel that was a worthy representation of the traditional maritime culture of the islands. Because of this, Linden was built in pine – how the Åland and Finnish traditionally built their ships. In order to meet modern standards, the DNV required that a reinforced steel superstructure was put inside the hull, with watertight bulkheads to meet the safety requirements for passenger vessels.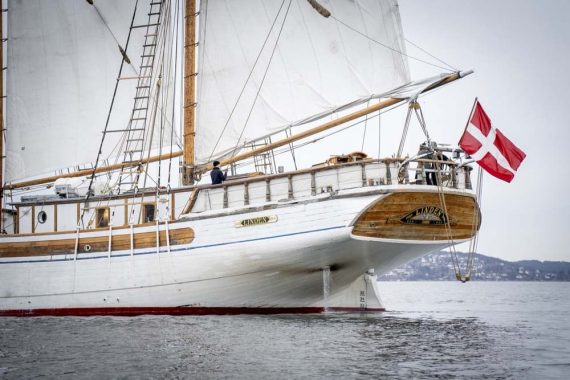 Until 2006, Linden sailed the Baltic Sea, proudly representing Åland, before being sold to a restaurant in Helsinki that turned her into a day cruiser, where she barely left Helsinki harbour. Now fully restored she was bought by her current owners in 2017 to offer sustainable charter, environmental experiences and cargo transport, working with local businesses and enterprises to ensure efficiency.
Today, she sails her guests in the Arctic, sailing around Svalbard Norway. Slicing through the water and between the ice in order to give her passengers the chance to experience the breathtakingly beautiful artic world.
Life under sail in this remarkable location gives guests the chance to witness polar bear, arctic foxes, Beluga whales, bearded seals, reindeer and an abundance of seabirds, with careful consideration to the fragility of this environment.
Search for a sailing holiday aboard tall ship Linden >
More about Linden
FAQ
Do I need experience?

No sailing experience is necessary as we have a competent crew who can sail the ship. However, we do encourage the guests to get involved as much or as little as they wish.

What should I bring?

We have limited luggage storage space and typically guests bring more luggage than they need. A kit list will be provided before you board.

Will I get sea sick?

It is not uncommon to get sea sick in rough weather so the skipper will try to plan a route to avoid it. If you do begin to feel unwell, just let a crew member know so that we can look after you accordingly – especially if you are on medication.

What is the accommodation like?

There are 4 separate cabins, most of which have en-suite bathrooms. 3 cabins have 4 single beds in them, and 1 cabin has 3 beds in it. There is a large dining area with a bar, with a full catering kitchen, and even a sauna too!

Are all meals included in the price?

Yes - however drinks with meals are not. They are available to purchase from the on board bar.

What bathroom facilities are provided?

There are 5 twin cabins with private shower and toilet, and 2 single cabins with shared bathroom. There are several other bathrooms dotted around the ship.

Are dietary requirements catered for?

Yes, the chef will be glad to help you with your dietary requirements. Please make sure you complete the section on diet when booking.

If I have a medical condition, will it be a problem?

Please telephone us for advice, but take a look at the questions on the booking and medical form so that you can see the sort of questions we will need to ask. Please note any medical information given is totally confidential.

Do I need to be very active?

No, a normal level of fitness will be adequate; you need for emergency circumstances to be able to climb a 6ft (2meter) vertical ladder unassisted.

Can I charge my phone or digital camera?

Yes - just make sure you bring an adaptor for EU sockets.

If there are so many berths on board, why can Linden only take 12 guests?

This is all she is licensed to carry at the moment. It also means everyone has plenty of room, and there's not too much strain on the kitchen so everything can be the best quality possible.
Locations
From: Longyearbyen
To: Longyearbyen