Sailing from Plymouth aboard a traditional trawler to celebrate the 400 year anniversary of the sailing of the Mayflower.
Join the Pilgrim of Brixham as she sails from Plymouth on the Mayflower Commemorative Passage to mark its 400th anniversary.
Plymouth is undoubtedly the place to be for this event as exactly 400 years ago, on 16th September 1620, the Mayflower sailed out of Plymouth Sound in England heading for the New World. It is fitting that Pilgrim will be there to mark this anniversary and guests will be able to soak up the atmosphere and the sense of history.
Pilgrim will be sailing each day and will give guests the choice of a day ashore or a day in the Sound or out at sea. There will be an opportunity each morning to go ashore and explore the city and return aboard each afternoon.
Guests will have their own comfy berth on board and will be right in the heart of Plymouth to join in as they choose. The City of Plymouth has a proud maritime history and tradition and this commemoration will showcase everything the city has to offer.
There will be ample opportunity to help the crew sail the vessel and see how these heavy traditional sailing vessels handled the weather, the tides and the sea. This is a once in a lifetime opportunity and will certainly appeal to descendants of the Pilgrim's, historians and those with affection or a fascination of the way traditional sailing vessels operated. The scenery will be spectacular and the marine wildlife will capture your attention.
Pilgrim of Brixham
Guest berths: 10 Rig: Gaff Rigged Ketch
Pilgrim of Brixham, built in 1895, is a traditional gaff rigged ketch that is one of a handful of remaining wooden sailing trawlers that were built in Brixham. Pilgrim and her iconic red sails were once part of a large fishing fleet operating out of Brixham, which used to be the principal fishing port in the country. Her survival is testament to her quality, with many similar Victorian fishing vessels having a life span of less than 20 years – and the main reason for her survival is thanks to funding from the Heritage Lottery Fund, the South Devon Coastal Local Action Group and many individual donors and volunteers.
The Pilgrim Story
After spending many years under different owners in Scandinavia, in 1999 she was brought home from Denmark back to Brixham. After significant restoration work, a few mishaps along the way and a hefty dose of community spirit, Pilgrim was returned to her former glory above decks, and brought up to modern standards below.
Today, as a charter vessel, the Brixham community still rallies around Pilgrim, with local crew, experienced and skilled volunteers performing maintenance and making the Pilgrim of Brixham operation run like clockwork. VentureSail is incredibly proud to have a hand in getting people aboard this historic vessel to not only experience how magnificently she sails, but also to see how passionate those that sail her are. Join Pilgrim on voyages around Devon, Cornwall and the Isles of Scilly, or experience maritime festivals on this incredible vessel.
Deck plan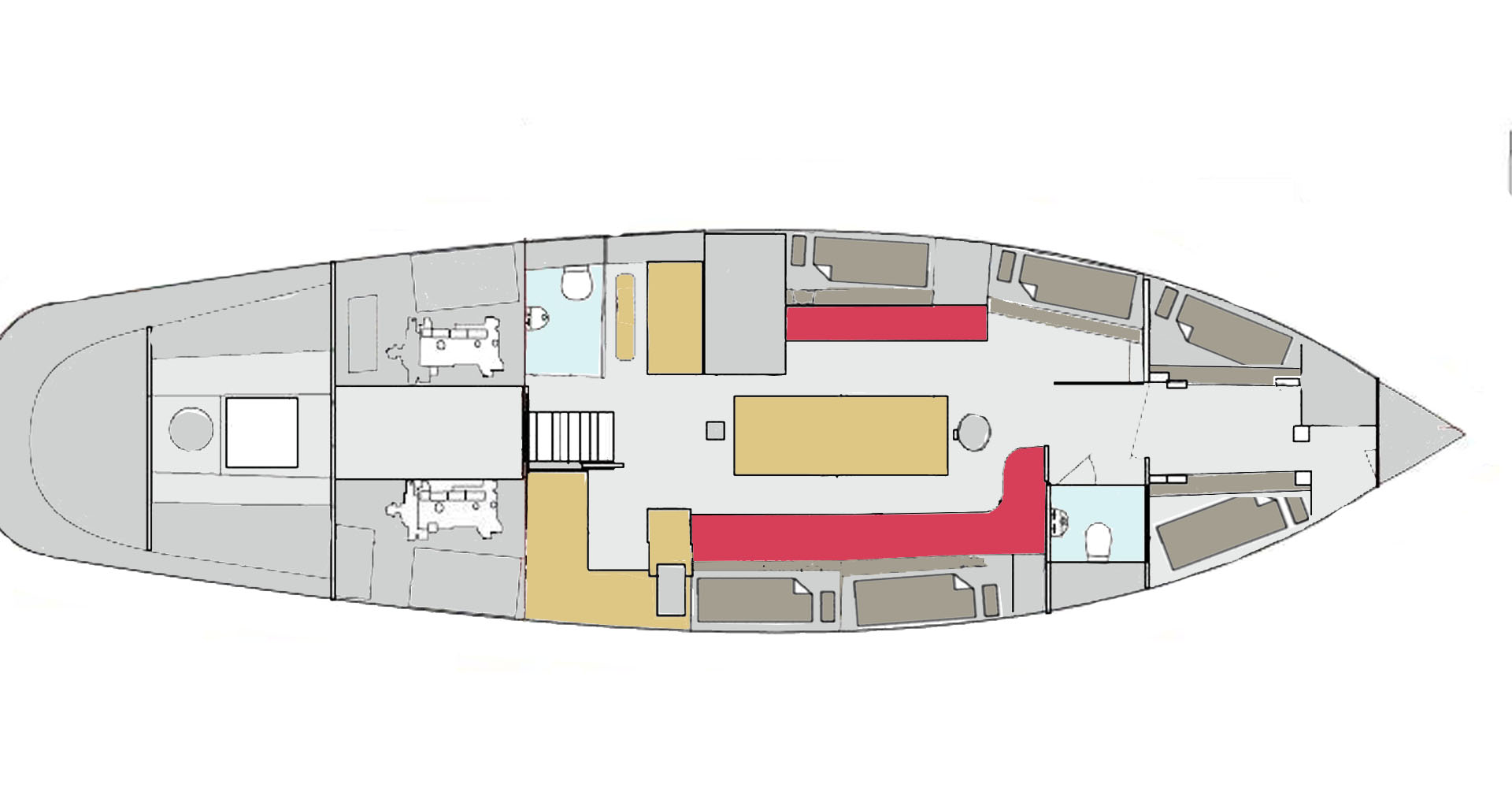 More about Pilgrim of Brixham
FAQ
Are meals included?

Yes - meals will be as locally sourced as possible and freshly prepared. Food is often a real hit on Pilgrim.

Can you cater for dietary needs?

Yes, please let us know when booking.

What language is spoken on board?

English

What are the sleeping arrangements?

There are 8 berths in the main saloon, with 4 in a cabin at the front of the ship, and 4 at the back (these are usually crew bunks)

Is there an age limit?

Preferably no under 8's on scheduled voyages but please check with us. There are no age limits on private charters.

Do I need to be a seasoned sailor?

Not at all. We give everyone who joins us on board the choice to do as much or as little as they like, whether they know how to or not.

How many toilet/showers does she have?

Two for guests

Is there WIFI?

No, but you should easily be able to reach 3G/4G from the shore.

Can I charge my phone/Camera?

Yes, please bring 12v chargers.

Are there life jackets provided?

Yes.

Are Waterproofs provided?

There are some for emergencies but please bring your own.

Will I be sea sick?

Everyone reacts differently but we recommend if you are at all worried to take some medication 24 hours before departure.
Locations
From: Plymouth
To: Plymouth