« All Voyages Cherokee's Schedule »
Orkney and Fair Isle Sailing
Vessel

:

Cherokee

Where

:

Scotland

Duration

:

11 days

Embark

:

Kirkwall - 9 June 2021, 18:30

Disembark

:

Stromness, The Orkneys - 19 June 2021, 10:30
Join Cherokee in Kirkwall and sail along the North coast of Scotland, visiting the island of Rousay. Perfect for wildlife watching and exploration.
Join Cherokee as she sails around the breathtakingly beautiful Scottish Coastline. There is no better way to experience these waters and islands – with the ability to take you to places that can only be reached by boat.
Begin in Kirkwall, a traditional harbour town in the Orkney Islands. Depending on the wind, you will sail around the islands to reach the harbour of Stromness. Cherokee will sail out to the island of Rousay, which is a particularly beautiful sail and a very rustic mooring spot. On the island, there are beautiful gardens on an estate, Trumland House, which Cherokee's guests will be able to stroll through the next morning. These gardens are particularly unusual this far north, making them a stunning sight. History enthusiasts will be equally as satisfied, as Rousay is home to some impressive Bronze Age excavations.
The Orkney's are an archipelago dating back to Viking times with ancient ruins and villages, standing stones and sandy beaches. The wildlife in the Orkneys is spectacular; from high moorland to immense sea cliffs, unspoilt wetlands and pastures, it is a haven for sea life, birdlife and mammals ashore. Orkney has 36 Sites of Special Scientific Interest and 13 Special Protection Areas and 13 RSPB nature reserves. Towering cliffs are home to over a million seabirds, including puffins, thousands of grey and common seals and an array of marine mammals. There are frequent encounters with Common, Bottlenose & Whitebeak dolphins on board these trips, and Risso & Whitesided dolphins are also occasionally sighted. Basking sharks have been scarce the last few years but are still seen and seem to be returning – and we know the hot spots! There are plenty of whales in this part of the world too. Our most common encounters are with Minke – Humpbacks are a less frequent visitor, while the real star of the show is the resident pod of Orca if you're lucky enough to see them gliding through the water. So keep your eyes peeled and have your binoculars at the ready!
Jouke the Skipper has sailed these waters for a few years now so has a good knowledge of the hotspots off the beaten track. His crew are able to sail the boat without guest input but they are more than happy and willing for guests to get involved! The onboard chef will bring you breakfast, lunch and tea included in your ticket price so climb aboard for great food, exhilarating sailing and wonderful wildlife.
Schedule
| Voyage | Set Sail | Days | Cost p/p | |
| --- | --- | --- | --- | --- |
Cherokee
Guest berths: 8 Rig: Cutter
In 2008, Jouke Lemmer purchased Cherokee after spending years sailing with his father's ship amongst others. Cherokee was built in 2000 by award-winning boat builders J & J Design and a year after buying her, Jouke refitted Cherokee radically, transforming her into a truly comfortable charter vessel, giving her a cutter rig and space for a generator so as to offer his passengers power and hot showers!
She is a fast, 16m vessel with a stunning teak deck and spacious cockpit, and she operates with two crew members (her skipper and the bosun/chef). Cherokee is exceptionally good at what she was built to do – pure sailing.
Jouke sails his ship all over the northern hemisphere, leaving Cherokee's home port of Rotterdam in May and sailing anywhere from the Hebrides and the Channel Islands, the Faroe Islands and Ireland or even down to the North coast of Spain before making the journey back to Holland in October. Join him and his wonderful ship for the adventure of a lifetime – think exhilarating sailing, bucket list destinations and top-notch hospitality.
Deck plan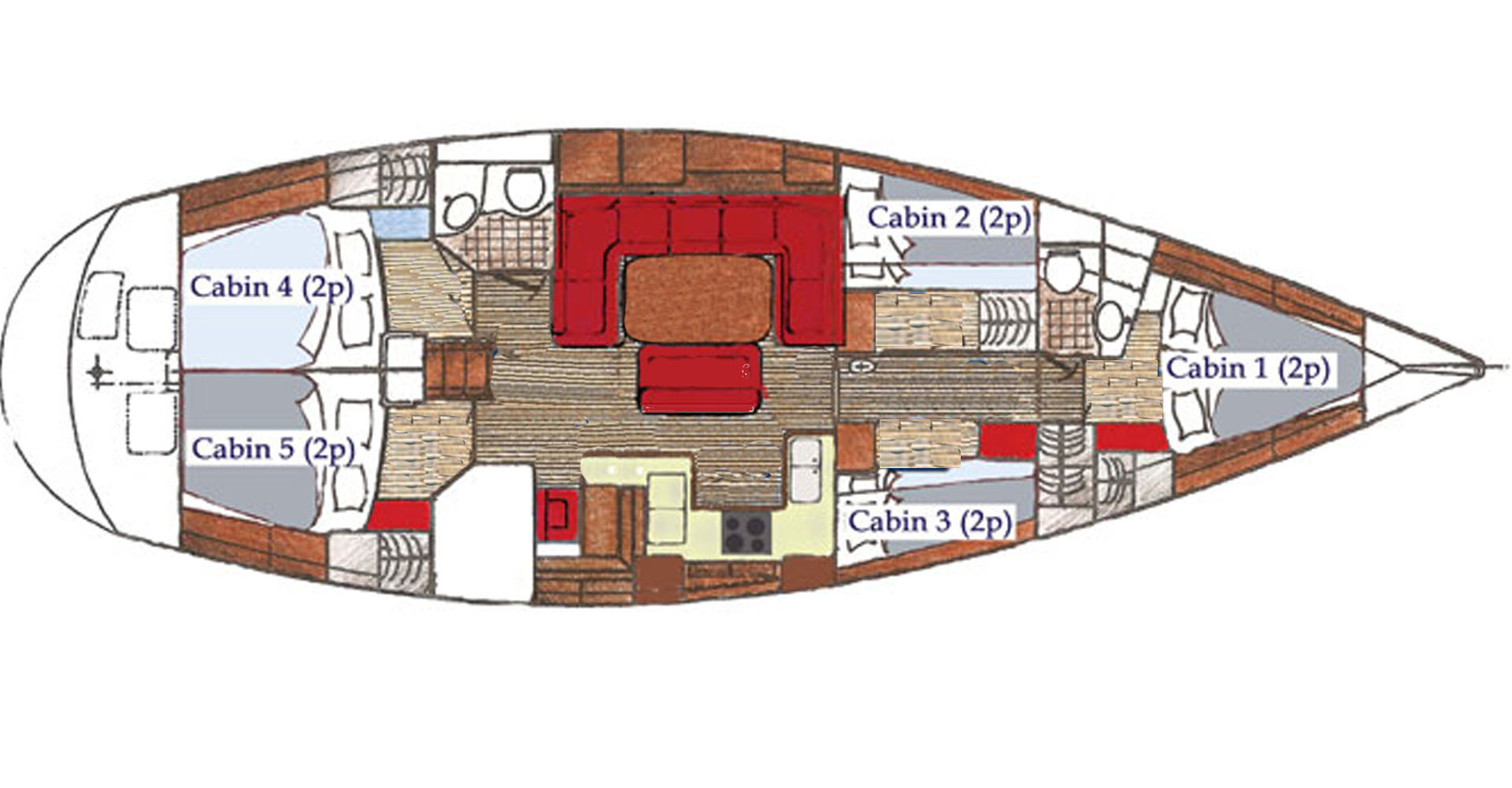 More about Cherokee
FAQ
Are all meals included?

Yes, all meals on board are included in the price. (Breakfast, Lunch, Dinner and soft/hot drinks) Alcohol is not included.

Can you cater for dietary needs?

Yes, please let us know when making your booking.

What language is spoken on board?

Dutch and English.

What are the sleeping arrangements?

Cherokee has two twin berth cabins and two double berth cabins for guests.

How many toilet/showers does she have?

Cherokee has two toilet/shower rooms.

Is there an age limit?

No!

Do I need sailing experience?

Not at all.

Is there WIFI?

No, but you should easily be able to reach 3G/4G from the shore.

Can I charge my phone/Camera?

Yes charging facilities are available when the generator is running.

Are there life jackets provided?

Yes

Are Waterproofs provided?

You can hire Sailing suits for £35 for the week.

Will I be sea sick?

Everyone reacts differently but we recommend if you are at all worried to take some medication 24 hours before departure.
Locations
From: Kirkwall
To: Stromness, The Orkneys