« All Voyages Chronos's Schedule »
Sailing & Whale Watching in the Dominican Republic
Vessel

:

Chronos

Where

:

Dominican Republic

Duration

:

11 days

Embark

:

Santa Barbara - 20 January 2021, 18:00

Disembark

:

Santa Barbara - 30 January 2021, 10:00
Sail in comfort and luxury as elegant yacht Chronos sails the coast of the Dominican Republic while whale watching & exploring hidden anchorages.
Explore the Caribbean island of the Dominican Republic and enjoy whale watching in Samaná Bay as Chronos sails her guests in luxury and comfort.
The Dominican Republic is one of the Caribbean's most geographically diverse countries from stunning mountain scenery to diverse rainforests and beaches galore.
With some white-sandy beaches shaded by rows of palm trees, others are lined dramatically with rocky cliffs, wind-swept dunes or serene mangrove lagoons. All provide perfectly picturesque backdrops for Chronos to drop anchor and let guests explore ashore. With plenty of traditional fishing villages and colourful boats moored along the shores, some of the bays and coves are where pirates once roamed and are the temporary home of thousands of migrating humpback whales.
Beyond the bustling towns, much of the island is distinctly rural with cows and horses grazing in the agricultural fields, while farmers trucks bustle down to the towns fully loaded with fresh produce.
Join Chronos in Santa Barbara de Samaná spending the week sailing and exploring the coast visiting anchorages such as Cayo Levantado, Les Valles, Las Galeras, Los Haitises and Sánchez.
Chronos offers daily cabin service, a rich breakfast buffet, a light 2-course lunch at noon, coffee, tea and cake in the afternoon, and a 3-course dinner in the evening. Upon arrival, you will receive a welcome drink and on the last evening, the Captain's Dinner will be served. One evening a week, all guests eat at their own expense on land to get to know the local cuisine.
With Chronos as your base, great food included and some beautiful bucket list locations; this is a festive holiday experience of a lifetime and one not to be missed!
*Please note that an exact itinerary cannot be guaranteed due to the changing winds and tides but rest assured Chronos will show you the true magic of the Caribbean.
Soft drinks and alcoholic drinks, water sports (wakeboarding, water skiing, banana boat chargeable, sea kayak, SUP) However Stand Up Paddleboards and snorkelling (adult size only) are free of charge) with motor drive and trips organized by us are chargeable as an extra. However, we offer this at moderate prices and are well below the prices of other cruises. An average of 10% of the travel price as onboard consumption may serve as a guide. The onboard currency is the Euro. We will open an onboard account for you on the day of arrival, from which you can pay all personal expenses. 
Chronos
Guest berths: 26 Rig: Bermudan Ketch
Built and registered in Bodrum, Turkey but spending her days sailing the Mediterranean and Caribbean, Chronos was purpose built as a charter vessel in 2013, as a two-masted, 54m staysail ketch.
This beautiful Ketch was designed by Klaus Röder who based his design on a classic yacht whilst keeping up with the modern day ketch; built for performance sailing and guest comfort.
Built with luxury in mind, the outline on deck is of teak and mahogany with plenty of space to sun-bath, read a book and enjoy the views. All the sails are electronically retractable, so no need to learn the ropes here. (The crew are, however, more than happy for guests to get involved with the operating and sailing of Chronos as much as they would like!)
An admiralty ladder provides the perfect place to jump off into the warm Caribbean waters, have a swim and climb back aboard with ease. Chronos also offers her guests the options of using her water skiing, wake-board, tube riding, kneeboard, banana boat, kayak and snorkelling & dive equipment and even a sail dinghy (QubaRS)
The deckhouse offers its very own small bar whilst below decks offers still more space to relax with a saloon with a plasma TV! Her private cabins, offering both queen size beds and single bunks, all have air-conditioning and en-suite bathrooms.
The professional crew consists of the Skipper, first mate, mechanic, bosun, cook and 4 stewards, so you will most certainly be looked after during your time aboard Chronos.
Deck plan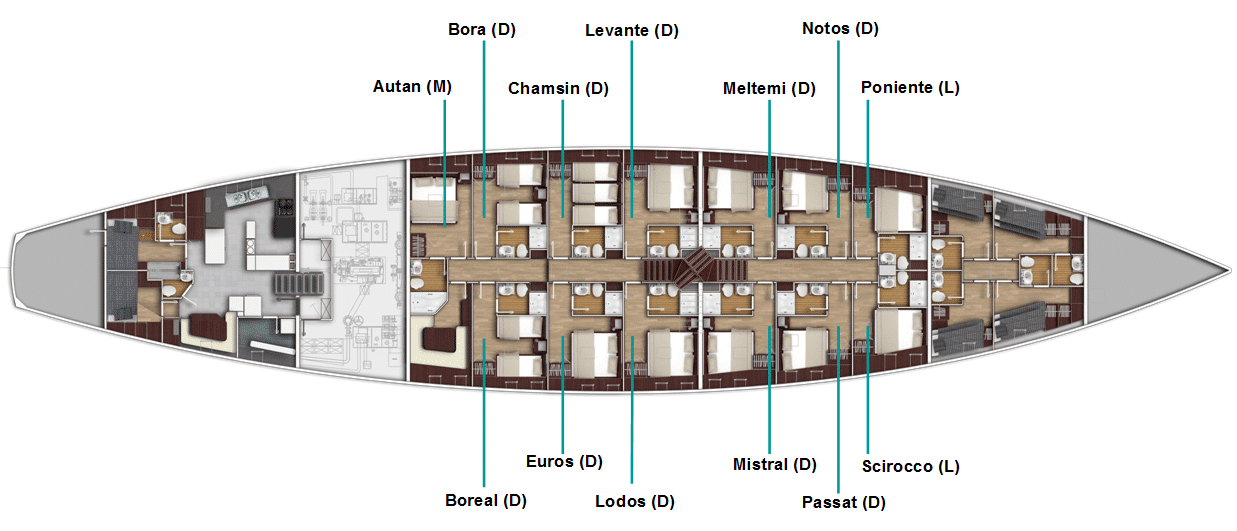 More about Chronos
FAQ
Are all meals included?

Yes, all meals on board are included in the price. (Breakfast, Lunch, Dinner and hot drinks) Alcohol is not included.

Can you cater for dietary needs?

Yes, please let us know when making your booking.

What language is spoken onboard?

English/German/Dutch

What are the sleeping arrangements?

Chronos has 1 Master Cabin (14 m²), 2 Long Cabins (11 m²) and 10 Deluxe Cabins (12-13 m²) all sleeping 2 people.

How many toilet/showers does she have?

All cabins have their own ensuite.

Is there WIFI?

No, but you should easily be able to reach 3G/4G from the shore.

Can I charge my phone/Camera?

Yes.

Are there life jackets provided?

Yes.

Are Waterproofs provided?

No.

Do I need sailing experience?

No, absolutely not! Just a lust for adventure.

Will I be sea sick?

Everyone reacts differently but we recommend if you are at all worried to take some medication 24 hours before departure.
Gallery
Locations
From: Santa Barbara
To: Santa Barbara