« All Voyages Narwhal's Schedule »
2021 Sailing and Exploring the Faroe Islands
Vessel

:

Narwhal

Where

:

Faroe Islands

Duration

:

7 days

Embark

:

Torshavn - 18 June 2021, 16:00

Disembark

:

Torshavn - 24 June 2021, 10:00
Explore the mysterious Faroe Islands and experience the vibrant modern culture with close links to the old Norse way of life.
Join Narwhal in Torshavn, the principal town of the Faroe Islands brimming with its own brand of Norse culture. Torshavn is a easily reached by transport links from the island's airport in Vagur. The vibrant green mountains and geological strata make the Faroe Islands a fascinating location to explore under sail with the Mulatossa waterfall a favourite to photograph.
Following initial safety briefings, we will be heading out of port and set sail for the first time. The waters around Torshavn provide the perfect opportunity to get used to the boat and get a first glimpse of the local wildlife. There will be plenty of opportunities to immerse yourself in the unique scenery of the Faroese landscape as towering cliffs and waterfalls plunge directly into the ocean. We might even undertake our first whale survey.
The main part of the expedition will see us exploring the best sailing and scenery that the Faroe Islands have to offer, surrounded by towering sea cliffs and flocks of soaring sea birds. Exactly where we go each day will be determined by the weather conditions, using the intricate systems of fjords between the islands we will always find somewhere special to visit, enjoying a front-row view of the scenery and wildlife. Throughout you will have the chance to get as involved as you like in sailing as well as our ocean research projects such as microplastics sampling and wildlife surveying. In the afternoons and evenings, we will choose one of the many sheltered and secluded anchorages allowing you time to enjoy other activities, including photography, hiking and fishing. Joining us for a beach clean, maybe try your hand at paddleboarding or simply relax and enjoy the easy pace of life far from the hectic modern world.
We will spend our final day enjoying the unique scenery of the Faroe Islands before heading into port in Torshavn. We will moor up for the night and enjoy our final evening on board with a nice dinner and time to swap stories, highlights and pictures from the expedition.
*The exact itinerary that we follow will be chosen each day by your skipper to make the best use of the weather conditions. Since we operate with just a small number of guests on board, we can tailor the areas that we explore based on your interests. All meals and hot/soft drinks and hire of a waterproof all in one are included in your ticket price.
Narwhal
Guest berths: 6 Rig: Sloop
Narwhal is a 50ft expedition yacht. Made of sturdy steel she is a real go-anywhere boat, ready for adventures to some of the wildest and most remote places on the planet.
A custom made expedition vessel, Narwhal's interior offerings have been well thought out and she is well equipped to be as comfortable as she can be for guests and crew for long durations at sea. She has twin forward cabins, each with two bunks, and a large stern cabin, a galley, a communal saloon and an extra-cosy additional seating area. With a built-in diesel heater, even when she exploring some of the most remote and coldest locations on the planet, her guests are sure to be kept warm and toasty below decks.
The navigation station is well equipped for all eventualities with Narwhal's computer system and her top of the range routing software set up for sailing in some of the toughest locations and conditions. She also has a satellite communication system which means we can keep in touch wherever we are in the world. From the necessary modern technologies to the paper charts, dividers and sextants, Narwhal still practices her navigation traditional skills.
Designed to be self-sufficient whilst sailing offshore for extended periods in remote locations, Narwhal has a water-maker as well as large freshwater and fuel tanks. With plenty of room to store food and equipment, Narwhal always has all the things necessary for adventuring in remote locations.
Protecting the environment is at the forefront of Narwhal's ethos so she is equipped with solar panels and wind and hydro generators to generate power more sustainably. If the wind doesn't blow however, she does have a 105hp Volvo engine to push along and a generator to keep the lights on.
Narwhal's voyages are also often focused around the protection of the environment and she regularly runs trips involving beach cleans and marine research.
Narwhal also has kayaks, paddle-boards and fishing gear for guests to use!
Deck plan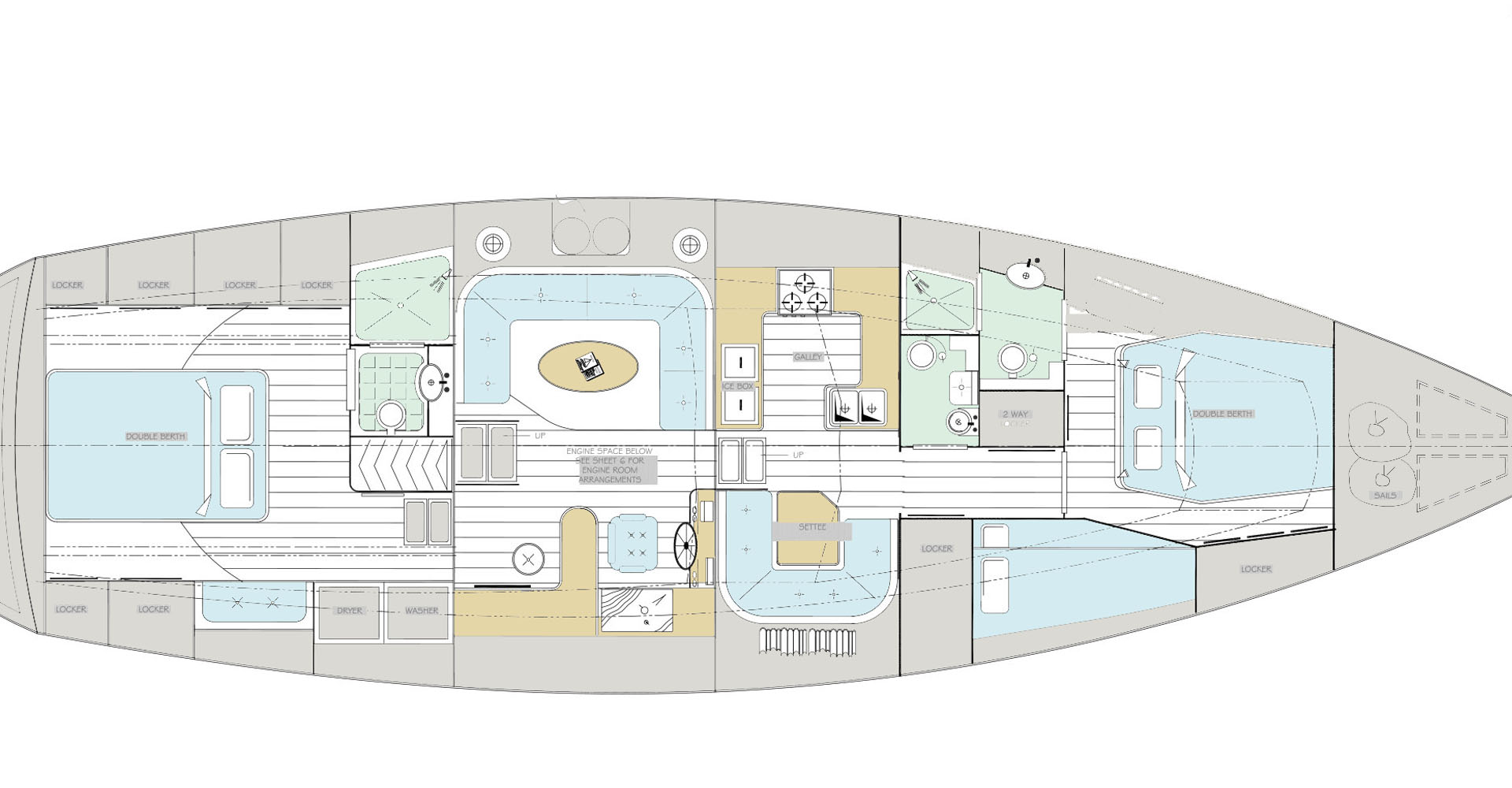 More about Narwhal
FAQ
Can you cater for dietary needs?

Yes we can - please let us know in advance of your trip

Can I charge my phone and camera?

Yes we have 12v charging in all bunks although mobile signal can be intermittent

What language is spoken on board?

English

What are the sleeping arrangements?

Narwhal has a double bed and 2 twin bunks

How many toilets/showers does she have?

Two toilets, one shower

Is there any age limit?

No under 18's

Are all meals included?

Yes, all meals are included in the price unless you go ashore.(Breakfast, lunch, dinner, soft/hot drinks) Alcohol is not included.

Are sailing suits provided?

Yes, Narwhal provides all-in-one waterproof suits for all her guests. Please let us know your size when booking.

Are life jackets provided?

Yes

Are watersports included?

Narwhal has kayaks, paddleboards and fishing gear for guest use free of charge at the discretion of the Skipper.

Will I be sea sick?

Everyone reacts differently on a boat. We recommend if you are at all worried to take some medication 24 hours before departure.
Locations
From: Torshavn
To: Torshavn