« All Voyages Narwhal's Schedule »
Sailing the Shetland Bus route from Norway to Scotland
Vessel

:

Narwhal

Where

:

Norway/Scotland

Duration

:

9 days

Embark

:

Kristiansund, Norway - 8 September 2020, 16:00

Disembark

:

Lerwick, The Shetlands - 16 September 2020, 10:00
Join an expedition with a very special mission: To re-create the historic Shetland Bus voyages.
About the Shetland Bus
The route that we will be re-creating is that followed by the top-secret operatives of the "Shetland Bus'. The Shetland Bus as it was known, was a lifeline for transporting troops, supplies and valuable reconnaissance information between its base in the Shetland Islands and members of the Norwegian resistance.
Many missions between Shetland and Norway were undertaken. The descriptions of each one reading like a serious wartime adventure novel. Tales of daring deeds from sinkings, trekking across remote hostile territory to appropriating a small fishing boat made for inshore waters and completing the whole crossing back to Shetland in it abound.
The 24hr daylight at these latitudes made evading the enemy impossible during the summer months. So as if these crossings weren't challenging enough, all of the missions had to take place under the cover of the autumn and winter months. The legacy of the Shetland Bus is still very apparent in the Shetland Islands today, where Scottish and Norse cultures flourish alongside each other and many a Norwegian flag flaps proudly in the breeze.
Why take the challenge?
The timelessness of ship-based routines and experiences, from watch-keeping, and traditions passed down through generations of sailors to the feeling of losing sight of land, the feel of salt on your face as you are perched on a restless sea, has always imbued me with a sense of connection with the past. Whether it is the Viking ships full of raiders, the grand expeditions setting forth across horizons unknown to discover new worlds or the fabled North-West passage or humble fishing boats collecting their daily catch, it is easy to feel their ghosts drifting on the same waters and frequenting the same ports that we visit today. The Shetland Bus Expedition is our way of embracing our maritime heritage as well as honouring the brave servicemen and women who played a role in the vital Shetland Bus.
You will assemble with the rest of the crew in Kristiansund in Norway, where we will await intelligence or in our case a favourable weather forecast to make the crossing. Just like the original Shetland Bus crew, we will be undertaking our journey in the autumn with its cover of night but also it's potential for rough weather. Like the original crews, we will need to expect some challenges from the elements on the crossing. Fortunately, we won't have the enemy fire of U-boats to contend with but we will still need to take turns throughout the night in 'watches' to keep a constant lookout. Modern-day submarines are not that unusual in this bit of coastline.
Expedition Detail
Following initial safety briefings, we will be heading out Kristiansund, Norway and setting sail for the first time.
The main part of the expedition is our chance to see what life was like for our daring heroes. The crossing itself will take between 2 and 4 days depending in exactly where we set out from and the weather that we encounter on the ocean. During the crossing, we will be working 'watches' to keep the boat sailing through the day and night. Our aim will be the Harbour of Lerwick in the Shetland Islands.
Providing that we manage to complete our mission in time, we will jump on the bus for a trip to the excellent Shetland Bus museum in Scalloway to learn more about the heroes of the past with our new-found respect for the conditions that they endured and feats that they achieved.
*The exact itinerary that we follow will be chosen each day by your skipper to make the best use of the weather conditions. Since we operate with just a small number of guests onboard, we can tailor the areas that we explore based on your interests. All meals and hot/soft drinks and hire of a waterproof all in one are included in your ticket price.
Narwhal
Guest berths: 6 Rig: Sloop
Narwhal is a 50ft expedition yacht. Made of sturdy steel she is a real go-anywhere boat, ready for adventures to some of the wildest and most remote places on the planet.
A custom made expedition vessel, Narwhal's interior offerings have been well thought out and she is well equipped to be as comfortable as she can be for guests and crew for long durations at sea. She has twin forward cabins, each with two bunks, and a large stern cabin, a galley, a communal saloon and an extra-cosy additional seating area. With a built-in diesel heater, even when she exploring some of the most remote and coldest locations on the planet, her guests are sure to be kept warm and toasty below decks.
The navigation station is well equipped for all eventualities with Narwhal's computer system and her top of the range routing software set up for sailing in some of the toughest locations and conditions. She also has a satellite communication system which means we can keep in touch wherever we are in the world. From the necessary modern technologies to the paper charts, dividers and sextants, Narwhal still practices her navigation traditional skills.
Designed to be self-sufficient whilst sailing offshore for extended periods in remote locations, Narwhal has a water-maker as well as large freshwater and fuel tanks. With plenty of room to store food and equipment, Narwhal always has all the things necessary for adventuring in remote locations.
Protecting the environment is at the forefront of Narwhal's ethos so she is equipped with solar panels and wind and hydro generators to generate power more sustainably. If the wind doesn't blow however, she does have a 105hp Volvo engine to push along and a generator to keep the lights on.
Narwhal's voyages are also often focused around the protection of the environment and she regularly runs trips involving beach cleans and marine research.
Narwhal also has kayaks, paddle-boards and fishing gear for guests to use!
Deck plan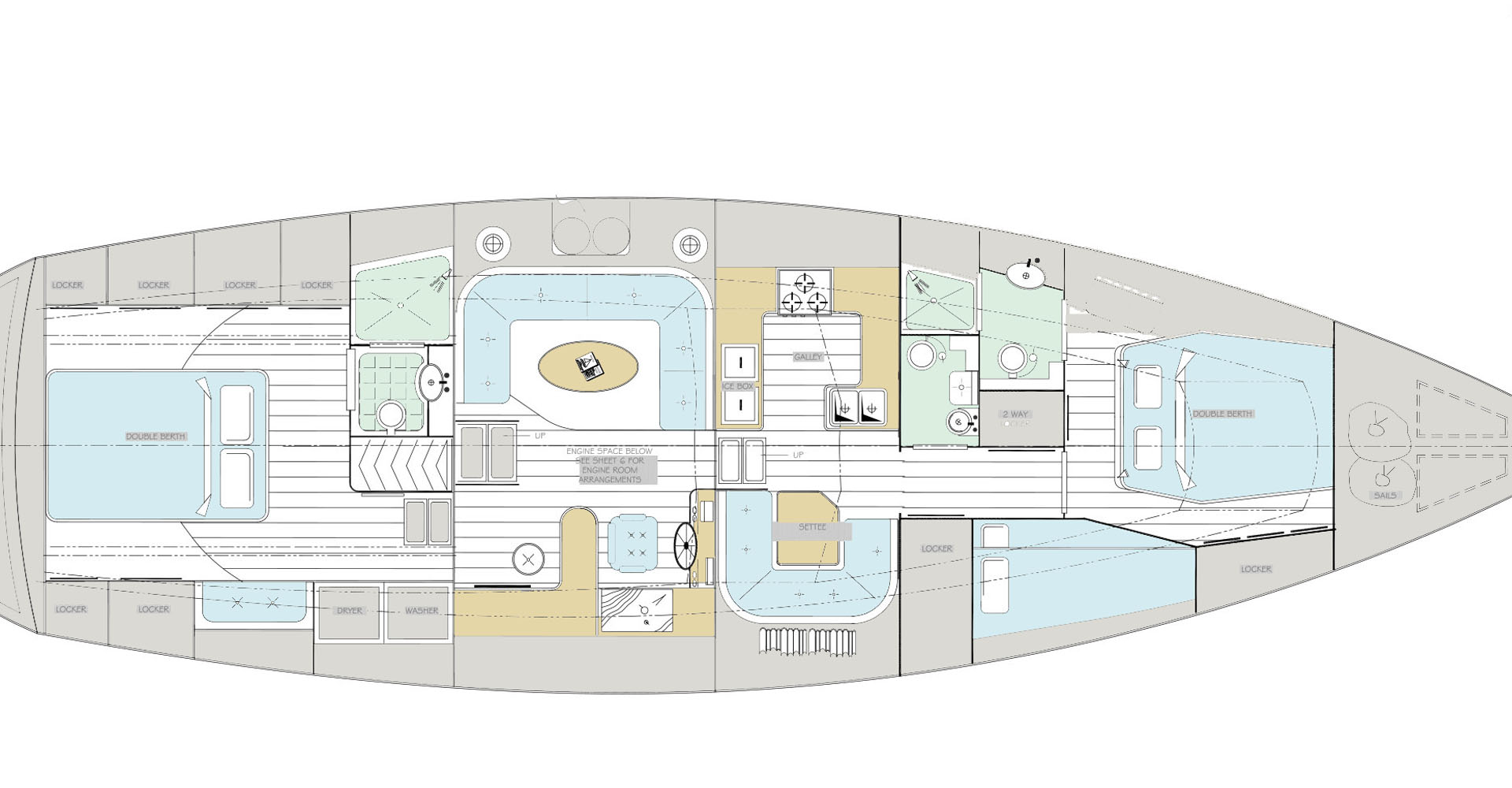 More about Narwhal
FAQ
Can you cater for dietary needs?

Yes we can - please let us know in advance of your trip

Can I charge my phone and camera?

Yes we have 12v charging in all bunks although mobile signal can be intermittent

What language is spoken on board?

English

What are the sleeping arrangements?

Narwhal has a double bed and 2 twin bunks

How many toilets/showers does she have?

Two toilets, one shower

Is there any age limit?

No under 18's

Are all meals included?

Yes, all meals are included in the price unless you go ashore.(Breakfast, lunch, dinner, soft/hot drinks) Alcohol is not included.

Are sailing suits provided?

Yes, Narwhal provides all-in-one waterproof suits for all her guests. Please let us know your size when booking.

Are life jackets provided?

Yes

Are watersports included?

Narwhal has kayaks, paddleboards and fishing gear for guest use free of charge at the discretion of the Skipper.

Will I be sea sick?

Everyone reacts differently on a boat. We recommend if you are at all worried to take some medication 24 hours before departure.
Locations
From: Kristiansund, Norway
To: Lerwick, The Shetlands