Zuza's Crew
Helen is the experienced, friendly and knowledgeable skipper of Zuza.
Having been a professional sailor for 20 years, Helen has gained some diverse experience on the water. She has worked as a charter skipper, for several sailing schools and sail training organisations, and has gained multiple qualifications in all things sailing along the way.
After discovering dinghies in the Lake District as a teenager, a yacht sailing holiday in the Balearic islands led to Helen taking her day skipper ticket and volunteering with the Ocean Youth Trust. By doing this, Helen was able to log sea miles and learn on the job from a multitude of highly skilled and diverse skippers on lots of different sailing boats. Her first professional role at sea was as a flotilla skipper on the beautiful Dalmatian coast in Croatia. The next 20 years saw Helen in a variety of skipper roles from Brixham trawlers in Devon to the round-the-world challenge boats. She qualified as a yacht master instructor in 2003, enjoying the challenges in this role hugely and working her way up to cruising instructor trainer. This has taken her all over the world from the Caribbean to Australia; but the West Coast of Scotland where her heart is thanks to the variety of wildlife and beauty of the landscape – even when the weather is not at it's best.
"Sailing from Oban, Scotland just offers so many diverse options to explore this stunning corner of the planet. There are 790 islands in Scotland which vary in culture, language, music and, of course, whisky! The wildlife is spectacular and a photographers dream. A single day can bring otters, many species of dolphins, basking sharks and as for birds… there's no place like the Shiant islands or St. Kilda for colonies of tens of thousands gannets, puffins, fulmars, guillemots and more. Just a short cruise from Oban takes you to the Treshnish islands, which is the place to get up close to puffins, or to Rum where the Manx sheer waters breed. One of the greatest, almost guaranteed sightings is that of golden and white-tailed eagles – first mate Sarah is a bit of a fanatic and will be on deck spotting most of the time!"
With untouched wildlife, dramatic coastlines and good food, skippering expedition yacht Zuza is a dream come true for Helen.
Out of season, Helen continues to keep her hand-in teaching at sailing schools in the Uk and when she's not at sea, she spends her time around the west coast, generally up a large hill walking, running, biking, or skiing should the climate allow!
When she is not skippering Zuza, Helen's relief Skipper and trusted friend Olly Cotterell takes the helm. Olly moved to Oban just over two years ago after falling in love with the West Coast of Scotland. He had sailed here previously skippering charters in the area and has also now extensively explored the Hebrides on his own yacht.
Olly has sailed around the world, from the Antarctic to the Arctic but still believes that the West Coast of Scotland is as good or in fact better than anywhere else he has sailed and is always amazed at how much there is to see. He loves to explore the amazing landscapes and seascapes and is looking forward to welcoming guests onboard Zuza.
With their welcoming nature, love of the sea and knowledge of the area, you will certainly be in safe hands with Helen or Olly as your Skippers!
Take a look at Zuza's sailing holidays around the beautiful Inner and Outer Hebrides>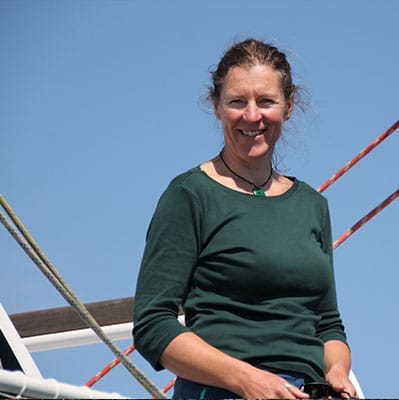 Skipper profile
Helen Walker
With untouched wildlife, dramatic coastlines and good food, skippering the Zuza is a dream come true for Helen.
Read Helen Walker's Adventure Logs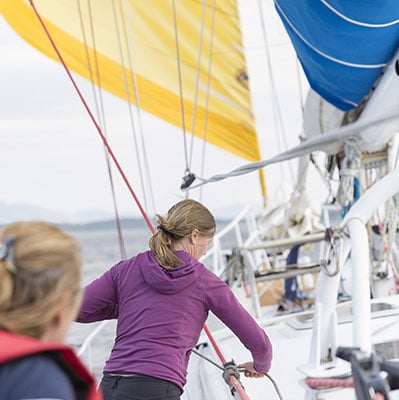 Life onboard
Zuza
Food is always a special occasion on board, guests can feast on fresh delicious meals after a day of exploring and recording sightings of seabirds, minke whales and dolphins.
Read Zuza's Adventure Logs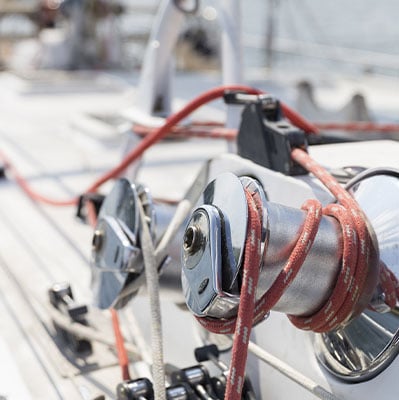 The History of
Zuza
Zuza is a 22m sailing vessel and despite being only just 20 years old has an interesting history in marine research.
Read more